Bobby Flay's Secret Salad Dressing Ingredient Is A Nearly Empty Mustard Jar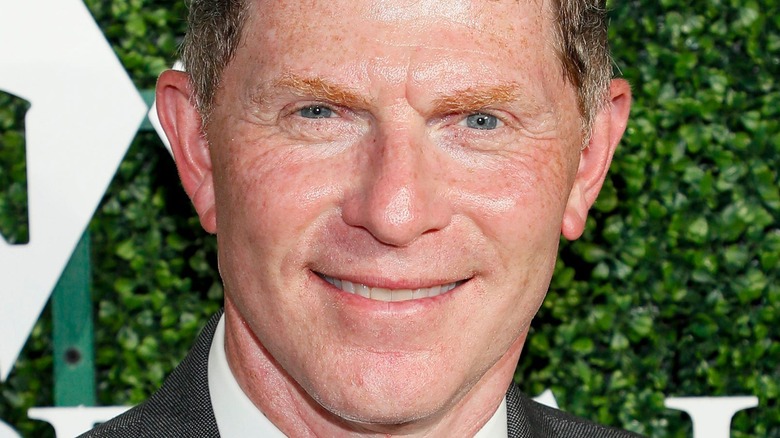 Paul Morigi/Getty Images
Homemade food simply tastes better, and salad dressing is no exception. Not only is it fresher than store-bought varieties, but you can always ensure it's made with high-quality ingredients and without any preservatives when you create it yourself. Plus, whether you whip up a basic sherry wine vinaigrette or a more complex concoction, you can also customize it to your liking using all of your favorite flavors. 
Celebrity chef Bobby Flay is certainly a fan of making his own salad dressings at home. His trick: Forgoing a mixing bowl in favor of combining the ingredients directly into a nearly empty jar of mustard. It not only provides a DIY container but also adds some flavor for the perfect honey mustard creation.
In lieu of painstakingly scraping out the last dregs of the yellow condiment, use them! Flay's hack is simple: Once you get to the bottom of the mustard jar, just toss in your ingredients, put the lid on, and shake. The restaurateur recently shared his clever mustard dressing-making hack in an Instagram reel posted in collaboration with Misfits Market, a grocery delivery service. And, it's certainly one yummy way to use up every last drop of condiment. After all, as Flay says in the video: "You paid for it, you might as well use it."
A mustard jar makes all the difference
Leave it to Bobby Flay to make whipping up a mustard salad dressing easier than ever. His recipe is markedly simple, featuring a variety of fresh ingredients, including finely diced shallots, red wine vinegar, salt, pepper, extra-virgin olive oil, and a touch of honey. 
But, to streamline the mixing process and make use of any lingering mustard remnants, Flay combines the ingredients directly in the mustard jar to emulsify. Then, he closes the lid and gives it a vigorous shake for the creamiest — and perhaps, tastiest — of honey mustard dressings to trump anything store-bought. (In lieu of honey, you can also use pomegranate molasses or other liquid sweeter like agave nectar or maple syrup.)
The Food Network star pairs the flavorful dressing with a quick chopped salad featuring cherry tomatoes, green onions, scallions, cucumbers, chickpeas, sweet corn, avocado, feta cheese, black olives, fresh parsley, and salt and pepper to taste. However, when it comes to making salads, the useful mustard jar hack isn't the only culinary trick he has up his chef's-coat sleeve.
Another Flay tip: Don't dress salad greens directly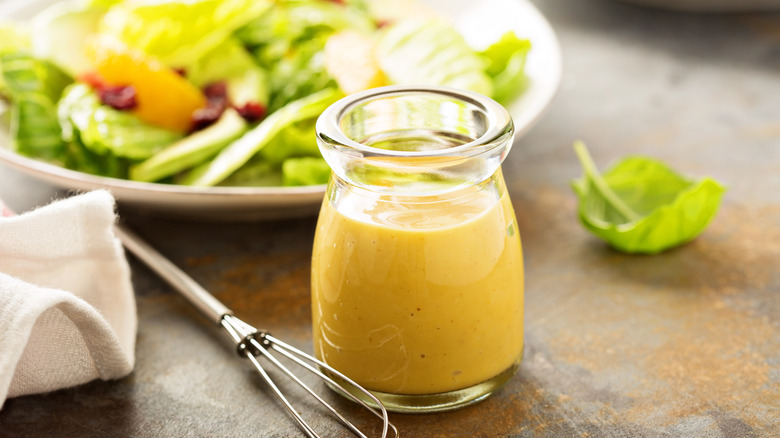 Elena Veselova/Shutterstock
Whether you opt for the aforementioned chopped salad recipe or another colorful lettuce mix, the way in which you combine the dressing with the greens is also important, according to Bobby Flay. Put simply: Don't go dumping it all on top. Rather, he advises to pour the dressing along the sides of the bowl and gently fold the salad into it.
This may seem like an insignificant step, but there's a reason why Bobby Flay never dresses salad greens directly. For one, this mixing method uses much less dressing so the liquid doesn't overpower the dish. It also allows you to slowly coat your salad with dressing, which helps to prevent the lettuce or other greens from going soggy. 
Alternatively, you could also pour the dressing into the bowl first, add the salad on top, and then toss it all together once it's ready to be served. This also helps to prevent any wilting, so when mealtime rolls around, you can thank Bobby Flay for saving the day.