Taco Bell Is Testing Cheesy Street Chalupas And Chicken Nuggets In Select Cities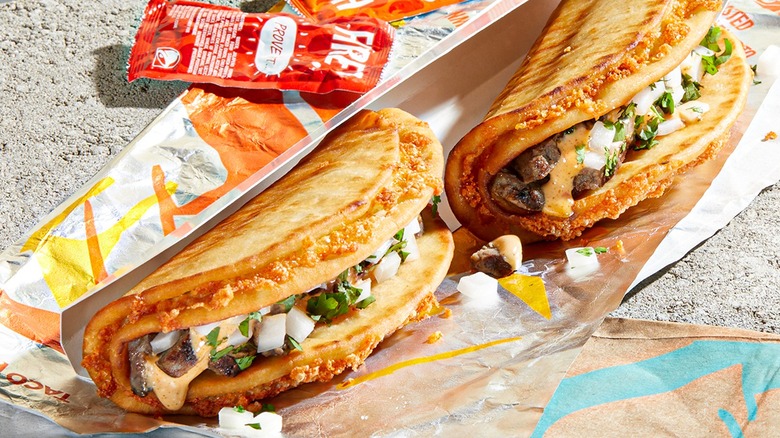 Taco Bell
Right on the heels of the company announcing its new toasted breakfast tacos, Taco Bell reported today that select locations in two U. S. cities will be testing additional new menu options starting Thursday, October 12, for a limited time.
Customers ordering from the 13 Taco Bell restaurants in Indianapolis, Indiana, will now find Cheesy Street Chalupas on the menu. Taco Bell's Street Chalupas are offered with shredded white meat chicken or marinated steak. They are topped with shredded mozzarella, pepperjack cheese, and a ranch sauce made with diced onion, cilantro, and spicy jalapeños. Each order comes with two Street Chalupas and retails between $5.49 and $5.99.
The 15 Taco Bell locations surrounding Minneapolis, Minnesota, are adding Crispy Chicken Nuggets to its menu for a limited time. Available in five or ten pieces, the all-white meat chicken nuggets are marinated in a spicy jalapeño buttermilk before being dredged in breadcrumb and deep-fried until crispy. Taco Bell's new Crispy Chicken Nuggets come with a dipping sauce, including the popular Bell Sauce or Jalapeño Honey Mustard. One sauce is included with the five-piece nugget order for $3.99 to $4.99, and two sauces with the 10-piece nugget meal for $6.99 to $8.99.
Are these new menu options for Taco Bell?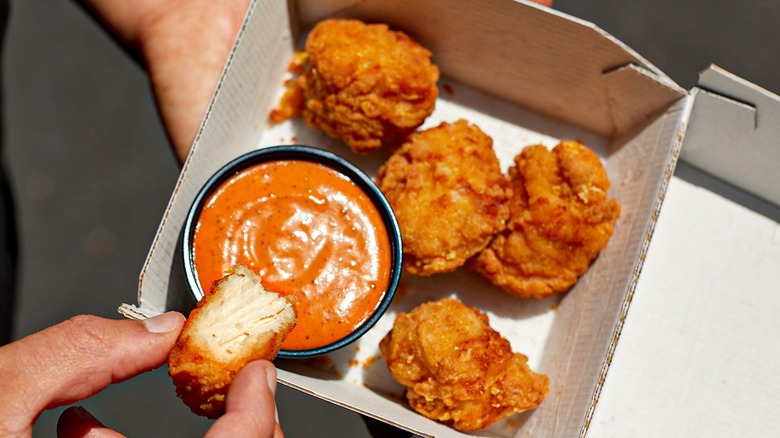 Taco Bell
This is the latest menu addition Taco Bell has tested to capitalize on Americans' obsession with boneless fried chicken, which has grown 8.1% over the past five years. The $59.4 billion fast food chicken market was once dominated by the OG McNuggets but now has much more competition, including Chick-fil-A, Wendy's, and Popeyes (per IbisWorld).
This isn't the first time the Mexician-inspired quick-serve chain has tried to get into the chicken nugget game. In July 2023, it brought back its 2021 crispy Chicken Tacos to its national menu for a limited time. In August, the company tested Chile Crisp Chicken Tacos and Chicken Strips at a single restaurant in Newport Beach, California.
As for the chalupas, Taco Bell restaurants currently offer two options nationwide: the Chalupa Supreme with ground beef and the Black Bean Chalupa Supreme. Similar to traditional handheld tacos made from unleavened corn or flour tortillas, traditional chalupas, a specialty of South-Central Mexico, are made from a leavened deep-fried masa dough reminiscent of a soft flatbread. Like the best of both worlds, street chalupas have a crunchy exterior and doughy inside that can be customized with your favorite toppings.