Dale Talde's Spicy Chicken Nuggets Recipe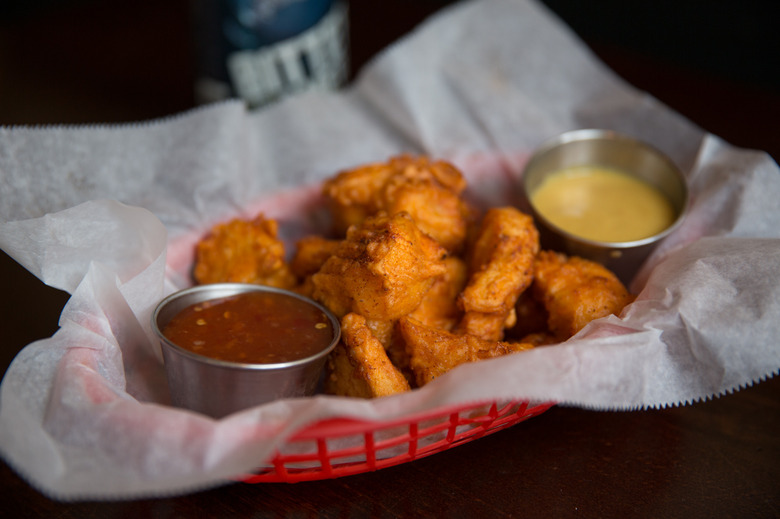 Pub grub craving? Whiskey fan? Pork Slope* just might be the place for you. Dale Talde's Brooklyn bar slings a mean shot 'n beer (from 25 taps) along with snacks you don't have to think twice about. Take an illustrated peek inside. On our last jaunt, Talde loaned us a few invaluable recipes, including these famous spicy chicken nuggets.
*Pork Slope has since closed.
Dale Talde's Spicy Chicken Nuggets Recipe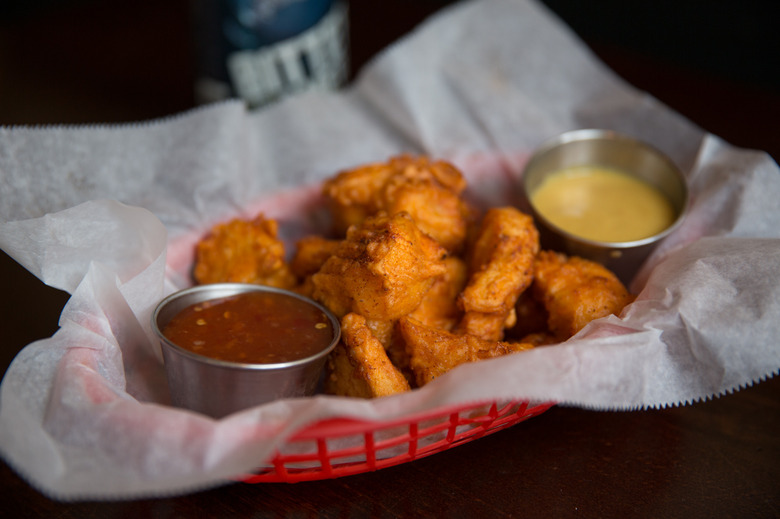 Ingredients
1 cup yogurt
1 cup Frank's Red Hot Sauce
12 ounces boneless skinless chicken breast
1 1/2 cups rice flour
vegetable oil
pinch of salt
pinch of cayenne
fried chicken spice (recipe below)
honey mustard (recipe below)
1 tablespoon kosher salt
1 tablespoon black pepper
1 1/2 teaspoons cayenne pepper
1 1/2 teaspoons granulated garlic
1 1/2 teaspoons onion powder
1 cup smooth Dijon mustard
2 tablespoons honey
Directions
Mix all ingredients together.
Combine with whisk in mixing bowl.
Cut chicken breast into one-inch cubes. Mix together yogurt and Frank's Red Hot Sauce.
Put chicken in a large zip lock bag and cover with yogurt hot sauce marinade. Let marinade for one day.
Drain off excessive marinade and dredge in rice flour.
Heat oil to 350 degrees.
Fry until golden brown.
Season with fried chicken spice and serve with honey mustard.
Duck Nuggets Recipe From The New Le Pigeon Cookbook
Cornflake Eel Nuggets Recipe
How To Make Chicken Tenders