Martha Stewart's 'Best' S'mores Are Stirring Up A Fiery Debate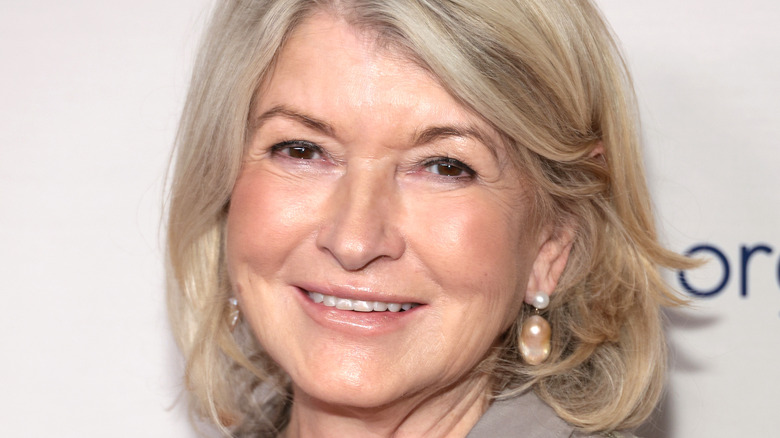 Dimitrios Kambouris/Getty Images
When Martha Stewart claims that a recipe or food is the "best ever," people tend to listen. After all, Stewart has built an empire around all things related to home and hospitality, much of which includes food. Fans were eager to view a recent Instagram video she posted on her profile, featuring a homemade s'more. "Very best s'mores ever," she captioned the clip, which shows a pair of hands holding two graham crackers that grip a very toasty-looking, homemade marshmallow. As the hands press the crackers together, the marshmallow begins to ooze, and its browned crust starts to crack and crunch.
However, some of Stewart's viewers were less than impressed with her "best" s'more. Many commented that the marshmallow looked burnt, while others pointed out the apparent absence of chocolate on the roasted confection. Conversely, other fans praised the video, asserting that a s'more's marshmallow should indeed be gooey on the inside and charred on the outside. This goes to show that people are very particular about their s'mores, especially when it comes to the marshmallow. Whether barely browned or positively blackened, people have strong feelings about how best to enjoy this campfire favorite.
Is it a s'more without any chocolate?
When it comes to chocolate, most people agree that a s'more isn't complete without a square of chocolate inside. Even Merriam-Webster defines a s'more as "a dessert consisting usually of toasted marshmallow and pieces of chocolate bar sandwiched between two graham crackers." Perhaps the person holding the s'more in Martha Stewart's video clip isn't a fan of chocolate, or maybe Stewart didn't have time to whip up any homemade bars. Nevertheless, the hostess remains unfazed by the negative comments, responding to one with, "You are such a downer!!!"
According to her own recipe for homemade marshmallows, Stewart dusts her marshmallows with powdered sugar to prevent them from sticking to each other. This may explain the extra toastiness of the marshmallow in her video. The browned exterior resembles the brûléed crust of crème brûlée, which many agree is the best part of the dessert. In the end, s'mores are a personal matter. Some people opt for no chocolate, some choose white chocolate, some add peanut butter, and some even layer their s'mores with fruit. So, if Martha Stewart prefers her s'mores burnt to a crisp and without any chocolate, remember: to each their own. Also, she's the one with her own magazine.