Giada De Laurentiis Is Giving Us Permission To Dip Cookies In Wine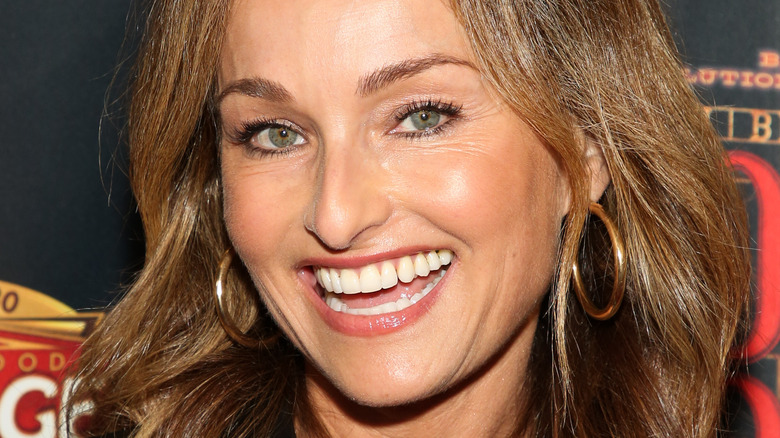 Paul Archuleta/Getty Images
Dunking cookies into a range of beverages is a nostalgic practice enjoyed around the world. In America, dipping chocolate chip cookies or Oreos into glasses of milk is commonplace. For the British, it's sweet biscuits dipped into hot cups of tea, and Italians also like to dunk biscotti into mugs of strong coffee. 
But, have you ever tried cookies dipped in wine? A video posted by renowned chef Giada De Laurentiis on X, formerly known as Twitter, shows her doing exactly that — but not with just any old cookies and wine. The Italian-American culinary expert and TV presenter dips cantucci, a specific type of Italian biscotti, into Vin Santo, a sweet, amber-colored dessert wine.
The almond-studded cantucci, or cantuccini, can be a little too dry or crunchy when served on their own, so the wine actually helps soften and sweeten them. Enjoyed as an after-dinner treat, the Italian cookie and wine combination makes for a light, delicious dessert where the flavors of the two match up perfectly.
The combo is a Tuscan tradition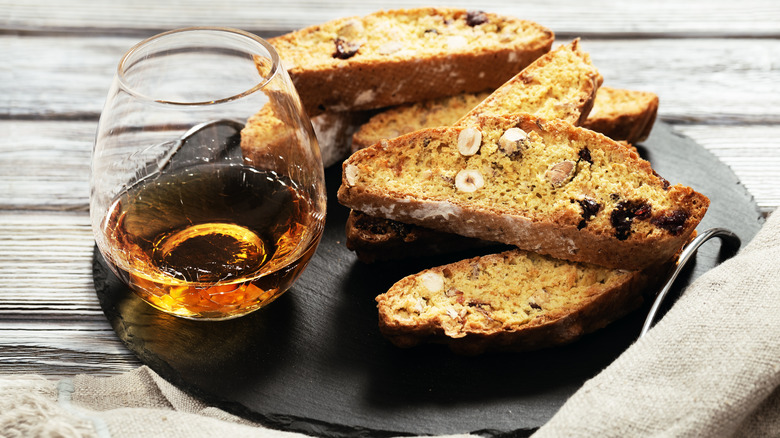 YRABOTA/Shutterstock
In Italy, there are many different types of biscotti, a term that means double-baked, and refers to a whole range of crunchy, often twice-baked cookies. Across the European country, you can find well-known varieties including amaretti di Saronno from Lombardy and baci di dama from Piedmont. 
Giada De Laurentiis' favorite pick, cantucci, are a specialty of Tuscany. Made with flour, butter, eggs, and almonds, the dry, crunchy, aromatic cookies are sliced into oval shapes, baked twice, and traditionally served after dinner, where they are dipped into Vin Santo wine, just as the chef shows in her video. With flavors of sweet caramel, honey, and hazelnut, Vin Santo is a syrupy, full-bodied dessert wine also from Tuscany that also makes a natural pairing for the nutty cantucci.
Have u ever tried biscotti w/ Vin Santo? In Italy, these cookies are often served with the sweet wine after dinner verses espresso. Find out more here: https://t.co/Qh9bgGDNDC pic.twitter.com/cbbxS8lIPa

— Giada De Laurentiis (@GDeLaurentiis) September 26, 2023
Cantucci e Vin Santo, as the combination is known, is designed to be enjoyed at a leisurely pace following a meal. The cookies should be dipped into the typically small three-ounce measures of Vin Santo until they absorb the late-harvest sweet wine.
More wine and cookie combos to try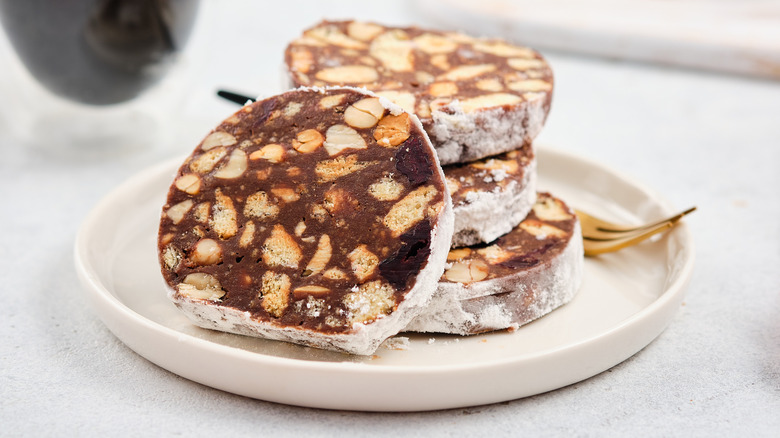 Natallia Harahliad/Shutterstock
Cantucci e Vin Santo is not the only cookie and wine combination that works well, and it's not just Italy that is known for the sweet matchup. Other countries also have similar traditions of dipping cookies into wine.
In Alsace, France, you'll find festive bredele cookies served alongside a sweet, perfumed muscat or gewurztraminer wine, while in Germany, spiced pfeffernuesse cookies are sometimes served with a sweet dessert wine or a glass of homemade mulled wine at Christmas.
If you prefer your wine baked into the cookies themselves, there are several options for that, too. In Málaga, Spain, borrachuelos (the root word borracho meaning "drunk") are soaked in wine and anisette liqueur before being fried. Chocolate salami is a no-bake dessert from Portugal made with broken cookies and port wine and then sliced. Meanwhile, ciambelline al vino are another style of Italian cookies made with red or white wine, and then baked in a ring shape. To enjoy them in true Italian style, try dipping them into more wine for a double dose of boozy cookie goodness.