TikTok's Caramel Apple Boards Are A Mess-Free Take On The Fall Favorite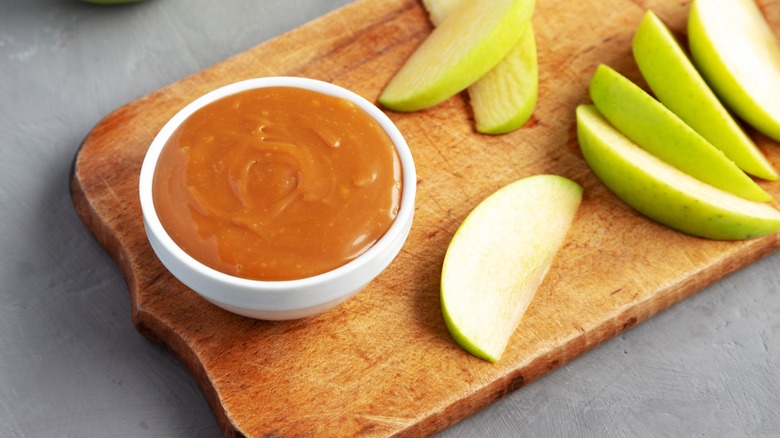 Liudmyla Chuhunova/Shutterstock
When autumn comes around every year, several things occur. Temperatures drop, leaves begin to change, sweaters start to appear ... and sweet fall treats emerge in full force. Whether it's pumpkin spice lattes, apple cider donuts, or cranberry cookies, some foods simply taste like the fall season.
A prime example is a big old caramel apple on a stick. Crisp, tart, and covered in sweet gooey goodness, a caramel apple is undeniably one of fall's favorite treats. Let's be honest though, it's also one of the messiest, and the sticky dessert can be difficult to eat in its traditional format.
Leave it to TikTok to find the perfect solution: caramel apple boards. A mess-free take on the popular treat, these boards are basically build-your-own, deconstructed caramel apples that allow you to easily dip the fruit into caramel and coat it with your favorite goodies, from chocolate chips to crunchy cereal.
Build your own caramel apple board
Want to jump in on this TikTok trend and create your own caramel apple board, but don't know where to start? There are many ways to go about building your board, but they all start with the basics: apples (you can cut them in half, or slice them for even easier dipping) and caramel sauce (homemade or store-bought).
Then it's all about how you want to candy those apples. Consider the fall flavors you love the most — cinnamon, pumpkin spice, maple, cranberry — and then think about how to marry them with your favorite snacks. Some fun ideas include spiced or candied chopped nuts, cinnamon-flavored cereal or graham cracker crumbs, dried cranberries, maple granola, and crushed-up pumpkin spice cookies. The fall-flavored opportunities are endless.
The key is to fill your board with treats that can easily stick to the caramel coating. So foods like mini marshmallows, chocolate chips, shredded coconut, and mini M&M's work great. If you want to include larger goodies, simply chop or crush them up. You can even expand on the dipping sauce and opt for melted chocolate, butterscotch, or peanut butter in addition to caramel.
More fall food board ideas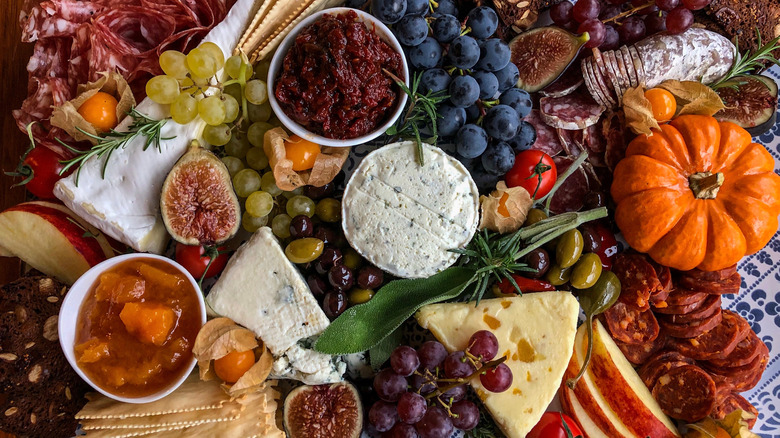 HK McDermott/Shutterstock
Caramel apple boards are just one take on a whole slew of fall food board variations. Sticking to traditional charcuterie boards, assemble the perfect fall cheese board by injecting the flavors of fall into your selection of cured meats, cheeses, and go-to accompaniments. Choose seasonal foods such as pears, cranberries, fig jam, spiced chutneys, and crackers seasoned with sage.
If you want to mix it up with a fall food board that's all about snacks or sweets, try including grazing treats like caramel popcorn, bite-sized maple or pumpkin spice cookies, candy corn, and pretzels. And be creative with your dips and sauces — anything from apple butter to pumpkin cheesecake dip will level it up.
Whichever direction you go, the final piece of your fall board will be a few decorative items. Mini pumpkins and gourds, artificial leaves, and sprigs or branches of fresh herbs will bring it all together for the ultimate festive food board.