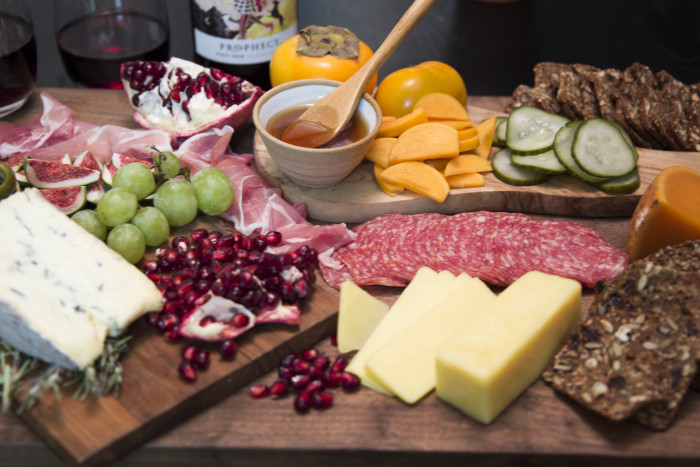 There are few appetizers easier to throw together than a cheese board, but it can be a truly elegant food display when assembled thoughtfully. We created a locally and seasonally inspired fall cheeseboard whose different components are meant to pair perfectly with the fruit-forward, luscious Prophecy Pinot Noir.
The perfect cheese board consists of complementary sweet, salty and savory components. Follow our guidelines for assembling your own top-notch fall cheese board.
Servings: 6
Cheese
Choose one soft cheese, such as a gorgonzola; one mild, middle-of-the-road cheese, like a good aged cheddar or mild brie; and one wild-card cheese, like a truffled gouda, manchego or cheese curds. Buying cheese from a local creamery is a great way to find the freshest and most interesting cheeses available in your area.
Meat
Layer in two or three types of charcuterie — one predictable option, like a mild salami, and one or two adventurous choices, such as a duck prosciutto or spicy turkey jerky.
Sweet
Try adding locally made preserves or honey from local artisans to my cheese boards for a touch of sweet. I love the sour cherry preserves purchased at my local market.
Savory
Olives, marinated vegetables, cornichons, pickled okra, et cetera, are all great savory options for your board. Choose one and add only a small amount as the focus should be on the cheese.
Fruit
Intersperse two or three types of sliced and whole seasonal fruits between your meats and cheeses for pops of color and texture. Persimmons, figs, grapes and a huge variety of apples and pears are all in season and beautiful at this time of year.
Cracker
Add one type of gourmet cracker and you're ready to serve!
Prep time: 20 minutes
Level of Difficulty: Easy
Brought to you by our friends at Prophecy Wine: