Ina Garten's Secret To Superior Eggplant Parm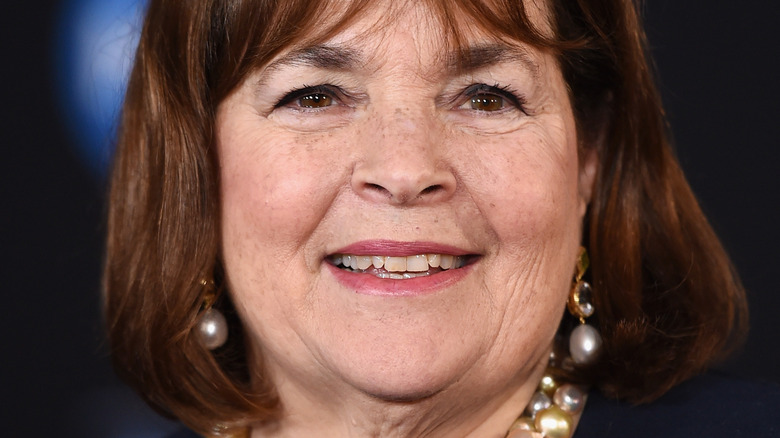 Amanda Edwards/Getty Images
Food Network queen Ina Garten, aka the Barefoot Contessa, has more than a few tricks up her sleeve. By now, we know we can trust this New York native to share all her delicious secrets as she teaches us how to make any home-cooked meal taste comforting and memorable.
With something as simple and classic as eggplant parmesan, how do you guarantee a superior dish? Garten's got a secret for that too, and it all comes down to how the eggplant is cooked. Rather than breading and frying the eggplant, which even a 200-year-old, Michelin-starred eggplant parmigiana recipes call for, the celeb chef opts for roasting the plump purple beauties.
In her roasted eggplant parmesan recipe, Garten simply roasts the eggplant first, with some olive oil, salt, pepper, and oregano before layering and baking it along with the other classic ingredients like marinara sauce, mozzarella, basil, and parmesan, and finishing it all off with a crispy bread crumb topping.
Eggplant parm: why roasting is better than frying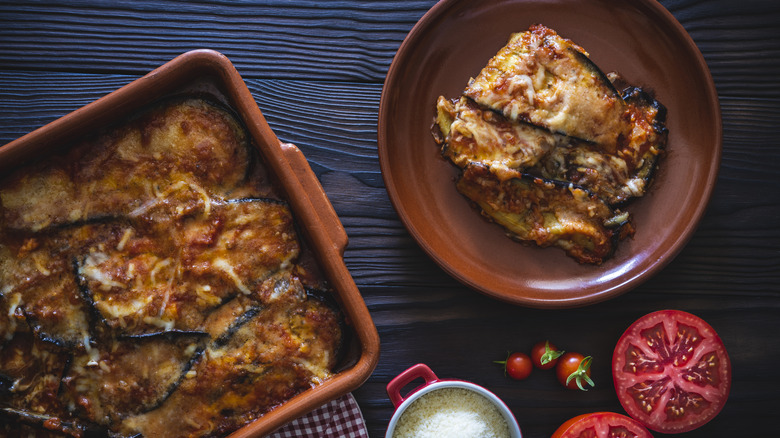 Mediterranean/Getty Images
In her "Cook Like a Pro" series for Food Network, Ina Garten claims that "once you've roasted eggplant, you'll never go back to frying it again." Why? She says it's way less messy. Roasting eggplant is a simple process that'll keep you and your kitchen clean; frying it, on the other hand, more often than not results in splashes of hot oil, a dirty stove, and quite the greasy aftermath to clean up.
Roasting also requires less work and fewer ingredients. A light brushing of olive oil is all that's needed for roasted eggplant — whereas frying requires much more oil to submerge and brown the vegetables. Since eggplant is filled with air pockets, its soft flesh acts like a sponge that soaks up oil extremely easily, so less is more when it comes to the oil used. If you roast rather than fry, you can better control and limit the amount of oil absorbed, and you won't need to use as much in the overall dish.
Roasting your eggplant will not only keep things clean and tidy, but it's also an easier, more efficient way to cook the main ingredient — and the end result is just as delicious once it's assembled and baked into a cheesy eggplant parm.
More Ina Garten tips to level up your eggplant parm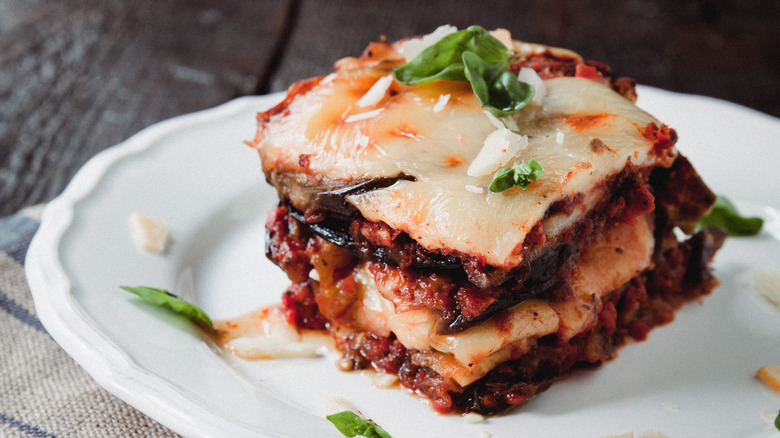 ~usergi15633745/Getty Images
Roasting your eggplant isn't the only secret hidden within this crowd-pleasing recipe; Garten incorporates a few other tricks along the way that help this particular dish reach superior status. If you're looking to entertain guests or make a batch for yourself at home, keep these tips in mind.
First, you may think the best move is to make the marinara sauce from scratch, but some store-bought substitutes are Ina Garten-approved — and one of those is marinara sauce. She prefers Rao's, but feel free to choose your favorite and save yourself some time. There are also some specific ingredients you can add to the mix to give your eggplant parm another dimension of flavor, like an herbaceous goat cheese. This addition will not only provide a creaminess that will melt well into the dish but also a tangy twist. Garten uses garlic and herb goat cheese for even more flavor. And speaking of cheese: When it comes to parmesan, the chef always freshly grates it. 
When you're preparing the eggplant itself (before it gets roasted), you can salt the slices and leave them for a few minutes to draw out additional moisture (and bitterness!) and further improve the texture. Just be sure you pat it dry before you spice it up and roast it in the oven.