How To Make Eggplant Parmigiana The 200-Year-Old, Michelin-Starred Way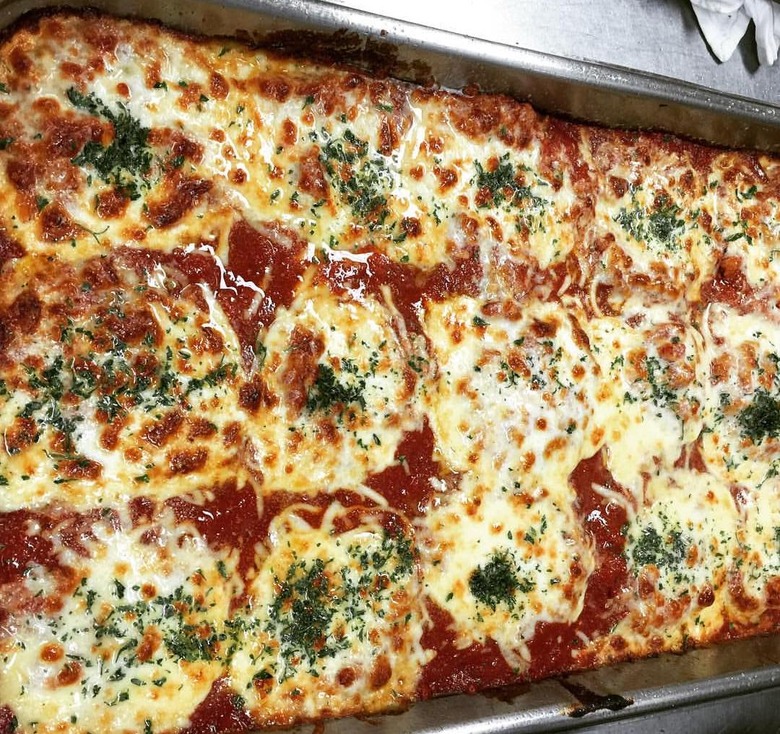 (Photo: Brian Zoleta on Flickr.
"There are several theories about the origin of eggplant parmigiana," Antonino Montefusco tells me. I've just pushed back from a meal of epic proportions at Terrazza Bosquet — a Michelin-starred restaurant inside the Excelsior Vittoria hotel in Sorrento, Italy. The eggplant parmigiana is layers of melted mozzarella and thick eggplant. The bright sauce is made from a simple trio of cherry tomatoes, garlic and sliced basil and cloaked in a salivation-worthy crust of baked Parmesan.
The Excelsior Vittoria is the third-oldest family-owned hotel in Europe, and they have been plating this dish for nearly 200 years. It was a high note in an overall culinary symphony.
"It was not just the eggplant parmigiana that helped us win the Michelin star," Montefusco, the hotel's sous-chef, offers. "No doubt the reinterpretation of a traditional dish, so strongly flavored and so strongly evocative, was part of the success."Eggplant parmigiana hails from coastal southern Italy, and it's a dish originally born slightly of necessity — with a helping of irony. So close to the sea, and yet so devoid of its bounty.
"The version we know today, with its Parmesan cheese and tomato sauce, first appeared in print in Ippolito Cavalcanti's Cucina teorico-pratica, published in Naples in 1837," Montefusco says. "It was a dish of la cucina povera, 'the kitchen of the poor.' It's about making great food with simple, available ingredients."
Eggplant first stood in as a protein substitute for meat. The combinations were homey and endearing. It offered an ease of creation and a substantive comfort. For so many reasons, it has endured. In a classic preparation, eggplant parmigiana features deep-fried slices of eggplant. For the citizens of Sorrento and neighboring Naples specifically, it's preferred to first dust the oiled slices in flour and then dip them in the egg. This helps the finished dish maintain a nice texture and consistency, too.
The eggplant slices are then layered on a plate after frying and covered with a helping of homemade tomato sauce and a thick sheet of grated Parmesan. It's then placed in an oven until the cheese is browned and bubbling. This method of plating offers another fun origin story. In Sicily, a parmiciana is a wooden door or shutter with downward-facing, horizontal slats. Some stories point to this as the origin for the name, as the eggplant slices should rest in a similar, cascading pattern on the plate.
Because of this similarity to parmiciana, there is a good-natured banter between Italians and Sicilians as to who truly owns the designation of having invented the eggplant parmigiana. For me, this is now a pointless argument. I've had the Michelin-level version at Terrazza Bosquet. I'm now firmly devoted to Sorrento.
I tried my hardest to move to Excelsior Vittoria, to live beneath the frescoed ceilings of the sunny, glass atrium lobby and dine every night at Bosquet on the balcony overlooking the sea. It's a pretty pleasant pipe dream, but alas, it's just that. I pressed Montefusco for the recipe before departing, and he was happy to share (see below).
If you're the type to travel for a dish, this is one to scribble on your list. Meanwhile, get into your own kitchen before the last of the fresh, deep-purple eggplants leave us in the dreary grip of winter.
Tips from sous-chef Antonino Montefusco:"Ripe eggplants are firm, with shiny, taut skin.""Slice the eggplants lengthwise. Each slice has to be three millimeters thick, for layering like a casserole.""Cook the tomato sauce for no longer than 30 minutes, because once the eggplant parmigiana is ready to be put in the oven, the tomato sauce will continue to cook for another 35 minutes at 310°F."
Eggplant Parmigiana Recipe
Courtesy of Terrazza Bosquet at the Excelsior Vittoria
Servings: 4
Ingredients
2 pounds eggplant
8 basil leaves
1 cup Parmesan cheese
1 tablespoon olive oil
4 cups sliced mozzarella cheese
1 clove garlic
4 cups of tomato puree
Peanut oil (to fry the eggplants)
1 egg
1 tablespoon cold water
1 cup flour
Fine salt, to season
Coarse salt, for eggplant
Directions:
Wash and dry the eggplants, and then slice them lengthwise, roughly ½ inch thick each. Put the eggplant slices on a plate and sprinkle with coarse salt. Let them rest 1 hour, to relieve any bitter essence. Once rested, wash them in cool water and dry them properly.
Pour the olive oil and the garlic cloves in a large pan set over medium-high heat. Cook down until wilted and then add the tomato puree and basil leaves; salt to season. Let it cook until thickened.
Prepare the mozzarella by cutting into thin slices and set aside.
Beat together one tablespoon of water and one egg.

Pour peanut oil in a large frying pan set over high heat.
Dredge eggplant lightly in flour, then dredge again in water/egg mixture. Dredge once more in flour.
Fry the eggplant slices on each side till golden brown
Set on a paper towel to dry.
Pour a measure of tomato sauce in a baking dish and then lay down a single layer of eggplant slices. Top with a layer of mozzarella slices. Repeat the sauce and then top with a layer of grated Parmesan cheese. Add another layer of eggplant slices, mozzarella and another layer of sauce. Top with Parmesan cheese.
Bake at 355°F for about 35 minutes.
Let cool and serve.