The Lettuce Mistake That Can Ruin Your Caesar Salad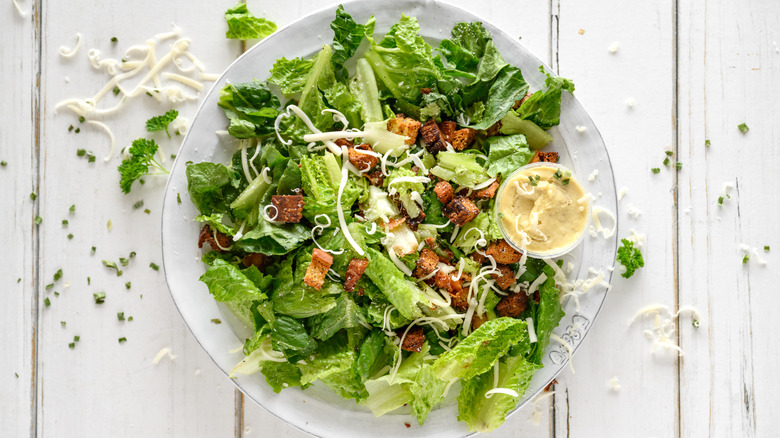 Lisegagne/Getty Images
Since it was invented by an Italian restaurateur named Caesar Cardini while he was living in Mexico a century ago, the Caesar salad has become something of a global phenomenon. Simple to assemble but sometimes difficult to master, this mix of lettuce, cheese, croutons, and dressing is so ubiquitous that you can find it everywhere from airport kiosks to Michelin-starred restaurants.
However, while there are just about 10,000 ways to create a Caesar salad, the choice of the lettuce is a key point in the recipe's success or failure. Since the distinctive dressing is heavy in body and strong in taste, you need a lettuce that can carry the topper and the rest of the ingredients without being overwhelmed and weighed down. It's traditional to use romaine for this reason rather than delicate leaves such as arugula or baby greens. But you can also choose something such as purple lettuce or even kale for a bed that can hold up when given the full Caesar salad treatment.
The right greens for Caesar dressing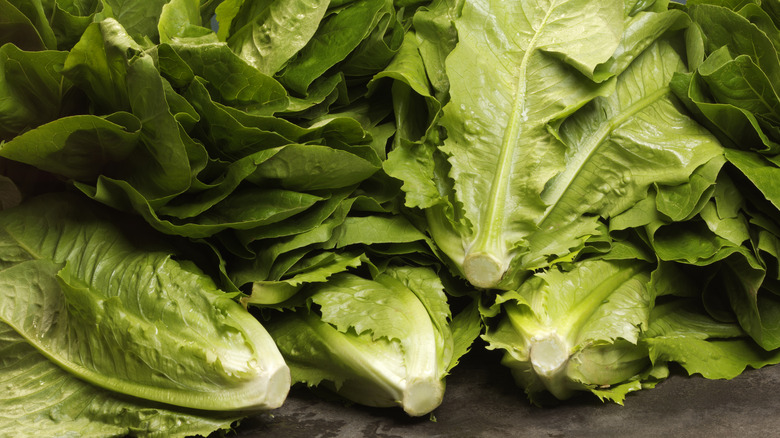 Dianepeacock/Getty Images
There is a tried and true method for choosing the right types of greens and lettuce for salads. For instance, soft and delicate baby greens or arugula leaves are best with a dressing that is thin and light such as a vinaigrette or a simple drizzle of good quality olive oil. Meanwhile, a hearty and stiff variety such as purple cabbage is great with crumbled blue cheese and heavier, creamy dressings.
This is the reason why harder-bodied lettuces such as romaine are perfect for the Caesar salad treatment. While the ingredients of the dressing have been under debate since the very beginning, most modern recipes call for a combination of olive oil, egg, anchovies, and garlic. The result is a rather heavy mix that will weigh down most delicate lettuce leaves. However, romaine or other hearty greens such as kale and endive work by providing just the right amount of crunch to offset the dressing, giving the salad a desirable overall texture.
Hearty salad making tips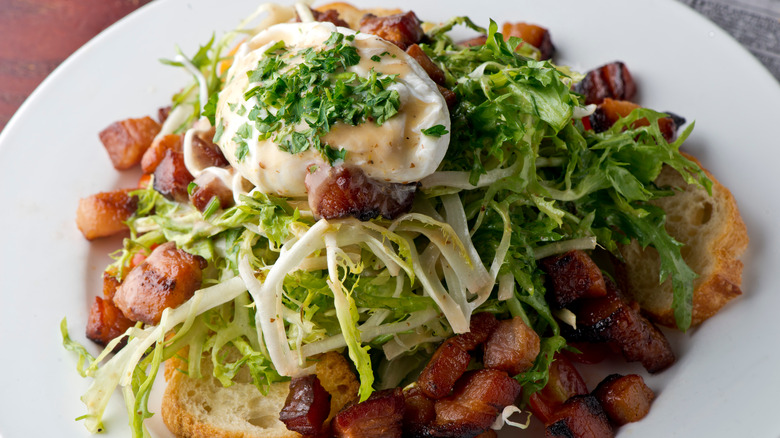 Marie Sonmez Photography/Shutterstock
When prepared well, a Caesar salad is a delicious contrast of textures and flavors, but you can apply the same principles behind this global favorite when it comes to making other salads, too. In terms of texture, it's always good to pair something that is soft with something crunchy, which is why toppings such as nuts and croutons are critical in an otherwise soft salad. Creamy salad ingredients, such as cheeses, go well with crisp textures, which is why crispy leaves like Belgian endive are often combined with crumbled blue cheese and walnuts.
Meanwhile, in terms of flavor, pairing sweetness with acidity can round out the harshness of a vinaigrette. For instance, sweet tomatoes and sharp citrus-based dressings are a match made in salad heaven. On the other hand, strong flavors should be augmented by other strong flavors. Frisse, a lettuce well known for its hearty texture and bitterness, is often served with equally strongly-flavored bacon lardons alongside a poached egg to add some creaminess to both components.