When it comes to a final drizzle or homemade dressing for that special salad, only great-quality extra-virgin olive oil will do. Beyond the health benefits associated with olive oil consumption, the nuances and flavor notes in the best olive oil you can find will make your vegetables sing the kind of song everyone can enjoy: the song of deliciousness.
I have loved salade Niçoise for as long as I can remember. My version is less traditional — I've swapped fresh tuna for the meaty pink Italian kind that comes packed in olive oil; I'm partial to substituting roasted tomatoes if fresh aren't truly in season; and I suggest creamy green olives instead of the traditional black — but the communal concept is the same. Everyone gets a little bit of everything with only one plate to wash.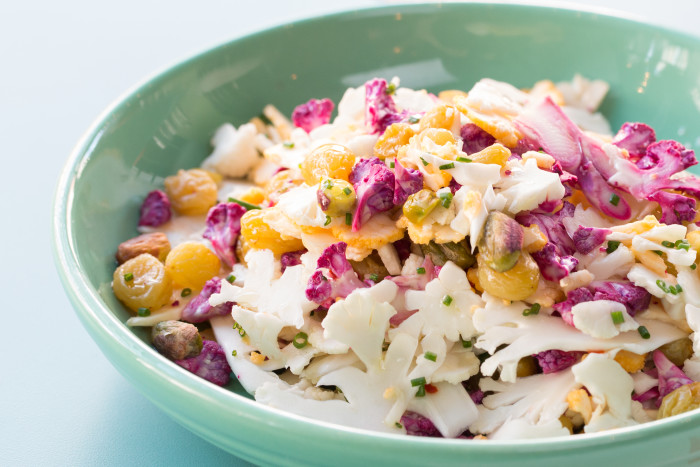 Cauliflower has very earthy, hearty properties, so I thought a nice bright acid like fresh lemon juice would be great, with that acidic of a dressing a nice plumped sweet golden raisin would help balance the acid and toasted pistachios would round out the dish and give it another layer of flavor. I have been extremely surprised on how well received it has been. Most months it outsells our Caesar salad, and in a Italian American restaurant, that is unheard of.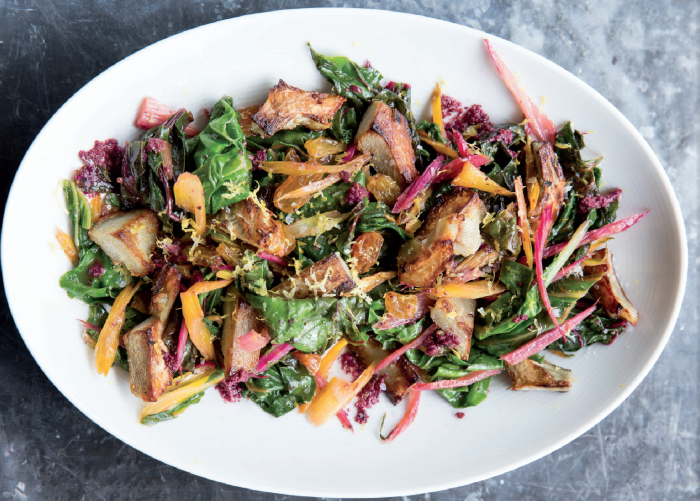 Artichokes are essentially two vegetables in one. In this recipe we use the heart, which is tender with a texture somewhere between a really creamy potato and a roasted turnip. But you can also eat the bottom part of the leaves; dip them into some homemade lemon aioli or melted butter with lemon juice mixed in. Serve the leaves as a snack while you're getting the rest of the meal ready. It's like the Tootsie Pop of vegetables. As Lil' Kim once said while singing about artichokes: How many leaves does it take to get to the center?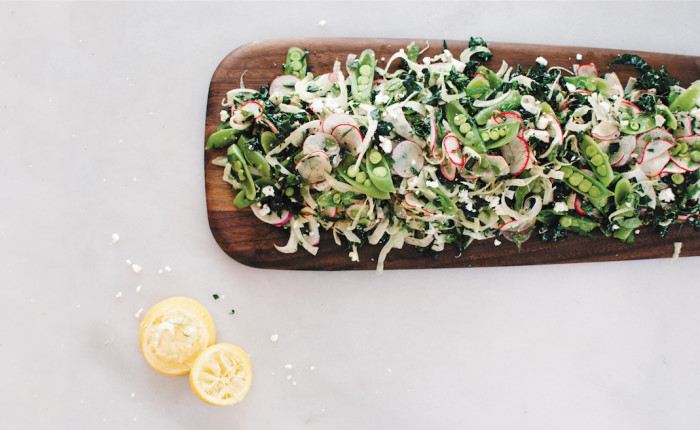 I receive one twinkly-eyed question nearly without fail whenever I share the name of my website: Do you eat kale and caramel together? I'm left to confess that not only do I never combine the two, I've never even wanted to try. The name for the blog came to me one night, mid-dishwashing, as my friend and mentor Rebecca was urging me to create a digital home for my food and writing. But what would I call it? I lamented. I summoned to mind the two foods I could think of that I loved most: Kale. And caramel. And thus the blog was born. At the risk of sounding too heady, it was more a concept than a suggestion for a new flavor combination.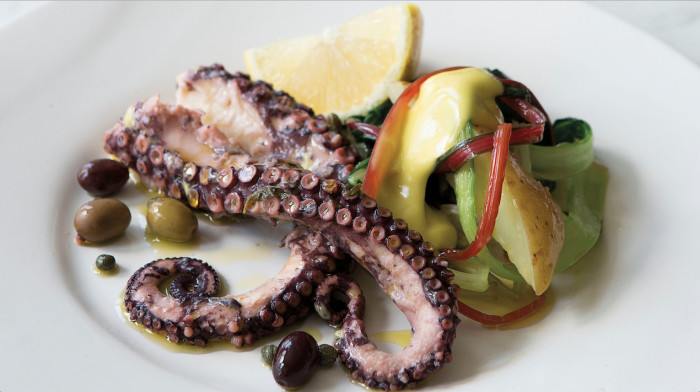 Octopus — cooked slowly until it is meltingly tender — is wonderful to eat, and its long, languid, purple-colored tentacles have a striking appearance on the plate. Scattered with capers and olives, and accompanied by nutty young potatoes and cima di rapa, it tastes perfect at room temperature. As a rule, I am averse to the use of frozen food, but this cephalopod is an exception — octopus that has been frozen first gives a much more tender end result.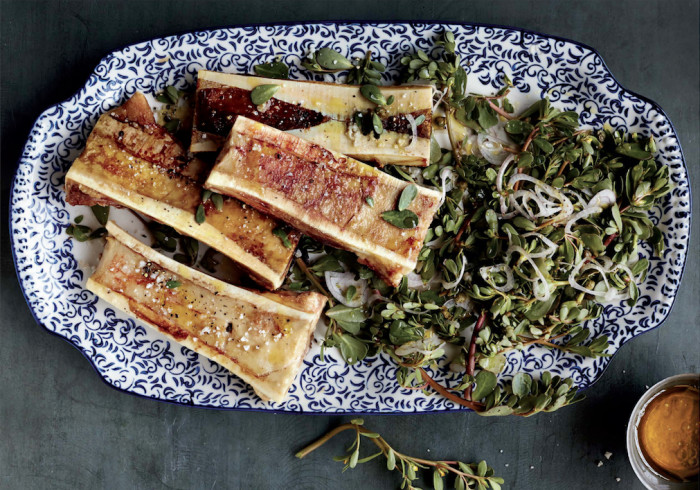 Purslane, known as pourpier in France, is a wild green succulent that grows in vineyards and gardens. During spring and summer, it can sometimes be found in the open markets in France and at farmers' markets in the United States. At my house in California, it comes up every year in the garden, along the edge of the lawn, and in the grape arbor. Farmers consider it a weed, but we cooks love the slightly tart, lemon flavor of its leaves, which makes an ideal counterpart to rich bone marrow. If you can't find purslane, use wild or baby arugula mixed with watercress.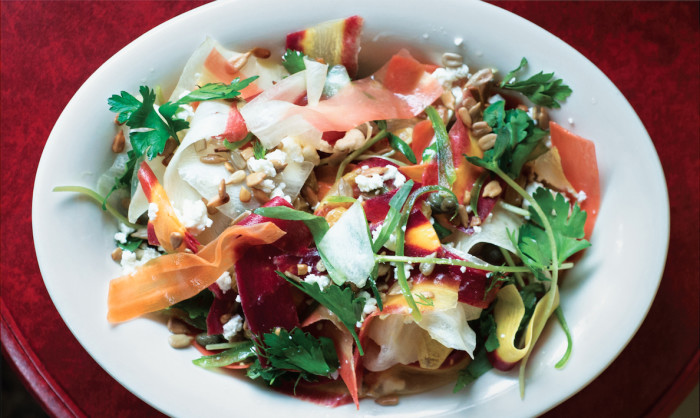 Beautiful rainbow carrots have recently been showing up at farmers' markets, and chef Martinez uses them in this bountiful and refreshing salad — a tangle of vibrant yellow, orange, and purple carrots drizzled with tangy orange vinaigrette and tossed with hunks of sheep's milk cheese, pickled raisins, capers, piquant chilies, and sunflower sprouts; it's all topped with fresh herbs and toasted sunflower seeds.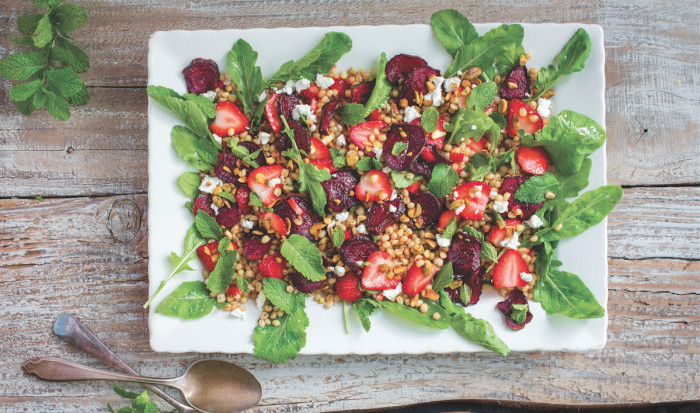 In my garden, strawberries begin to ripen about the same time the first beets are ready to harvest. One day I realized that the sweet, citrusy acidity of my Ozark Beauty strawberries would be the perfect foil for the earthy nuances of beets, and that both go well with maple syrup and balsamic vinegar. Because wheat berries also love maple and balsamic, I had found the perfect pairing for a beautiful and tasty salad. (Cook your wheat berries ahead of time, or if you need a quicker-cooking grain here, use farro.) The cool flavors of arugula and goat cheese add the perfect contrast, but you could certainly leave out the goat cheese for a vegan version. Ideally, use a large platter or two smaller platters for this salad, which gets a whimsical character from scattering and layering the ingredients rather than mixing them in a deep bowl.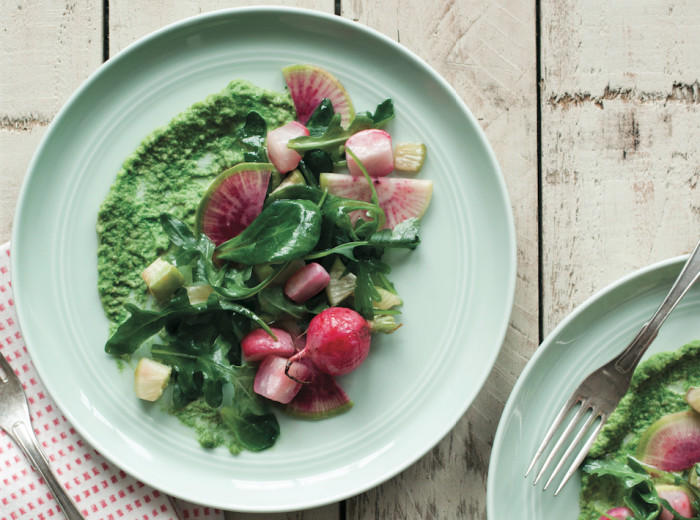 This salad pairs sweet mâche with peppery arugula and radishes in three hues for a vibrant taste of spring. Chinese green radishes are shaped like a daikon, but with bright-green flesh. Watermelon radishes are green on the outside, with striking magenta flesh, and are also related to daikon. The idea here is to make your salad colorful, so Easter Egg and French Breakfast varieties are options too if green or watermelon radishes aren't available.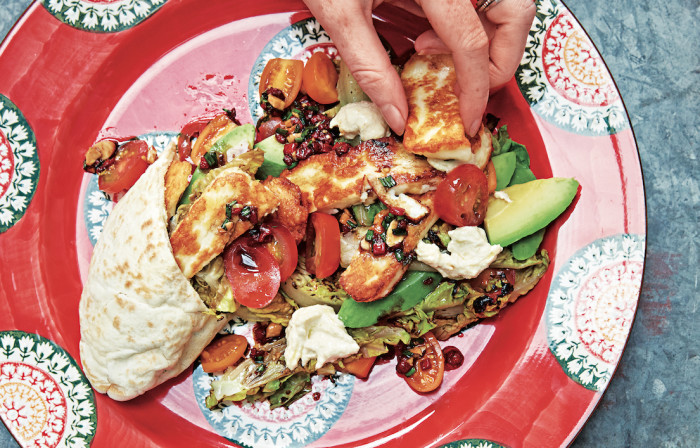 Fried cheese doesn't really need an introduction. You know you'll like it. Serve as a salad or stuff in a pita bread.