You've Probably Been Folding Potstickers Wrong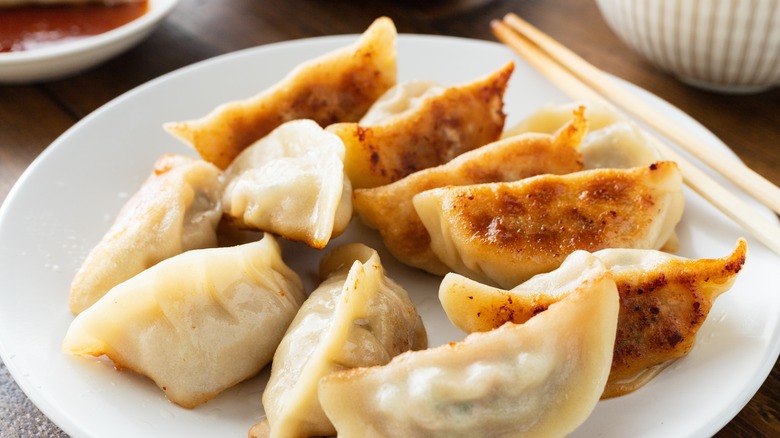 Koarakko/Shutterstock
Potstickers are simply irresistible, offering the perfect blend of crispy and chewy textures. They feature a soft, doughy exterior that's pan-fried to a crisp on the bottom. Though traditionally filled with pork and cabbage, these delicious dumplings can be customized with any meat or vegetables of your choice. Whether you opt for Chinese takeout or pre-made frozen varieties, potstickers are incredible in any form. However, they taste even better when homemade, and making this Asian dish at home is surprisingly easy — especially if you master the best technique for pleating the crescent-shaped dough. Anmao Sun, co-founder of the San Francisco-based restaurant chain Mamahuhu, offers a helpful tip for hand-folding your potstickers: Fold them from the outside in.
Whether you decide to make dumpling dough from scratch or use store-bought wrappers, the dough usually consists of just two ingredients: flour and water. Knowing the proper way to fold this delicate dough is crucial, as it's arguably the most important element of a potsticker. While there are numerous ways to fold the dough, including some intricate designs, pleating from the ends and working toward the middle is one of the simplest methods. Just fill, fold, cook, and enjoy.
Fold your potstickers from the outside in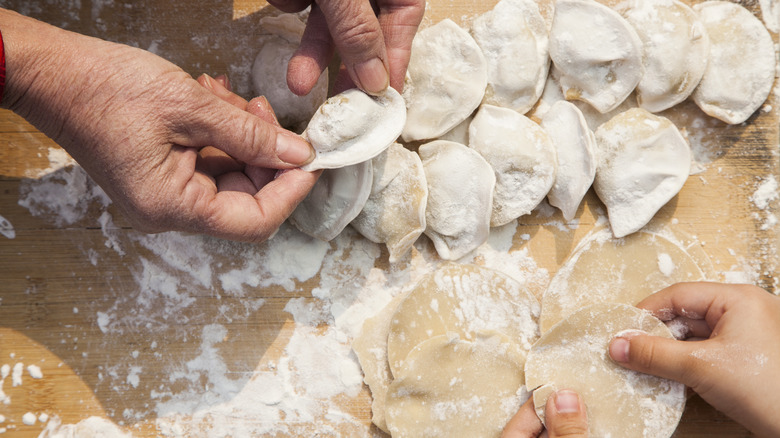 Xixinxing/Getty Images
You don't need to buy fancy potsticker presses to make your own dumplings. "Work from the outside in rather than trying to go end to end," Anmao Sun tells Food Republic. He also recommends using small crimps to remove any air from the potstickers, preventing them from tearing during cooking. Folding the dough in this manner also helps avoid tears by ensuring the folds are tight, so they don't absorb too much moisture. Once you've finished folding, Sun suggests that the the best way to cook potstickers is to steam them first and then pan-fry the bottoms in oil.
If you're not up for making your own potstickers, Mamahuhu has you covered. The restaurant chain recently launched its first line of frozen potstickers, available in two delicious varieties: pork and purple cabbage, and tofu and mushroom. Although shipping is currently limited to California, the brand plans to expand nationwide shipping starting in January 2024. Whether you choose to make them from scratch or heat up a frozen batch, don't forget to pair your potstickers with a tasty sauce, like soy sauce mixed with black vinegar or classic teriyaki sauce.