The Best Way To Cook Potstickers, According To An Expert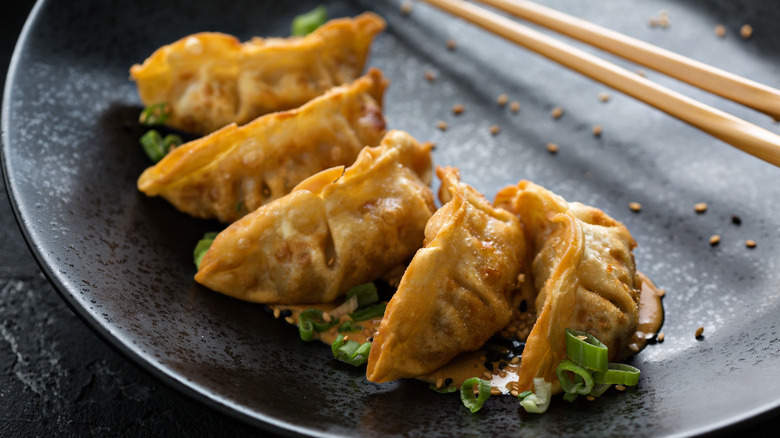 Elena Veselova/Shutterstock
Potstickers are a staple in Asian cuisine, commonly featuring a pork and cabbage filling. However, one of the best things about them — aside from their taste — is their incredible versatility; they can be easily customized with any meat or vegetable filling you prefer. Unlike traditional dumpling recipes, which usually call for steaming or boiling, potstickers are typically pan-fried in oil to crisp up the bottoms. But according to Anmao Sun, co-founder of the San Francisco-based restaurant chain Mamahuhu, there's an even better way to prepare them: "The best way to enjoy a potsticker is to first steam, then fry until one side is golden brown and has that perfect crunch," Sun tells Food Republic.
Sun, along with his business partners Brandon Jew and Ben Moore, knows a thing or two about potstickers. The trio opened the first Mamahuhu location in 2020 and have since added two more. Mamahuhu's menu pays homage to the Chinese-American classics they grew up eating and features an assortment of options like broccoli with mushrooms and egg rolls. Mamahuhu has also recently introduced its first line of frozen potstickers, available for purchase online in two varieties: pork and purple cabbage, and tofu and mushroom. Shipping is currently only available within California but will expand nationwide in January 2024.
Pair your potstickers with the perfect sauce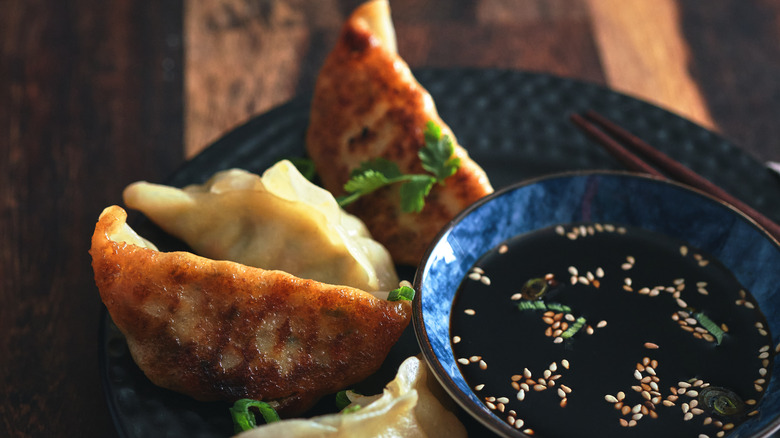 Gmvozd/Getty Images
Once you've steamed and fried your potstickers, it's time to focus on the dipping sauce. "You can't go wrong with the basic combo of soy sauce and black vinegar," Brandon Jew tells Food Republic, noting that some people might add a dash of sugar to balance the soy sauce's saltiness. "But I prefer more of a flavored oil, like sesame, peanut, chili, or herb oil, along with the soy and vinegar," he adds.
Instead of sugar, you could use honey or another liquid sweetener, such as maple syrup or agave nectar, to craft a delicious dip. Alternatively, you could deviate from the traditional soy sauce and pair your potstickers with a teriyaki sauce for a uniquely umami-rich experience. Feel free to garnish whatever sauce you choose with green onion, sesame seeds, or red pepper flakes for a spicy kick. Now you're ready to enjoy this delectable meal.