The Hard Cheese That Pairs Wonderfully With Watermelon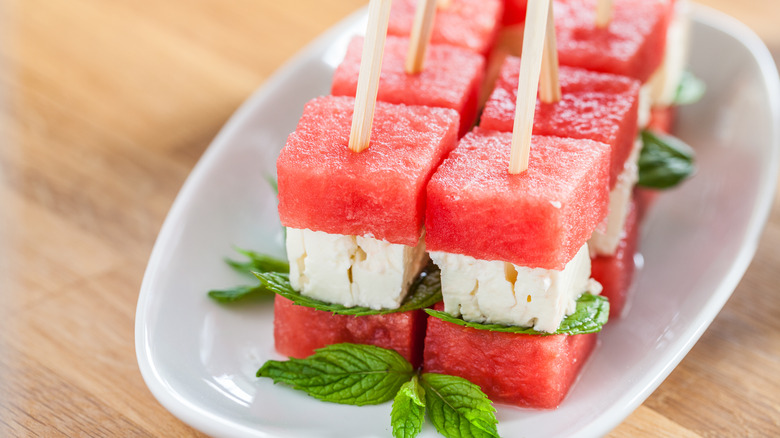 Ermandogan/Getty Images
Figs and blue cheese. Apples and cheddar. Chocolate and chili peppers. These are just some of the sweet and savory ingredients that pair extremely well together. As anyone that has placed cheddar cheese on top of a slice of apple pie can attest to, the taste contrast of salty and sweet creates an explosion of flavor that will surpass each individual component.
Another classic combination of salty and sweet is watermelon and feta cheese. The merger of juicy and sweet melon chunks and cubes of pungent and salty feta cheese is perhaps the epitome of textural and flavor contrast. When tossed with some olive oil, lemon juice, mint leaves, and flaky salt, a watermelon and feta salad is a welcome dish at dinner tables, especially when the fruit is in season. 
However, there are other cheeses that will pair well with the sweet fruit. Consider Manchego, the sheep's milk cheese from Spain. Aromatic and strongly flavored, it serves as a delicious foil to the soft and sweet melon.
Pairing Manchego cheese with watermelon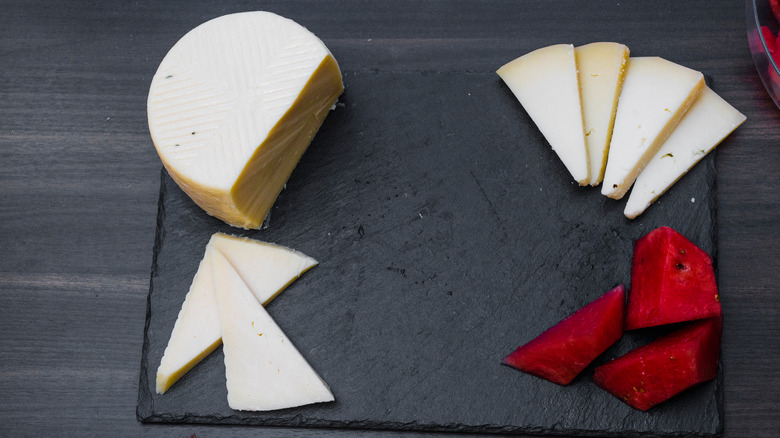 DAPHOTORUSSIA/Shutterstock
For the uninitiated, Manchego cheese is probably one of the most famous varietals to come out of Spain. Made with milk from the Manchega breed of sheep in the Spanish provinces of Albacete, Ciudad Real, Cuenca, and Toledo, this cheese is available aged outside the country as well, but thanks to its protected designation of origin (PDO) status, only the kind that comes out of the Spanish provinces and made with the certain type of milk can be called Manchego. Molded and pressed in containers that replicate the crosshatch texture of traditional grass baskets, it's aged for up to two years.
When cut, the inside of Manchego cheese is pale in color and semi-firm in texture. It has a slightly salty and nutty flavor and a grassy aroma, which makes it a great pairing with juicy and crisp fruit like watermelon. For instance, you can stack thin slices of Manchego alternately with watermelon for a visually stunning salad. Or you can shave curls of Manchego over an arugula salad featuring small chunks of watermelon, tomato wedges, and cucumber slices for another flavor pop.
More delicious watermelon and cheese pairings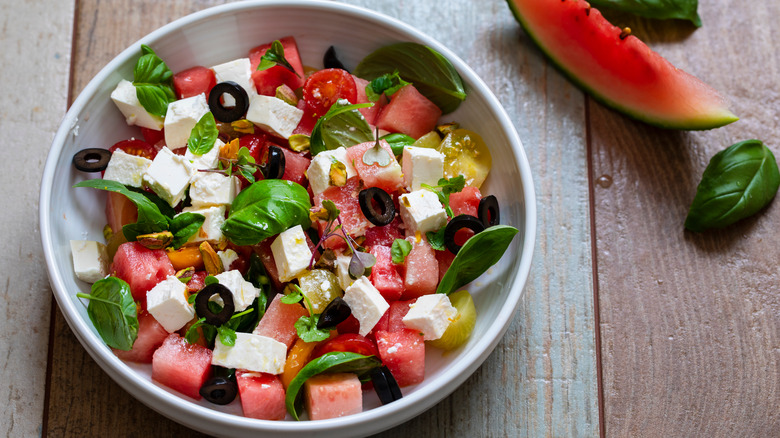 Magdanatka/Shutterstock
Aside from being a great pairing for salads, watermelon and Manchego cheese is also a fantastic hors d'oeuvre for a party. For example, cubes of cheese and watermelon can be skewered together with toothpicks alongside slices of serrano ham to make a light pass-around bite during large gatherings. When served with glasses of cold sangria, it's a brilliant start for a Spanish-themed dinner party.
Of course, watermelon is a great partner with other cheeses, too. Small, soft balls of mozzarella and cubes of watermelon makes for a wonderful appetizer when drizzled with balsamic vinegar and shredded basil. It merges the fruit's sweetness with the acidity of the vinegar, plus the creaminess of the cheese, and the herbaceous quality of basil. 
Sticking with Italian options, Pecorino Romano cheese, similar to Manchego, is an alternative that goes well with watermelon if you cannot find the Spanish cheese. Alternatively, hunks of grilled Halloumi cheese from Greece can make an attractive pairing for the fruit as well.