Apple Pie With Cheddar Lattice Crust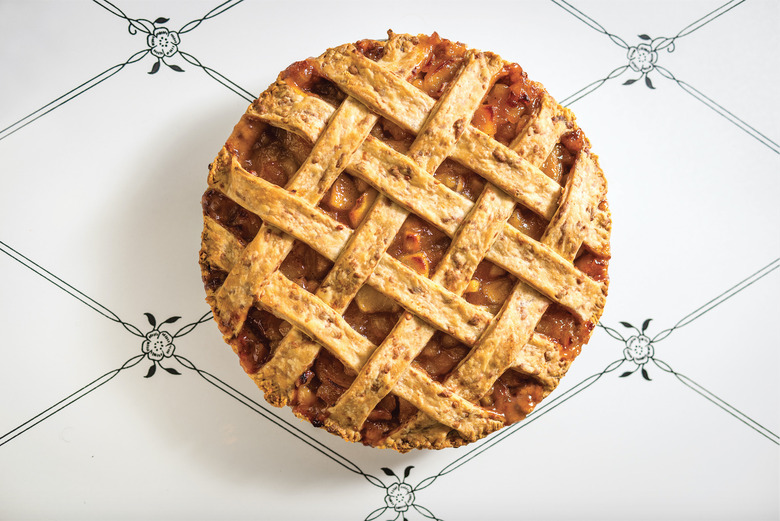 We may receive a commission on purchases made from links.
City Harvest is an organization dedicated to rescuing and "re-homing" food around New York City where it's needed most. Longtime New York Times food writer and cookbook author Florence Fabricant compiled 100 recipes from some of the city's most beloved chefs and added their (and her) tips for eliminating food waste at home. A portion of the proceeds from the book goes to City Harvest, so pick one up and start cooking right!
Marc Glosserman's Texas barbecue and chicken restaurants specialize in pie for dessert. The pies are also sold retail to take away. They have been the work of Elizabeth Karmel, whose versatile background has given her expertise on the barbecue and bakery fronts. This apple pie benefits from its rich cheddar pastry. Karmel is no longer at Hill Country; she now runs a company that sells North Carolina barbecue.
There is enough dough to make a standard double-crust pie. If you make a lattice crust, you'll have some leftover pastry. You can use any of it to make little hors d'oeuvre tartlets to fill and bake with a savory quiche filling.
Apple Pie With Cheddar Lattice Crust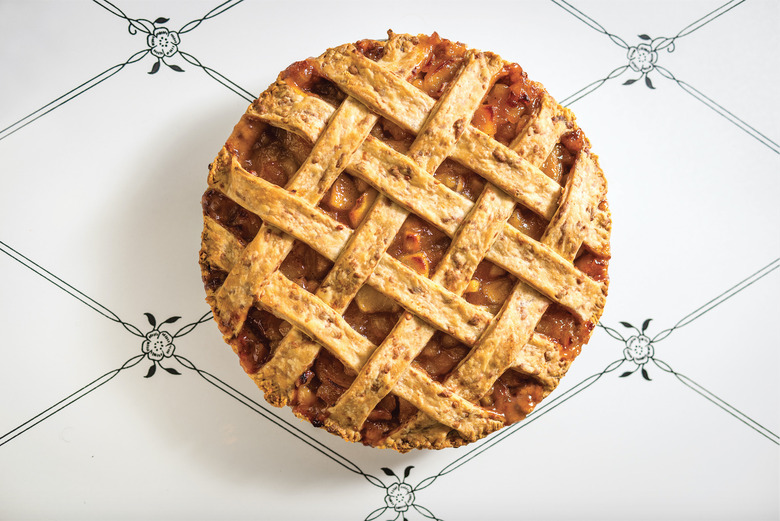 Ingredients
5 cups peeled, sliced Granny Smith apples
1/4 cup light brown sugar
4 tablespoons unsalted butter
1 tablespoon cornstarch
2 teaspoons cinnamon
pinch of salt
1 tablespoon lemon juice
2 cups all-purpose flour
1 teaspoon fine sea salt
2 teaspoons granulated sugar
Pinch of cayenne
9 tablespoons unsalted butter
1 2/3 cups grated sharp white cheddar cheese (about 5 ounces)
Directions
:::crust:::
Place the flour, salt, sugar, and cayenne in the bowl of a food processor. Pulse briefly to mix. Add the butter and pulse until the mixture has a mealy texture. Add the cheese and pulse again a few times to incorporate it.
Drizzle in 1⁄4 cup ice water. Pulse briefly. At this point, see whether the mixture is moist enough to be gathered together. If not, add another tablespoon or two of the water, and pulse until the dough comes together. Shape the dough into a ball, wrap it in plastic, and refrigerate it until you are ready to use it.
:::pie:::
Preheat the oven to 400°F. Separate the dough into two pieces, one twice as large as the other. Roll out the larger piece on a lightly floured surface and use it to line a 9-inch pie plate. Refrigerate both the reserved pastry and the pie shell.
Place the apples in a bowl and toss them with the brown sugar. Melt the butter in a heavy 12-inch sauté pan or skillet. Add the apples. Cook them on medium high, stirring, for about 10 minutes, until they start to caramelize. Dissolve the cornstarch, cinnamon, and salt in the lemon juice and add it to the pan. Stir until the juices start to thicken.
Spoon the apple filling into the prepared crust. Roll out the reserved dough on a lightly floured surface, cut it into inch-wide strips, and weave a lattice crust to top the pie. Alternatively, you can cover the pie with a top crust, crimping the top and bottom edges together and cutting some decorative slits to allow steam to escape.
Bake the pie for 15 minutes. Reduce the oven temperature to 350°F and continue baking for another 40 minutes or so, until the crust is golden brown. Let the pie cool for at least 30 minutes before serving.