Watermelon And Manchego Stack With Arugula Pesto Recipe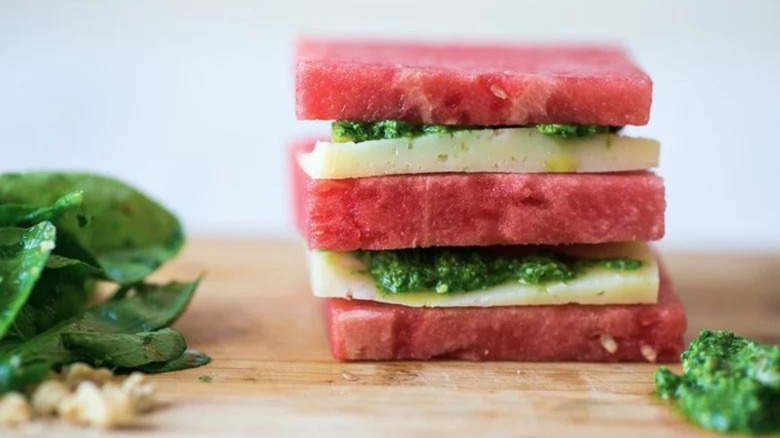 Sam Horine/Food Republic
Just cause it's salad season doesn't mean you're confined to a bowl of greens with extra stuff on top. It's fun to make different plays on the classic summer tomato, mozzarella, and basil caprese by switching up the fruit, cheese, and herb. In this instance, a whole juicy watermelon, nutty Spanish manchego and an abundance of fresh, peppery farmers market arugula straight from New Jersey worked perfectly.
Feel like converting the salad to hors d'oeuvres? Just skewer alternating cubes of watermelon and manchego and plate on a smear of arugula pesto. Try your own ingredient combinations for easy variation.
Buy a sizable wedge of manchego and cutting your own slices — then you can cut them to your particular specifications and have all this extra manchego to use on grilled summer corn.
Watermelon And Manchego Stack With Arugula Pesto Recipe
This watermelon stack is a fruity and refreshing play on the classic summer tomato, mozzarella, and basil caprese, featuring similar flavors and textures.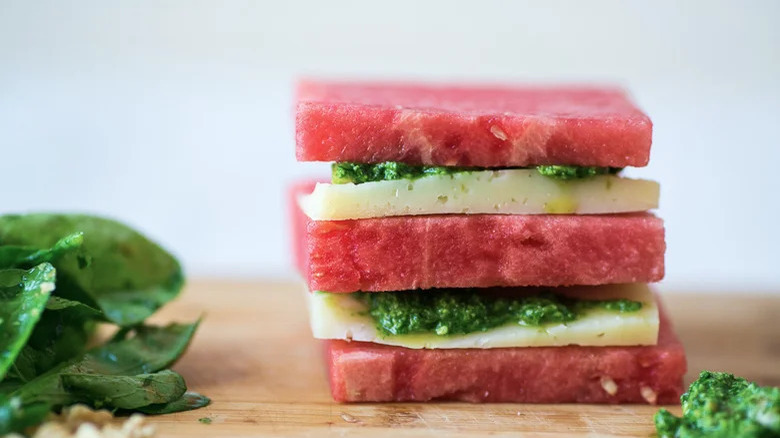 Ingredients
2 bunches fresh arugula (not pre-washed from a bag)
1 clove garlic
1 small handful coarsely chopped walnuts
1 tablespoon freshly squeezed lemon juice
½ cup olive oil
Kosher salt and freshly ground black pepper
3 ½-inch thick round slices of a large whole watermelon
2 thick slices Spanish manchego cheese
Directions
Combine the arugula, garlic, walnuts, lemon juice and half the olive oil in a blender. Pulse lightly until incorporated, then drizzle in olive oil and continue to pulse until blended but not completely smooth. Season to taste with salt and pepper and set aside.
Trim the edges off the watermelon slices to make squares.
Cut two thick slices of cheese to fit the watermelon squares if using a wedge, otherwise swap steps 2 and 3 and trim watermelon to fit the pre-sliced cheese.
Plate as follows: watermelon, manchego, pesto, repeat.
Smear a little extra pesto on the plate before serving. 
Nutrition
| | |
| --- | --- |
| Calories per Serving | 854 |
| Total Fat | 69.3 g |
| Saturated Fat | 13.4 g |
| Trans Fat | 0.0 g |
| Cholesterol | 27.7 mg |
| | |
| --- | --- |
| Total Carbohydrates | 53.1 g |
| Dietary Fiber | 6.8 g |
| Total Sugars | 38.4 g |
| Sodium | 2,003.3 mg |
| Protein | 16.7 g |