The Most Expensive Whisky In The World Is Literally Covered In Diamonds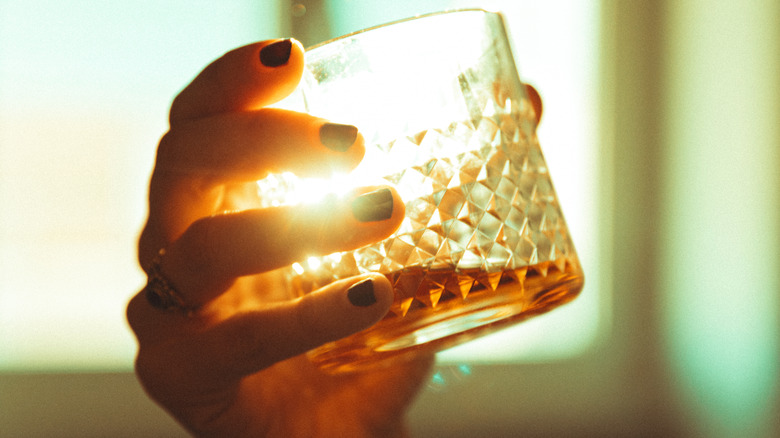 Marco_piunti/Getty Images
If you suddenly found yourself $6 million richer — whether from an extremely lucky scratch-off ticket, an unexpected inheritance from a long-lost uncle, or good old-fashioned hard work paying off — there wouldn't be much you couldn't afford. Enticing options might include your dream home, early retirement, a trip around the world with ample spending money, or completely eradicating your debt with plenty of cash left over. Of course, you could also invest in the world's most expensive bottle of whisky.
There are some exorbitantly priced bottles of alcohol in the world. For example, a 750-ml bottle of 1869 Château Lafite-Rothschild wine once sold for $342,000; a bottle of 55-year-old Yamazaki whisky fetched $767,000; and in 2019, someone paid over $2.7 million for a single bottle of The Macallan 60-Year-Old Fine and Rare scotch whisky. However, they all pale in comparison to Isabella's Islay, which retails for $6.2 million. This is an aged, single malt Scotch whisky boasting a flavor profile of buttered toast, woodsmoke, and fresh barley. While it is exceptionally smooth, delicate, and well-balanced, its sky-high price isn't justified by the liquid contents alone but rather by its diamond-encrusted bottle and ruby accents.
Dripping in luxury
Isabella's Islay whisky is produced on Scotland's Islay Island, one of the country's five Scotch Whisky regions, plus the islands. Whiskies from this area are known for their peaty moss and smoky tasting notes, as well as the essences of the surrounding sea. Manufactured by the Luxury Beverage Company, the whisky is nothing short of luxurious. It is housed in an expertly crafted decanter made of English crystal, which is coated with the equivalent of two gold bars of white gold. Atop this layer of gold sit 8,500 glistening diamonds and about 300 rubies, spelling out "Isabella's Islay" on the front of the bottle. The lavish bottle is then presented in a wooden case.
The rubies can be customized; for example, if you want your name spelled out on the bottle, it can be arranged. Many details about the actual whisky inside remain a mystery, such as its age and the specific Islay distillery responsible for its production. This leads the buyer to assume that the bottle itself is the primary source of value. Undoubtedly, Isabella's Islay serves as a showpiece for the extremely affluent. While it hasn't been disclosed how many bottles, if any, have been sold, it would be intriguing to know who would display these bottles on their bar shelves and who would opt to place them in their jewelry cases.
Whisky at every price point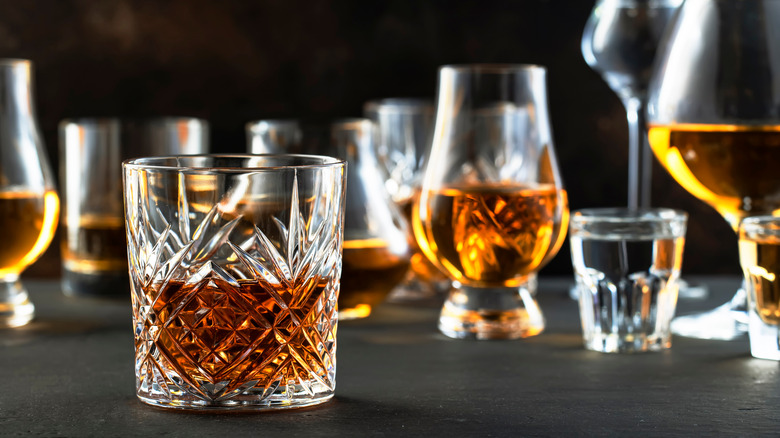 5PH/Shutterstock
If $6.2 million is too steep for your budget, Isabella's Islay offers a Special Edition bottle that is far more affordable, yet still features English crystal, white gold, and diamonds. For $740,000, one of these bottles can be yours. In the realm of luxury whiskies, The Macallan distillery, located in the Speyside region of the Scottish Highlands, boasts several that have fetched exorbitant prices. The distillery's legendary cask number 263, which contained whisky made in 1926, has produced multiple bottles that have sold for well over $1 million. Many of these feature artwork by esteemed artists like Sir Peter Blake, Valerio Adami, and Michael Dillon.
If you're a whisky aficionado but, like most people, wouldn't spend $6 million on a bottle even if you had the means, it's good to know that excellent options are available to suit all budgets. For instance, you can find high-quality bourbon whisky for less than $40 a bottle.