What Are The Differences Between Scotland's Whisky Regions?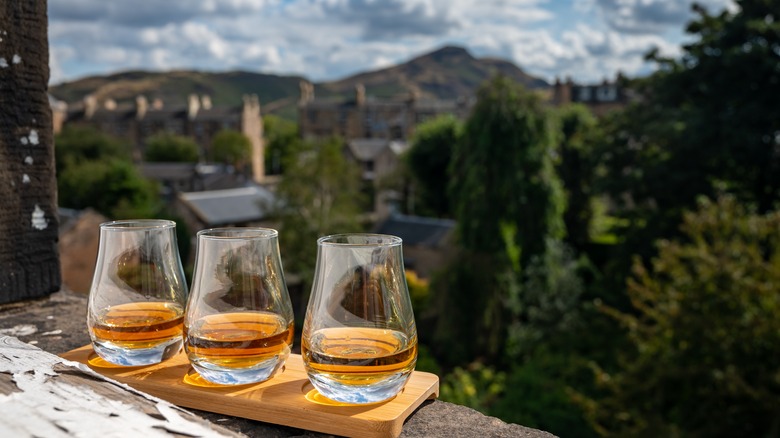 barmalini/Shutterstock
We've all heard of Scotch whisky, most often referred to simply as "Scotch," which consists of malt or grain whisky made in Scotland. And most of us know that the country is divided into a number of geographic areas that produce the beloved liquor. But what exactly are these various districts and how do the flavors vary? Let's take a look.
Lowland: Whiskies from this region tend to be soft and light in character, with malty, grassy notes and subtle, delicate aromas. Located in the Southern part of the country, the Lowlands are home to just three working distilleries: Auchentoshan, Bladnoch, and Glenkinchie.
Highland: The Highland takes up most of the country, which means there is a great variation present in the region — malts range from dry to sweet. Some of the more recognized Highland distilleries are Aberfeldy, Dalmore, and Glenmorangie.
Islay: The tiny island of Islay is nicknamed "Whisky Island," due to its concentration of eight producing distilleries. Its whiskies are the strongest flavored of the four regions and are renowned for their dryness and strong peaty smokiness. Examples of distilleries include Bowmore, Lagavulin, and Laphroaig.
Speyside: Once considered part of the Highlands, this area has almost half the total number of distilleries in Scotland and is therefore officially recognized as a region unto itself. Speyside is known for producing sweet whiskies, with mellow notes and fruity flavors. Among the several acclaimed distilleries are Glenfiddich, The Glenlivet, and The Macallan.
It is worth noting that other whisky-producing sections exist in Scotland. While Campbeltown was removed as an official region several years ago, it currently houses three operating distilleries. The Islands are considered a subdivision of the Highlands and include the Talisker distillery.