Taco Bell's Nacho Fries Are Back With A Vegan Twist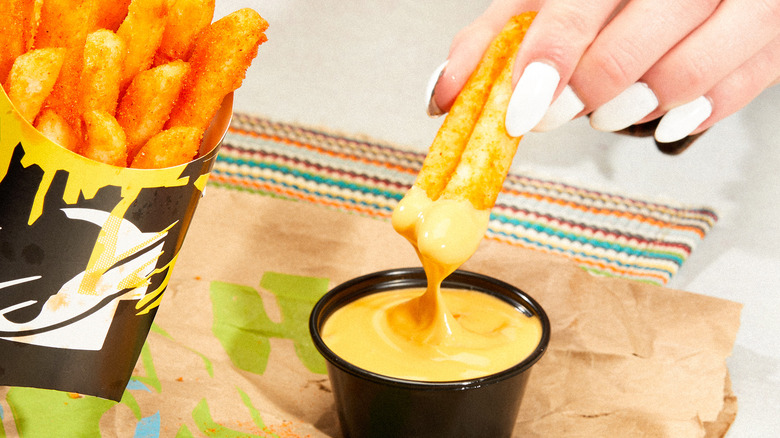 Taco Bell
French fry and nacho cheese fans, rejoice! Taco Bell is bringing Nacho Fries back to the menu for its steadfast fanatics. These crunchy potato dippers, seasoned with a sweet and spicy blend that includes salt, sugar, paprika, garlic powder, and onion powder, can now be served with a new vegan twist. Instead of just classic nacho cheese for dipping, Taco Bell customers can opt for vegan nacho sauce.
The move is pretty on-brand for the chain. Taco Bell has some zany creations and already has around 25 vegetarian versions. It notes that in 2022, around 23% of products sold were vegetarian menu items. Those vegetarian choices can easily go vegan with a couple of modifications, and the company encourages customization. Simply ask for an item fresco-style, and they'll substitute any dairy or mayonnaise-based products with diced tomatoes. Now your refried bean burrito can come loaded with fresh tomatoes, white onion, and red sauce — not a shred of cheddar in sight. If refried beans aren't your thing, you can substitute beef or chicken with black beans or potato bites. Try a black bean and guacamole Crunchwrap fresco-style, and don't forget an order of vegan Nacho Fries on the side.
Where and when can you get Taco Bell's Vegan Nacho Fries?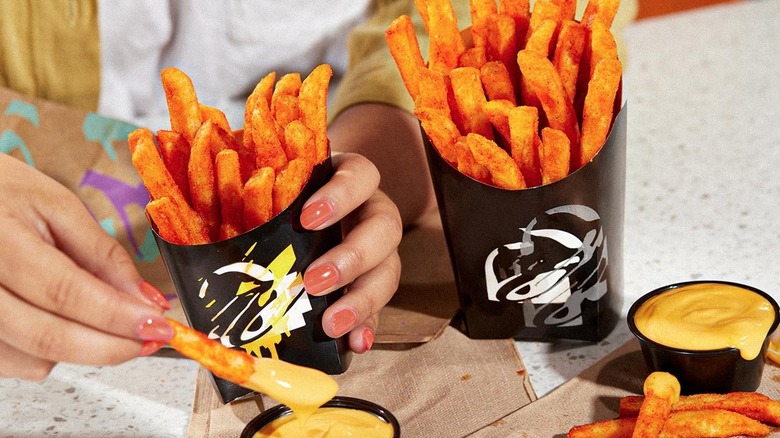 Taco Bell
The standard nacho fries are hitting the menu on September 28, and the vegan cheese option will be available at participating locations beginning on October 12. Taco Bell notes that the vegan nacho sauce will only be available for a limited time but does not specify precisely how long. The dairy-based or vegan Nacho fries will both be available in regular and large sizes.
Unfortunately, for those on stringent dairy-free diets or individuals who avoid animal products for religious reasons, Taco Bell cannot guarantee that there will be no cross-contact at all. However, the ingredients used in the new dairy-free nacho cheese are certified vegan by the American Vegetarian Association. Increasing vegan options is a way for Taco Bell to broaden choices for an already significant customer base. Perhaps Taco Bell's vegan Nacho Fries are only the beginning.