If there's one cuisine we could never live without, it's Mexican. A strong statement, we realize, but tacos are a perfect food, and so we celebrate Taco Tuesday extra-hard. You have two options: Peruse the rankings of our favorite tacos and be inspired, or scroll through our favorite taco recipes of all time and take it from there.

Tacos al pastor translates to "tacos in the style of the shepherd." The spit-roasted pork found its way to Mexico via Lebanese immigrants and their shawarma. To that end, real al pastor is made on a giant vertical spit the same way that lamb on your doner kebab or gyro is cooked.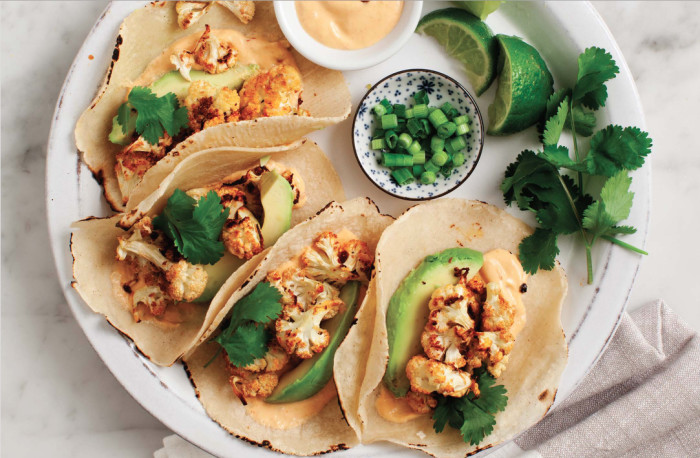 Make the chipotle sauce with sun "cheese" and skip the honey to make this vegan.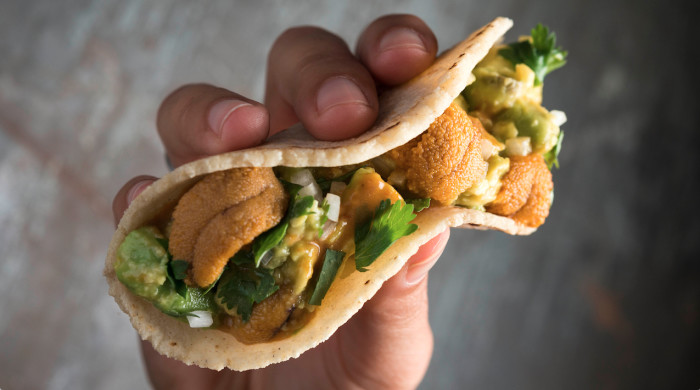 This taco was born out of a shared opinion among my cooks and friends that a tortilla is as worthy of precious ingredients as any piece of Raynaud china. When I thought about making a sea urchin taco, I knew that working it into guacamole would magnify the briny sweetness the spiky creature is known for — the fat in an avocado can help stretch and carry flavors just like a knob of butter.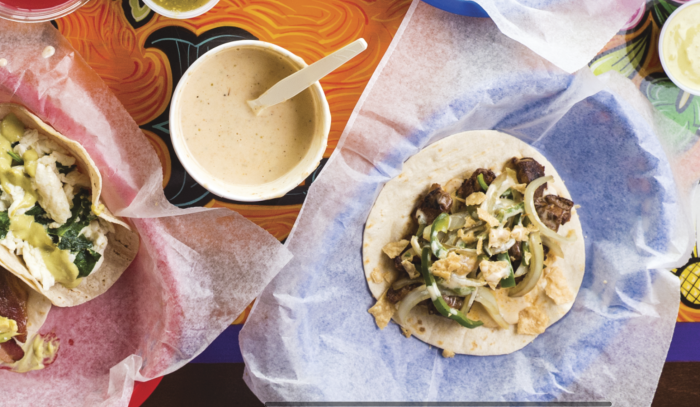 Tacos filled with bacon and potatoes are popular, but we loved this one, which is twice as local, seeing as it's inspired by another Tex-Mex dish: migas, a scramble of eggs, tortilla chips or strips, and toppings.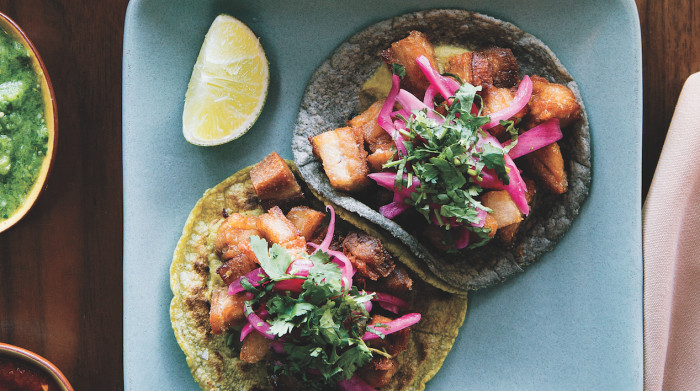 I had never cooked pork belly myself when I asked Gonzalo to help me come up with a pork belly taco for the Copita menu. Rich and creamy with a crisp, crackling exterior, his creation blew me away. With a tomatillo-laced, nutty pipián sauce and pickled red onions on top, this taco can only be described as out of this world.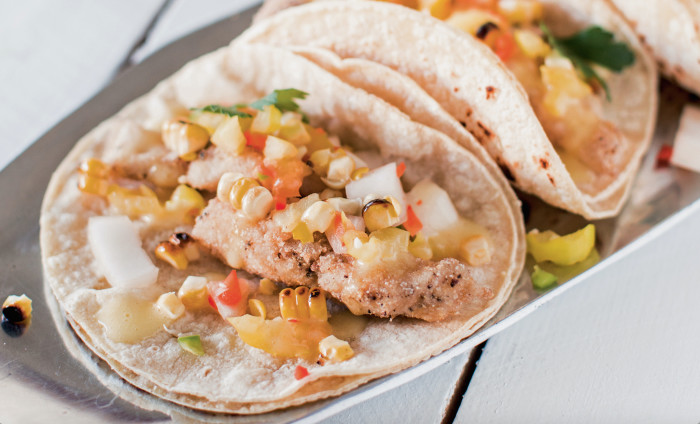 Bailey Spaulding, brewmaster and cofounder of Jackalope Brewing Company, and her fiancé, chef Luke Williams, often cook together at home to make dishes like this one. Pair Williams's recipe for tacos with Spaulding's Jackalope Bearwalker, a maple brown ale.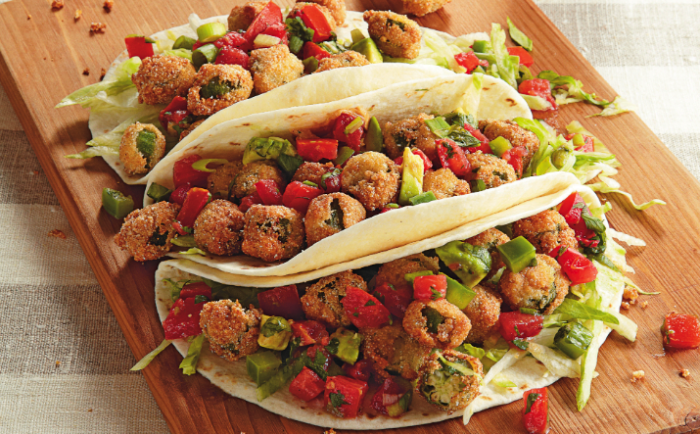 A sprinkling of sugar in the cornmeal coating caramelizes as the okra cooks, creating a crisp, golden crust.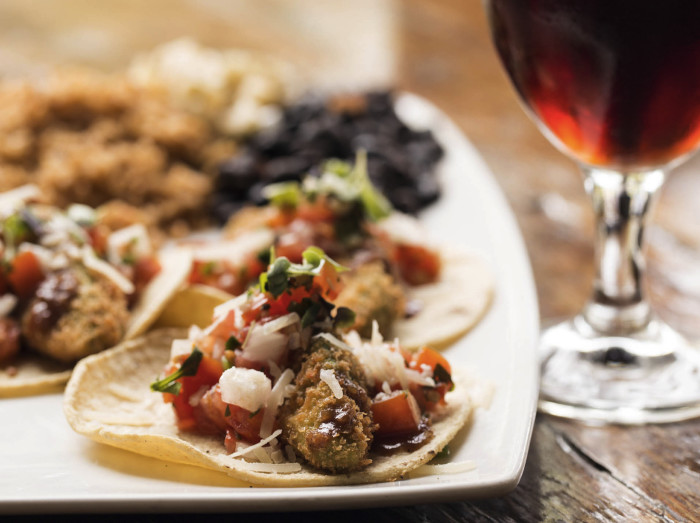 Vegetarian tacos are a great alternative to meat-laden variations, and all the fresh ingredients in this recipe really bring a pop of flavor. If frying is not your thing, the avocados can be served fresh. Accompany the tacos with black beans, Spanish-style rice, and an American strong ale like Arrogant Bastard Ale, which has a smack of hop bitterness.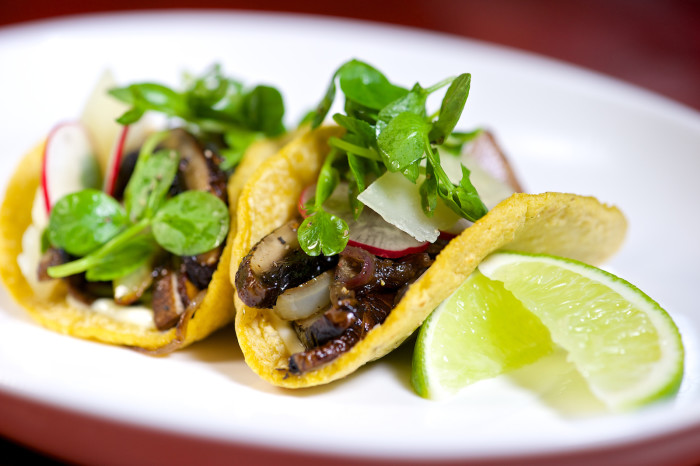 Mushroom tacos are perfect for the food lover who wants a good taco but doesn't eat meat. Grilling the mushrooms over live mesquite will give you optimum flavor. The portobello should be grilled through but still have some bite to create different layers of texture. Carnivore or not, you will love this taco.
"The breakfast taco was a college staple for [us]," says Qui's former marketing director Deana Saukam. "It's cheap, fast and satisfying. Another favorite breakfast taco is anything from El Primo. Pete's Tantalizing Tacos from Maudie's are pretty delicious, too."
This post has been updated from an earlier version.