Thousands Of New Yorkers Joined A Waitlist For A Restaurant That Doesn't Exist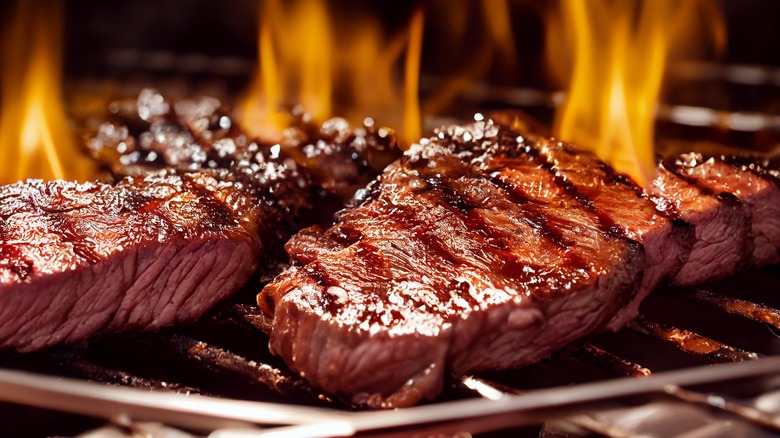 Real Fantasy Art/Shutterstock
Restaurant reservations in major U.S. cities have gotten well out of hand, with platforms like Resy turning even a Thursday evening happy hour two top into an online battlefield thirty days out. With the recent fusion of food media and FoodTok influencer dominance blowing restaurant hype culture into epic proportions, trying to get a table at the restaurant of the moment has turned into an Olympic bloodsport, one that diners have shown themselves more than willing to participate in.
But recently, New York foodies got a taste of their own medicine when hundreds of them managed to snag the most impossible reservation in town ... Impossible, that is, because the restaurant doesn't exist.
Mehran's Steak House, which reached a 2,600 person wait list by the end of 2022, was thought to be one of the best new restaurants in town. But it was nothing more than a prank between friends that managed to take an entire city's restaurant scene by storm.
How Mehran's got its start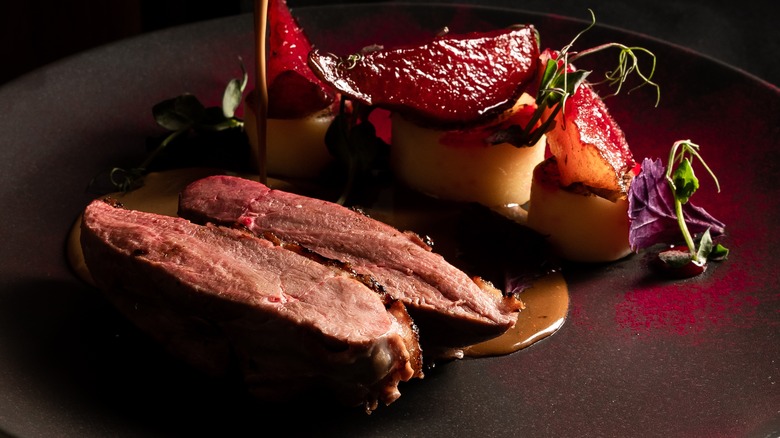 Pietruszka/Shutterstock
At the beginning of last year, a group of friends in their early 20s, including Mehran Jalali, Willy Hopps, Riley Walz, and Danielle "Danny" Egan, decided to rename their Upper East Side apartment "Mehran's Steak House" on Google Maps. The name was a joke referencing one of the apartment's residents, Mehran, who would often cook steak for his friends in their small apartment kitchen. Listing the apartment on Google under the new name was surprisingly easy, just as it was for the friends to begin to leave extravagant fake rave reviews for the "restaurant."
When a couple showed up at the apartment looking for the steakhouse, the friends decided to see how far they could push the joke. They built a website, which quickly racked up hundreds of interested diners on a fake waitlist. A year and a half later, the friends decided to turn their fictional restaurant into a reality for a single night.
The theatrics of the entire project were staggering. The group rented an East Village event space and designed an elaborate four-course menu based on the life cycle of a cow, with dish names like "Agrarian Synergies" and "Youth: Ever Precious, Ever Fleeting," with the beef sourced from a butcher the team found on Reddit. The meal was even completed with an angel food/devil's food cake for dessert as a nod to the final stage of the cow's life cycle.
The devil's in the details
The group flew friends in from all over the country to make up an ad-hoc staff of early-20-somethings, few of whom had professional (or even personal) cooking or industry experience. (Though they were trained in the hours leading up to the event by a Michelin-starred chef.) Logistics were a challenge, with many things left up to the last minute, like the liquor license they managed to obtain only a day before the event. Many of the dishes served were made using whatever tools were available, like cooking a ton of tiny bruschettas in a miniature toaster oven.
Jalali dressed in full chef's attire, occasionally wandering around the dining room, muttering, for effect. The dining room was decorated with photoshopped pictures of him cooking for everyone from JFK to Albert Einstein, and Walz designed fake menus from the restaurant's imaginary 114-year history that hung on the walls. There was even a "farm to table table," a small raised bed filled with plants that, presumably, would be used as ingredients on the fictional menu. And for the final touch, there was a fake mob of Drake fans with handwritten signs outside the "restaurant," to create the illusion that the rapper was dining inside.
The real reviews
Diners quickly sensed that there was something fishy going on, some were tipped off by the looks of the space, while others were put off by the fact that their "sommelier" could barely open a bottle of wine. Finally, a staged proposal between two of Jalali's friends in the center of the dining space caused many guests to wonder if they were participating in some kind of social experiment. Some sent their long-awaited steak back, while others were impressed by the charade, taking it at face value as a hot new restaurant with genuine potential. Many diners, even after figuring out what was going on, were more amused than upset despite paying $114 for a meal made by culinary novices.
To date, if you visit the Google listing for Mehran's Steak House, the reviews are current and exuberant, raving about the steak and how waiting a year for a table was more than worth it. It seems that Jalali's friends are still keeping up the bit, and the other participants in this strange event haven't felt bad enough about it to make their feelings known.
In a city like New York, where you can have the best of anything at a moment's notice (for the right price), the massive coverage and hype dedicated to trendy restaurants can sometimes make it feel like there are no surprises left. But as it turns out, sometimes all we need is for someone to turn the mirror back on us and remind us that we don't always need to take dining so darn seriously.