Classic Bacony Succotash Recipe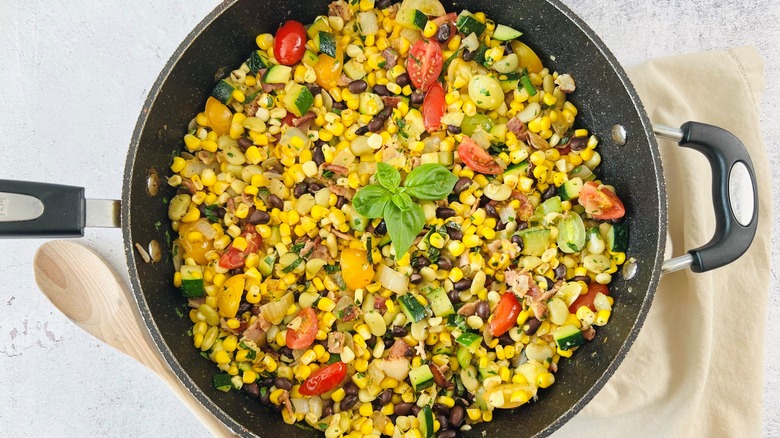 Julianne De Witt/Food Republic
Succotash, school cafeteria-style, may be nothing more than a dismal mishmash of canned corn and lima beans, but the original recipe, as developer Julianne De Witt explains, is "a nourishing dish of Native American origin." She says that originally there were two types, one made with summer produce (corn, beans, and summer squash), and the other with winter produce (more corn and beans plus pumpkin). Hers is a derivative of the former version as it's made with zucchini, a vegetable famed for producing summertime surplus.
Where De Witt's succotash really departs from the Native American version is with her inclusion of some ingredients that have been popular in more recent years. She likes to use fresh herbs and lemon zest, plus some bacon for flavor, although she does say that you can leave out the bacon to make vegan succotash. She also had an eye on photogenicity when developing this recipe, as she tells us, "I add heirloom cherry tomatoes for a pop of color."
Collect the ingredients for the simple classic succotash
Julianne De Witt/Food Republic
This succotash is certainly more elaborate than the ones prepared in school cafeterias. The main body is comprised of fresh corn, zucchini, canned lima beans (which are also known as butter beans), and canned black beans. Flavoring elements include a yellow onion, bacon, lemon zest, salt, and pepper, while parsley, basil, and cherry tomatoes add a decorative touch. The only other ingredient you'll need is olive oil for cooking. Once you've assembled these elements, you'll be ready to start.
Prepare the produce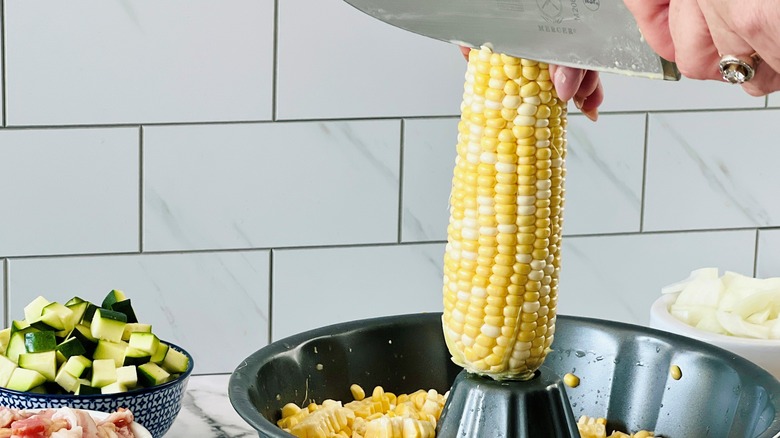 Julianne De Witt/Food Republic
Before you start cooking, you've got some produce prepping to do. First, shuck the corn and cut the kernels off. De Witt suggests standing each ear up in a bundt pan as you do the latter. That way, she says, it's "easy to collect the kernels and [there's] no mess." You'll also need to quarter the tomatoes, peel and dice the onion, dice the zucchini, and dice the bacon.
You should also chiffonade the basil, which De Witt explains is done by piling up the leaves, rolling up the pile lengthwise, then cutting across it to make thin strips of the herb. You could do this while prepping the rest of the produce, but De Witt prefers to do her chiffonading while the corn is cooking.
Fry the bacon and onions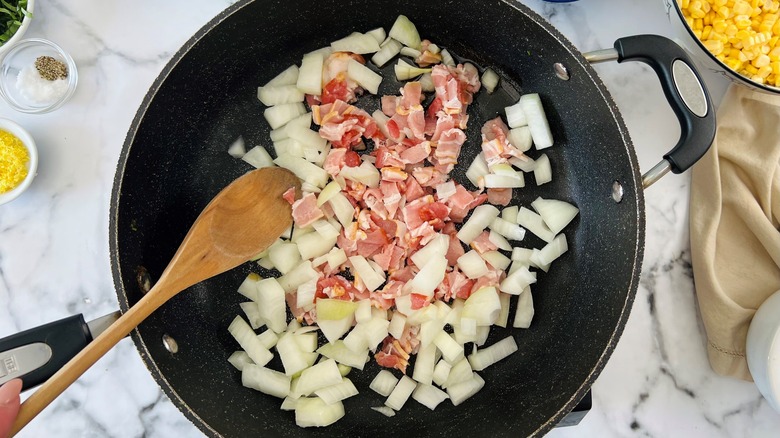 Julianne De Witt/Food Republic
Pour the oil into a pan and dial the burner to a medium-high setting. Toss the bacon and onion in the pan and stir-fry the mixture for 5 minutes until the onions appear translucent.
Add the vegetables and seasonings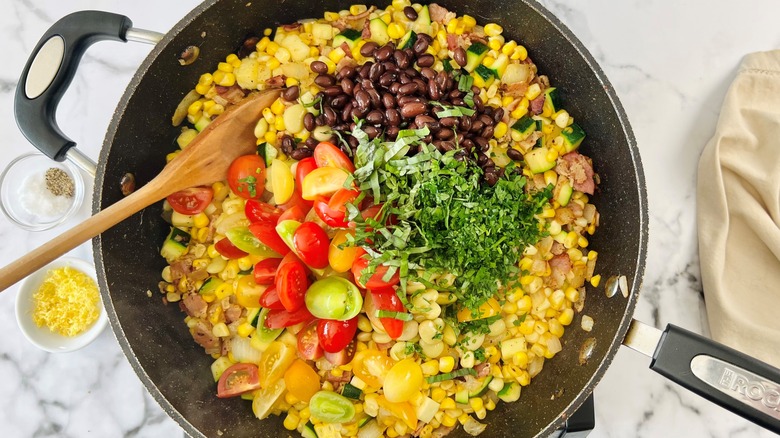 Julianne De Witt/Food Republic
Put the corn and zucchini into the pan together and stir them up with the bacon and onions. Cook them for 5 minutes, then lower the heat to medium and add both kinds of canned beans along with the tomatoes, basil, and parsley. Stir again, then cook for another minute. As a last step, stir in the lemon peel, salt, and pepper.
This succotash, De Witt says, is best if eaten warm. She feels that it makes a good side dish for grilled chicken, ribs, or pan-fried fish, although bacon-free succotash could accompany a meat substitute such as tofu. No need to worry about finishing it all up in one sitting, though, as De Witt notes, " Leftovers will taste even better the next day." They'll keep in the fridge for up to a week, or can be frozen for later use.
Classic Bacony Succotash Recipe
This bacony succotash recipe is made with zucchini, a vegetable famed for producing summertime surplus, along with fresh herbs, lemon zest, and bacon.
Ingredients
2 tablespoons olive oil
5 slices bacon, diced
1 medium yellow onion, diced
6 ears corn, shucked and kernels removed
1 medium zucchini, diced
8 leaves fresh basil
¾ cup lima beans, drained and rinsed
¾ cup canned black beans, drained and rinsed
1 cup cherry tomatoes, quartered
3 tablespoons minced fresh parsley
Zest of one lemon
1 teaspoon sea salt
½ teaspoon fresh ground black pepper
Directions
Heat the oil in large saucepan over medium-high heat.
Add the bacon and onion and sauté them for 5 minutes, stirring frequently, until onions are translucent.
Add the corn and zucchini to the saucepan, stir, and sauté them for an additional 5 minutes.
Chiffonade the basil by stacking the basil leaves, rolling them lengthwise, and slicing them crosswise into thin ribbons.
Turn the heat down to medium. Add the lima bean beans, black beans, tomatoes, basil, and parsley to the saucepan. Stir well to combine. Cook for 1 minute.
Add the lemon zest, salt, and pepper and stir. Serve warm.
Nutrition
| | |
| --- | --- |
| Calories per Serving | 222 |
| Total Fat | 11.5 g |
| Saturated Fat | 3.1 g |
| Trans Fat | 0.0 g |
| Cholesterol | 12.0 mg |
| | |
| --- | --- |
| Total Carbohydrates | 25.1 g |
| Dietary Fiber | 4.9 g |
| Total Sugars | 7.2 g |
| Sodium | 420.0 mg |
| Protein | 8.2 g |