Burkey Belser, Nutrition Facts Label Creator, Dead At 76
Even if you don't recognize the name Burkey Belser, you're undoubtedly familiar with the work of this celebrated graphic designer, who died on September 25, 2023 at the age of 76 from bladder cancer. Since its debut in 1994, Belser's most famous design has adorned nearly every food package in the form of the nutrition facts label. Before the advent of this ubiquitous chart, there was no set standard for food labels. His work changed all that, and earned him an esteemed reputation in both the food and design industries.
Belser's recognizable, rectangular nutrition label is straightforward, easy to read, and has helped millions understand the nutritional composition of their food. According to the Washington Post, renowned Italian designer Massimo Vignelli once described Belser's food label as a "clean testimonial of civilization, a statement of social responsibility, and a masterpiece of graphic design." Even decades later, countless people continue to rely on the nutrition label to make informed food choices.
A career that made a difference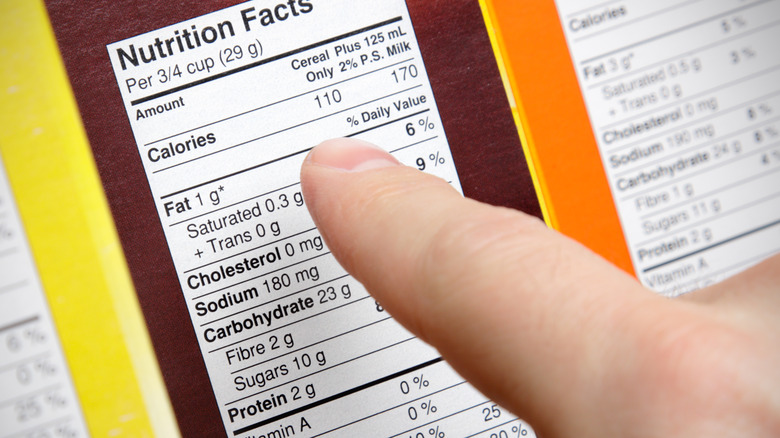 Spauln/Getty Images
Burkey Belser was born in Columbia, South Carolina, in 1947 and was largely raised in Memphis. As a child, he enjoyed drawing, and by the time he entered college, he minored in studio art while majoring in English. Additionally, he spent some of his college years studying French poetry in France. After serving as the circulation director for Avant Garde magazine and a period of traveling, Belser re-entered the workforce and was introduced to the world of graphic design through a job at the graphic design studio Righteous Apple. Soon after, Belser and his wife, Donna Greenfield, founded their own brand design agency, Greenfield/Belser Ltd.
The agency went on to win over 500 prestigious graphic design awards. Belser was responsible for creating the black and yellow energy guide labels for appliances, a project that caught the attention of the Food and Drug Administration. The FDA then approached him to create what would later become the food nutrition label. The design underwent numerous iterations, as Belser was tasked with satisfying various special interest groups, including the Agriculture Department. The label remained unchanged until the FDA modified it in 2016 to enlarge the calorie value section.
Belser's nutrition label earned him the Presidential Design Award, which he received from President Bill Clinton in 1997.