The Strawberry And Chocolate Bites TikTok Can't Stop Snacking On
Strawberries and chocolate are a classic combo. Dipping the juicy red fruit into melted chocolate makes for a beautiful-looking addition to a dessert platter, and they're perfect on a romantic picnic. But trust foodie TikTok to find a new way to pair the two for a simple but tempting treat, which also incorporates the joy of an ice cream bar.
As is often the case with TikTok, it's not clear who first brought the recipe to the For You Page. But there's no doubt it has been a runaway success this summer, with the hashtag #strawberrybites gaining over 86 million views. And it's easy to see why. Who doesn't love a sweet treat that only uses three ingredients — and doesn't require any baking?
The recipe itself couldn't be easier, involving mixing chopped strawberries with Greek yogurt, forming them into little clusters, and freezing them, before dipping them into melted chocolate, and popping them back in the freezer or refrigerator. The result is a sweet, creamy, fruity frozen snack bite encased in a crisp chocolate shell. Quick to prepare, a fun activity to get the kids to help with, and delicious to boot, it's no wonder these strawberry and chocolate bites have gone viral.
Switch up the fruits and chocolate for limitless variations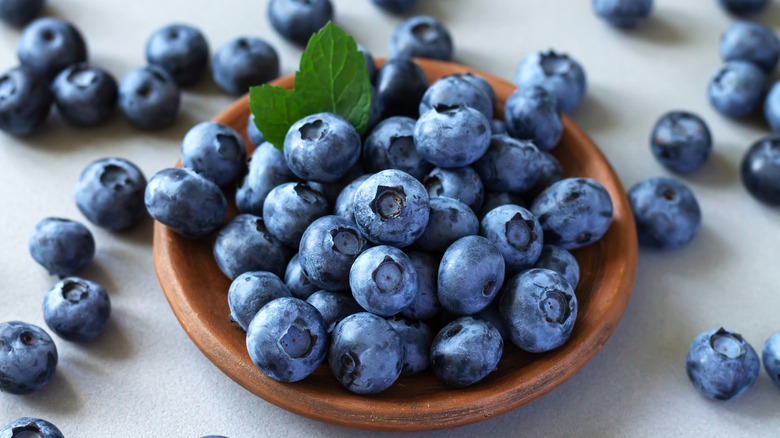 Kristini/Shutterstock
One of the most inspiring elements of foodie TikTok is seeing how people take a trend, and then personalize it, creating fun new recipe ideas in the process. And the fruity strawberry and chocolate bites recipe is just ripe for experimentation. One of the easiest ways is to simply switch up the fruit, and try using different types of melted or tempered chocolate to create a tasty new combo.
One TikTok user, Emily Jade, loved the viral dessert bites made using fresh diced mango in place of the strawberries, and coating them in creamy white chocolate. But the recipe could easily be tailored to your taste by using other seasonal fruits, such as blueberries, raspberries, or diced bananas. Try milk, dark, or white chocolate for different results, or you could even try melting your favorite chocolate bar. Combining a little honey with the Greek yogurt mix brings a touch of extra sweetness to the snack while adding granola gives it a crunchy texture.
Even big brands, such as Aldi and Magnum, have got in on the act, with the latter making the dessert bites using their classic ice cream in place of the yogurt. One thing's for sure — this is a trend that just keeps on growing, with new variations every day. So how will you make yours?