TikTok's Date Bark Is A Hearty No-Bake Dessert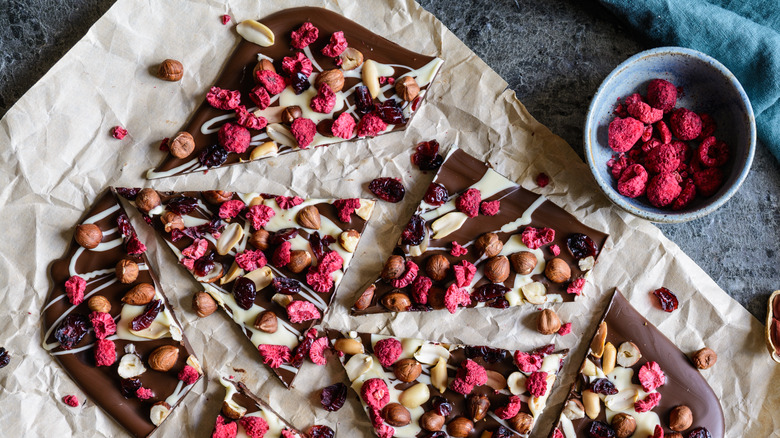 NoirChocolate/Shutterstock
Dates are a common ingredient for nutrient-dense, homemade, sweet treats, and the reason makes total sense. They are not only caramelly, chewy, and delicious, but they are also mineral and antioxidant-rich, with a fiber content that helps keep you satiated, according to Healthline. All these qualities make dates perfect for sweet and salty snacking, like in a hearty, no-bake date bark that has been making the rounds on foodie social media.
TikToker @thathealthjunkie highlights simple, Iranian-inspired recipes, many of which use dates in some form, and first came up with the recipe. The fact that this recipe went viral isn't surprising; it has all the flavors of stuffed dates without the effort required to stuff them yourself.
Start by pitting dates, opening them like a book, and flattening them into one layer on a parchment-lined baking sheet. Top with nut butter, something crunchy, melted chocolate, and a sprinkle of any toppings you desire. Let the bark set in the fridge or freezer, and then break it apart to enjoy — no baking required. The only cooking this recipe requires is melting the chocolate, which can be done in a double boiler or the microwave.
How to make the viral date bark your own
The first version of this date bark included peanut butter, whole almonds, and a sprinkle of flaky sea salt, but there are endless variations. Try layering peanut butter and peanuts under a coating of dark chocolate for a candy bar-like flavor. This date bark is also an excellent way to use tahini. Layer the flattened dates with a tahini drizzle, pistachios, melted chocolate, and a sprinkle of dried rose petals.
@thathealthjunkie

DATE CRUNCH BARK – crunchy, chewy, creamy, sweet n salty n so satisfying. easy to make and is the perfect snack. 20 medjool dates, flattened w the bottom of a cup* peanut butter 3/4c almonds* 150g dark chocolate flakey salt *helps if u grease/ wet the bottom of the glass so the date can slide off and not stick. *toasted almonds will take it to the next level – if allergic to almonds, use another nut, seeds or granola.
Give almond butter, cashew butter, or chocolate hazelnut spread a go if peanut butter isn't your jam. If you still want something creamy but have a nut allergy, try tahini, cookie butter, sunflower butter, or even yogurt instead. You can choose any nut or seed for crunch or use other ingredients, like granola or pretzels, for a similar texture. For the final layer, dark chocolate helps balance the sweetness of the dates. However, if you are more of a milk, white, or even ruby chocolate fan, try a different type of chocolate! A sprinkle of cinnamon, a handful of toasted coconut, a few colorful candies, or freeze-dried fruit nicely round out this date bark recipe.