What Is Ruby Chocolate And Does It Really Taste Fruity?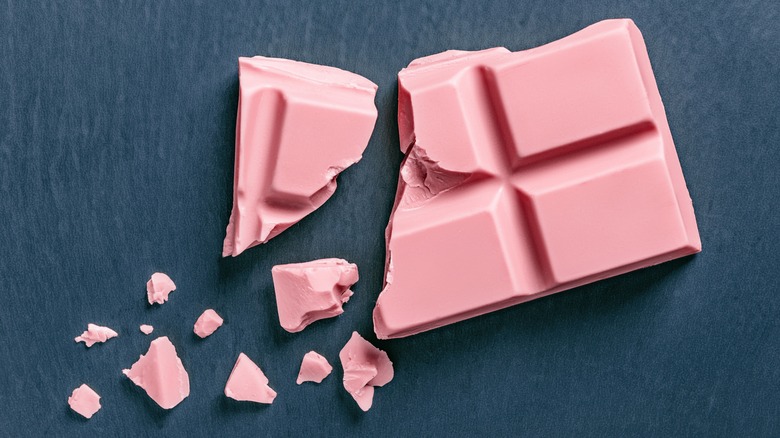 SAVVY_STUDIO/Shutterstock
There are four types of chocolate — white, milk, dark, and the newest to the bunch, ruby. This novel chocolate was first announced in 2017, and it debuted on the market with a special Kit Kat flavor released only in Japan and South Korea in 2018. But what is ruby chocolate? Well, ruby chocolate looks like white chocolate dyed pink, but the color is completely natural. Unlike white chocolate, ruby chocolate actually contains some cocoa solids, not just cocoa fats. 
From the way it appears, ruby chocolate looks like it will have a berry-like taste, and interestingly, it does. Barry Callebaut, the chocolatier who invented ruby chocolate, describes the flavor as being sweet and sour, though not overpoweringly so, with notes of red fruits. It is also lightly milky and creamy, but not bitter like ruby chocolate's milk and dark chocolate counterparts. Even though the flavor is very reminiscent of strawberries and raspberries, there are no added flavors — the fruity taste comes from the chocolate.
How is ruby chocolate made?
Pavlovska Yevheniia/Shutterstock
Unfortunately, it is not widely known how ruby chocolate is made, but Barry Callebaut says that he uses cacao beans grown in Ecuador, Brazil, and the Ivory Coast with special qualities. He doesn't share many details but did take out a patent on the ruby chocolate-making process in 2009, and it is speculated that it comes from a rose-colored variety of cacao beans also patented by the company around the same time. However, the outside of the pod wouldn't give the ruby chocolate its characteristic color because chocolate is made from the beans inside. More than likely, Barry Callebaut discovered a unique way of processing beans that have been raised in a specific way.
There are now plenty of products available — Chocolove has a pure ruby chocolate bar, Harry & David sells ruby chocolate truffles, and Häagen-Dazs has a premium ice cream flavor with sweet cream ice cream layered with ruby chocolate crackle and pistachios. Even though relatively little is known about how ruby chocolate came to be, you can give it a try and see for yourself if it lives up to the hype.