Butter Your Hard Boiled Eggs For Easy Decadence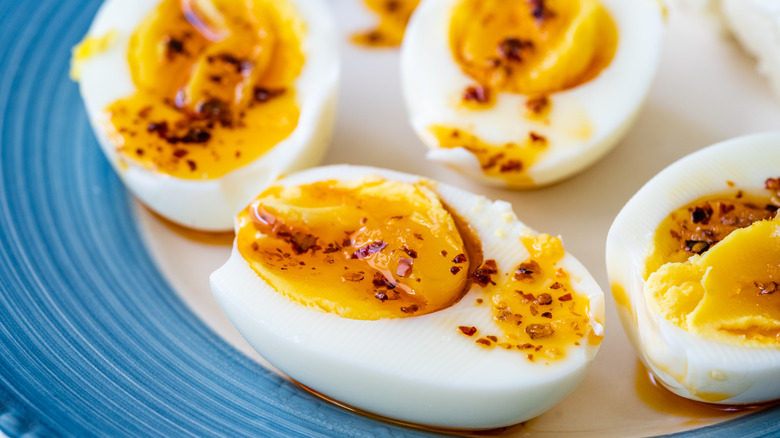 Alp Aksoy/Shutterstock
The internet is full of tips and tricks for elevating the simple egg to new heights. Whether it's viral pesto eggs, fluffy cloud eggs, or enhancing egg whites with feta cheese, we all love a good hack to make eggs taste even more amazing. But adding butter to hard-boiled eggs has to be one of the easiest.
Though it might feel like pairing two rich foods together could be overkill, eggs and butter are a match made in heaven for many breakfast and brunch favorites. After all, eggs Benedict is pretty much a celebration of the two ingredients, centering around softly poached eggs dressed in a Hollandaise sauce — made mostly from egg yolks and melted butter. Adding butter makes for decadent, silky scrambled eggs, while buttered toast or muffins are a natural partner for eggs, however they're cooked. So adding butter directly to boiled eggs isn't actually as unusual as it may sound.
Though it's not a new combination, when New York Times food columnist and cookbook author, Melissa Clark, shared her photo of five-minute boiled eggs smeared with butter, Maldon salt, and Urfa chile, it was an instant hit. Because who doesn't love a recipe that's super quick, incredibly simple, and that makes the most of just a few good quality ingredients?
Try a compound butter to add extra flavor to boiled eggs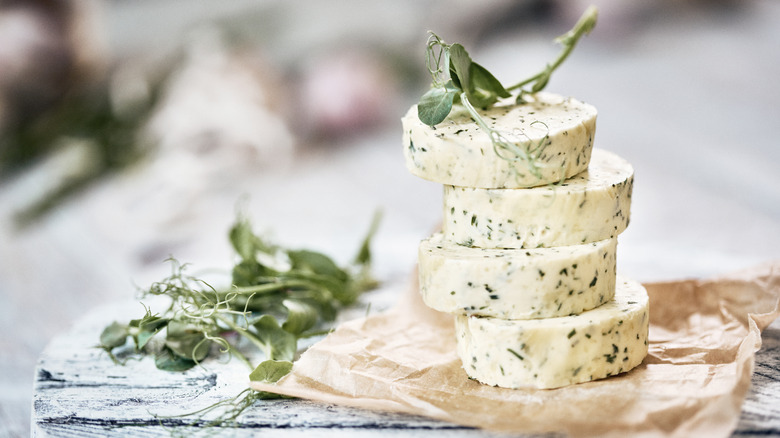 Olivia /Getty Images
Adding a simple combo of butter and seasoning is an easy way to enhance boiled eggs with golden, jammy yolks. The cold butter melts into the warm yolks, transforming a run-of-the-mill breakfast into something that feels much more luxurious. But if you're looking to pack in even more flavor, you could try making a compound butter to take the dish to the next level.
Made by mixing softened butter with different herbs or spices, compound butter is a quick and easy way to add flavor or heat to the butter for your hard-boiled eggs. And it's a good chance to get creative, using any ingredients you already have in the kitchen. A miso butter (made by mixing miso paste and butter) adds incredible savory depth — while harissa butter brings a sultry, spicy kick. Salty anchovies can be a divisive ingredient, but if you're a fan, you'll likely appreciate umami-rich anchovy butter served with boiled eggs.
Already a top combination for those familiar with devilled eggs, smoky paprika or punchy mustard can also work well in compound butter for eggs. Or if you prefer fresher flavors, you could try mixing butter with soft herbs such as chopped parsley, dill, or cilantro. Or mix up pesto butter to try a new angle on the viral pesto eggs trend.
More ways to elevate boiled eggs with butter
Kati Kemppainen/Shutterstock
Combining hard-boiled eggs with butter isn't a new concept, and it is popular in countries across the world. Munavoi is a Finnish spread that combines soft, whipped butter with mashed hard-boiled eggs, delicious when served on toast or with rye bread.
As well as adding butter directly to boiled eggs, you can also take the concept a step further by actually heating the eggs in a rich, melted butter sauce. Flavorful eggs kapama is a Turkish-style breakfast dish that sees the hard-boiled eggs cut in half before being gently tossed in a pan of hot melted butter, dried mint, paprika, and spicy pepper flakes.
Or to tap into another TikTok trend, 'egg boil' is a dish that has taken the social media site by storm, consisting of boiled eggs in a seafood boil-type sauce made with butter, garlic, onions, and spices. No matter how you choose to pair them, eggs and butter make for a deliciously decadent combo, and one which is ripe for eggsperimentation.