Feta Cheese Is All You Need To Make Fried Egg Whites Taste Exciting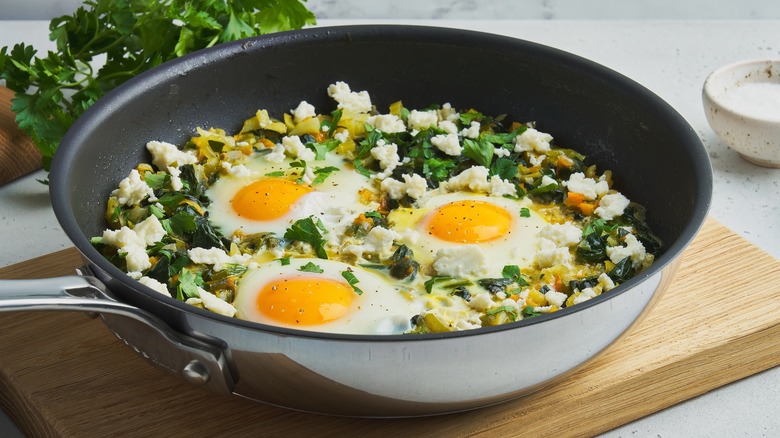 Nata Bene/Shutterstock
The humble egg, it seems, is once again having a bit of a moment. A couple of years ago, pesto eggs took foodie TikTok by storm, seeing eggs cooked in the savory Italian condiment instead of oil or butter, and livening up breakfasts across the globe. Then we couldn't get enough of making fluffy, fanciful cloud eggs for brunch.
Now, there's a new viral egg trend on the block in the form of feta eggs. And it's proving just as popular. When a recipe hits over 32 million views across Instagram and TikTok, you know it's probably something that's worth trying. And as food writer and recipe developer Grace Elkus demonstrated with her now-viral video, feta fried eggs are quick and easy, taking just five minutes to make for a deliciously different breakfast idea. 
Combining feta with eggs is not a new concept, of course, but it is easy to see why the fusion works so well. Frying an egg in a circle of salty, crumbly feta adds a cheesy, crispy crust, making it a super-easy savory breakfast, brunch, or snack. Best of all, there are so many different options for serving it.
Feta adds creaminess and crispness to fried eggs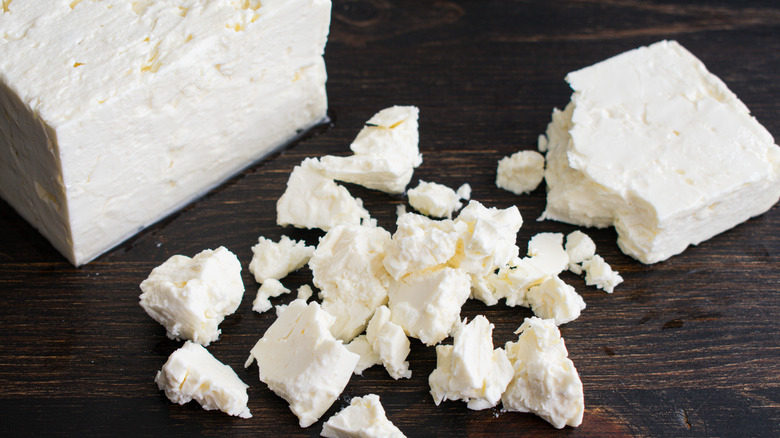 Candice Bell/Shutterstock
One of the most famous Greek cheeses, many chefs love cooking with feta because of the sharp, salty, full-flavored quality of the creamy goat's and sheep's milk cheese. Full-fat feta is better for melting than the fat-free version and also packs more flavor, and it's best to use one packed in brine where possible. 
@graceelkus

5-minute feta fried eggs: you'll thank me next time you're hangry 🍳 Inpired by Ali Slagle's potato, egg, and cheese tacos 🧀 Heat small nonstick skillet over medium heat. Crumble in feta around perimeter. Crack egg into center; season w/ black pepper & red pepper flakes (no need to add salt, the feta is plenty salty) Cover pan and cook until white is set, yolk is still runny, and cheese is unbelievably crispy. Serve atop toast, w/ hash browns, or my personal fave: in a charred tortilla with avocado & lime. You can oil the skillet, esp. if you're not using nonstick, but I find the cheese gets crispier w/o More tips on my IG @graceelkus #friedeggs #feta
To make a simple feta-fried egg, place a non-stick skillet over medium heat. Crumble a third cup of feta cheese in a circular pattern around the edge, so there's enough room for an egg to fit in the middle. As the cheese melts, crack a large egg into the center, and season with black pepper. You won't need to add salt as the cheese is salty enough. Cover the pan, and cook until the white is set, the yolk is soft, and the cheese has started to crisp. Turn down the heat if the feta starts browning too fast.
How to serve your crisp-edged feta egg is up to you. Creator of the viral social media recipe, Grace Elkus, likes to serve her egg on a warmed tortilla with avocado and lime, but you could also eat it with crunchy sourdough toast, with hash browns, on a toasted English muffin, on top of chopped tomatoes, or with wilted spinach. Add red pepper flakes, fresh chili, or a drizzle of hot sauce to spice it up. The possibilities are endless.
More ways to elevate eggs with feta for a brilliant brunch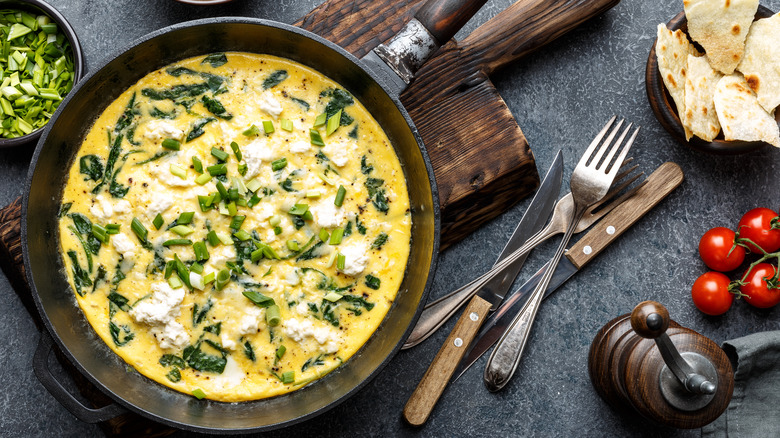 Sunny Forest/Shutterstock
Keen to try the egg and feta combo, but not such a fan of fried eggs? Luckily, there are countless other options for cooking eggs with the cheese for an equally tasty result. Softly scrambled eggs work well with feta, or you can try baking eggs with feta and tomatoes for a Greek-style brunch dish, with plenty of crusty bread for dipping.
Replacing the cheddar in your usual omelet with feta adds a lovely tangy flavor and can be taken to another level by adding semi-dried tomatoes, spinach, olives, or whatever else you fancy (or have in the fridge), from mushrooms to chorizo. For a quick snack or protein-filled packed lunch idea, baking the feta omelets in a muffin tin produces easy-to-serve individual portions, which can be eaten hot or cold.
Or why not combine two hot trends in one by adding pesto to your feta egg dish? The eggs can be scrambled with pesto, then sprinkled with crumbled feta for a creamy, savory toast topping. Or go for the ultimate TikTok trend, and add pesto to a circle of feta cheese before dropping in your egg, and frying it. Hey, pesto! A viral breakfast is yours.