Ina Garten's Brilliant Parchment Paper Hack For Round Pans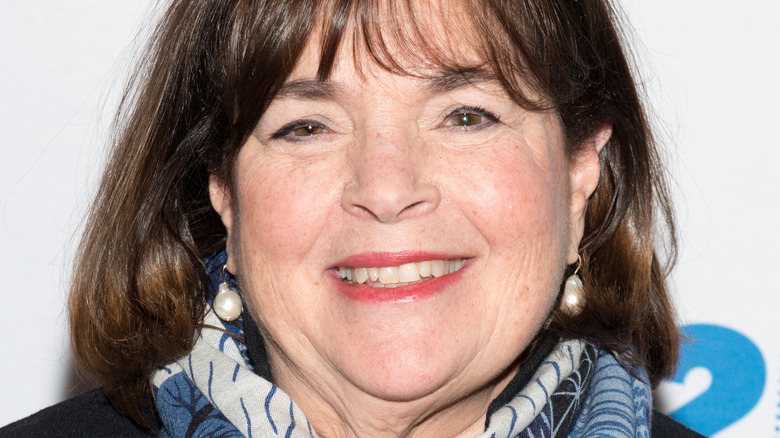 Noam Galai/Getty Images
When it comes to baking, using parchment paper in addition to greasing a pan is completely optional, but it does provide added insurance that your glorious pie or cake creations won't come out of the oven stuck to the tray. However, attempting to line a round pan with a square piece of parchment paper can be frustrating, to say the least. Well, leave it to Ina Garten to make baking a cake even easier. Her brilliant parchment paper technique — which involves folding a piece of the paper in half repeatedly before snipping a portion off with a pair of scissors — makes cutting a circular piece of parchment paper out of the standard square sheets a breeze. 
Over the course of her illustrious career, Garten has certainly blessed us with some pretty ingenious cooking advice. Her clever trick to get more out of measuring cups — which involves using them as makeshift mixing bowls — is a much quicker way of combining wet ingredients. And, her best tips for baking any kind of pie run the gamut from sifting flour before measuring to saving leftover pie dough. But, when it comes to innovative baking tips, the Barefoot Contessa's parchment paper trick certainly takes the cake. 
The trick is how you fold the parchment paper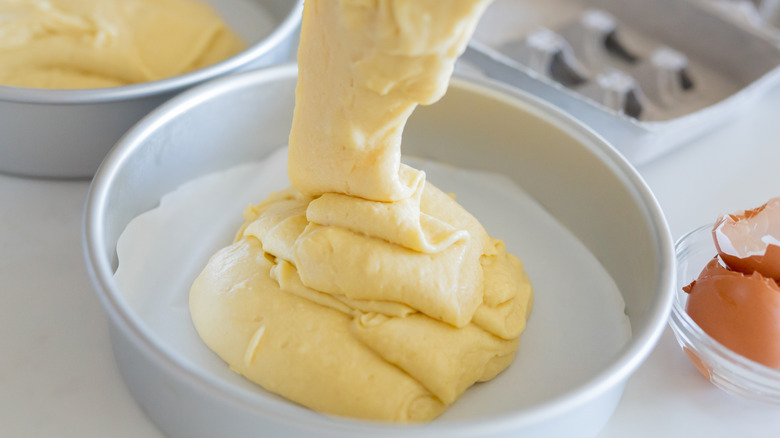 Karen Culp/Shutterstock
You don't have to go out and buy precut parchment rounds, which are usually far more expensive than their conventional non-stick counterparts anyway. And you don't have to use a pen or pencil to trace the bottom of the pan onto a piece of parchment paper to cut it either. Garten's trick is far easier. The renowned cookbook author shared her resourceful tip for cutting circular sheets on an episode of her Food Network show, "Barefoot Contessa." The simple technique involves folding a rectangular piece of parchment paper in half lengthwise before folding it in half again, this time crosswise, leaving you with a square shape. Now, fold it diagonally so that you're left with a triangle shape, and then fold the paper in half for a sort of elongated triangular shape.
Next, get your scissors out because it's time to start cutting. Once you have your elongated triangle shape, place the pointed tip in the middle of the pan and cut off the excess paper that's left hanging over the edge. You can also flip the pan upside down in order to line up the pointed piece of paper in the center of the tray. "When you unfold it, you've got the perfect round piece of parchment paper," Garten says in a clip shared to TikTok. "And if it's too big, you can just refold it and recut it."
Don't forget to grease your pan as well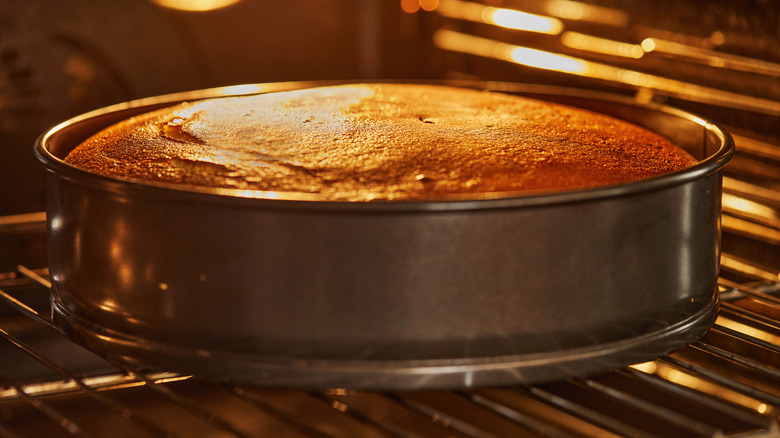 AlexDonin/Shutterstock
The Barefoot Contessa's method definitely simplifies the paper-cutting process — no tracing with a pen or pencil required. It's also a much better alternative to stuffing a square piece of paper into the round pan, which can cause wrinkles and folds in your cake. But, before laying down your perfectly round piece of parchment paper, be sure to grease the pan — including the sides. Greasing the bottom of the pan might sound like overkill, but putting a thin layer of butter or cooking oil, such as canola or coconut oil, on the baking tray first will help the non-stick paper, well, stick to the tray. Then, gently run your fingers across the paper to smooth out any wrinkles for the most silky-smooth cake. 
But wait, Garten has one more tip to prevent your cake from breaking apart when transferring it out of the pan: Don't dump the cake out of the pan. After you've let your decadent treat cool down, place your cooling rack on top of the pan and flip it over instead. "If you're lucky — and if you greased the pan properly — it'll come out," she said while whipping up a delicious-looking lemon poppy seed cake (per YouTube). The celebrity chef really is the gift that keeps on giving.