Ina Garten's Clever Trick To Get More Out Of Measuring Cups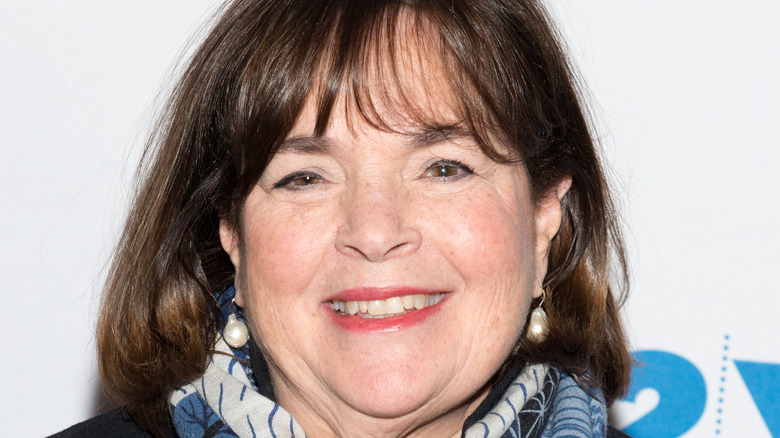 Noam Galai/Getty Images
Whether you want to make a simple fruit crumble or whip up a more ambitious recipe like a raspberry lemon macaron cake, baking sure can get messy with all the various ingredients splattering about — not to mention, the inevitably dirty mixing bowls, whisks, measuring cups, and the like. Thankfully, celebrity chef Ina Garten has a trick that easily streamlines the process of mixing wet ingredients — and it's as simple as it is brilliant: Use the measuring cup as a makeshift mixing bowl. As the Barefoot Contessa would say, how easy is that?
It's no secret that Garten is a fan of using KitchenAid mixers for combining larger batches since the iconic stand mixer is a staple in her East Hampton home, and she typically opts for Anchor Hocking Glass Mixing Bowls for combining lighter mixtures. However, when it comes to quickly whisking together wet ingredients like milk, eggs, or water, it's not uncommon for her to forgo the extra bowl altogether in favor of the humble measuring cup vessel.
A measuring cup can be good for mixing, too
The renowned cookbook author has demonstrated her clever mixing tip a number of times over the years, including on social media. Back in October 2018, she took to Instagram to share her favorite vinaigrette recipe, a zesty lemon dressing. "I actually make it in a measuring cup so I can measure and mix at the same time," she explains while combining freshly squeezed lemon juice, olive oil, kosher salt, and ground black pepper, which she whisks together directly in the cup in lieu of measuring them out individually in a separate bowl. 
Garten also mentioned the mixing hack while making a delicious-looking recipe for cinnamon-baked donuts on a 2020 episode of her Food Network show, "Barefoot Contessa." In the video, she can be seen combining whole milk, a large egg, melted butter, and good vanilla, which she refers to as her favorite flavor, before giving them all a little whisk directly in the measuring cup. "I always mix things in a measuring cup because then you can measure and mix at the same time," she says. The popular chef then pours the wet mixture into the bowl of dry ingredients to finish out her recipe.
The size of the cup is important to avoid spills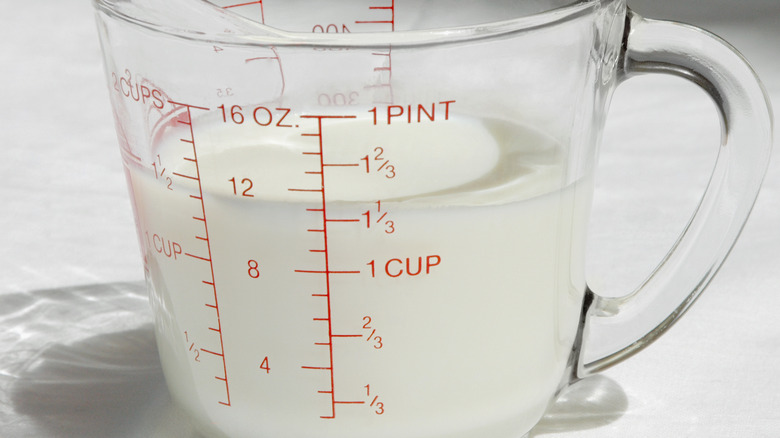 Medioimages/photodisc/Getty Images
Not only is using a liquid measuring cup to mix together wet ingredients faster, but it also results in at least one fewer dish to clean, which is a win-win all the way around. However, there is one major thing to keep in mind before you ditch a conventional mixing bowl in favor of Garten's genius technique. Since liquid measuring cups are typically much smaller than large mixing bowls, you need to be mindful of the amount of wet ingredients that need to be combined in order to prevent everything from overflowing.
Granted, liquid measuring cups typically feature lipped spouts and extra space at the top to help minimize sloshing, so they're definitely designed to prevent spills. However, since they are only made to measure out certain amounts, such as 1 cup, 2 cups, 4 cups, or 8 cups of any given liquid, you'll need to make sure it's big enough to contain all of your ingredients. For example, if you add everything up and it equals 4 cups and you're using a large, 8-cup measuring glass, then you're good to go because you'll have plenty of extra room to whisk your ingredients around.