Here's What Giada De Laurentiis Eats The Moment She Lands In Rome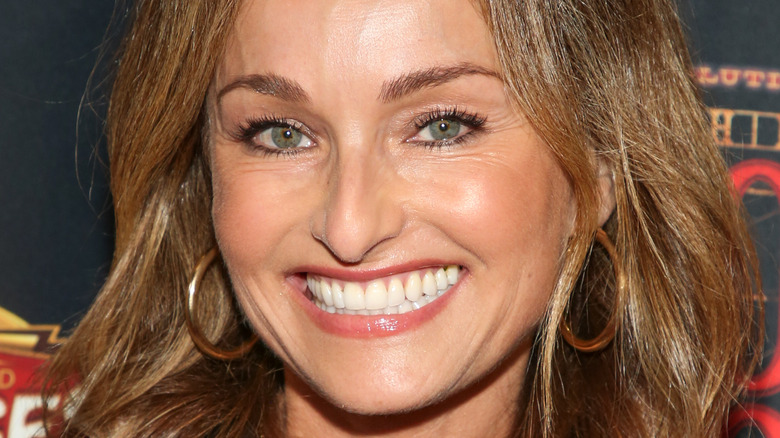 Paul Archuleta/Getty Images
Author, chef, and media personality Giada De Laurentiis has made her career by showing the world at large how delicious and simple Italian food is. She should know, as someone who spent her early childhood in the Eternal City, Rome. While now based in Los Angeles, she still considers Rome her second home and travels there frequently to visit family, film social media segments, or just enjoy the ancient and beautiful metropolis. Many people who visit specific locations repeatedly come to discover places that they rush to as quickly as they can after they land, and it usually involves a favorite food. De Laurentiis is no exception.
When her plane touches down in Rome, De Laurentiis hightails it east across the Tiber River, straight to Roscioli, an eatery located about ten minutes from the Pantheon. Her mission? It's not to grab a gelato or a plate of cacio e pepe but to get her hands on a pizza bianca with fresh mortadella. Contrary to its name, the snack is more like a sandwich than a slice of pizza. There is no tomato sauce or cheese, and the fillings are inside rather than on top. Perhaps the best part is the fact that the pizza is conveniently portable, allowing you to munch while making your way to your hotel or while taking in the sights of ancient ruins.
Not the kind of pizza you'd expect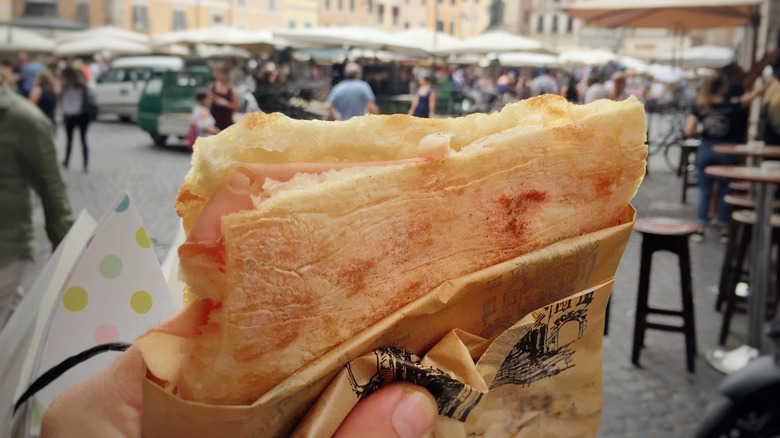 rarrarorro/Shutterstock
The pizza that De Laurentiis loves is very different from what many Americans picture as a typical slice. It isn't an oversized, rectangular slice dripping with sauce, cheese, and toppings. The dough is thinner, bubbly, and chewy. In a short video clip she shared on TikTok, you can see that De Laurentiis' pizza bianca is split and filled with mortadella, Italy's version of bologna. As simple as it is, Giada insists it's the perfect breakfast or lunch. Behind her, there are people lined up out the door of Roscioli, waiting to get their hands on one of the delicious-looking pizzas they sell. Many are topped with colorful cheeses, meats, and vegetables, but De Laurentiis' favorite is understated and simple.
To be clear, many pizzas in Rome do feature the classic toppings of red tomato sauce, mozzarella cheese, and various toppings, but when you see "pizza bianca," it translates as "white pizza" and essentially means there is no sauce on it. Mortadella is a popular filling for pizza bianca and comes either plain, which is studded with pork fat, or with pistachios scattered throughout. Pizza bianca with mortadella is delicious, uncomplicated, and satisfying, much like the Italian way of life.
Where else does De Laurentiis eat in Rome?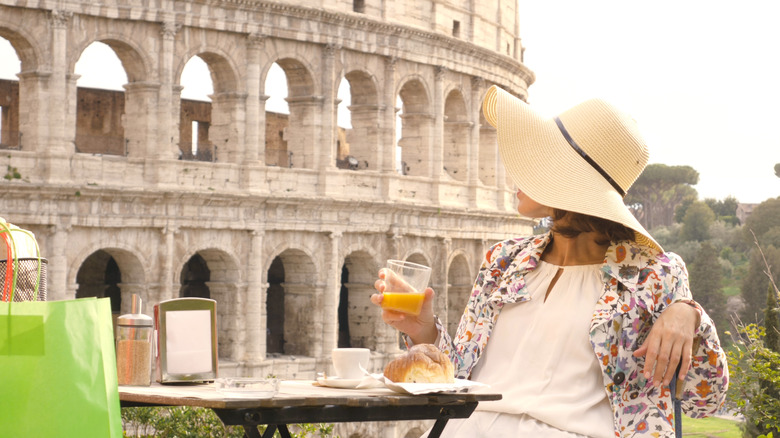 WineDonuts/Shutterstock
With Rome being such a big part of her life, naturally Giada De Laurentiis has several favorite restaurants, cafes, and gelaterias in Italy's capital city. On her lifestyle and travel website, Giadzy, she shares a list of the places she loves and returns to again and again during her travels. For an afternoon glass of wine after a day of sightseeing, she recommends Ai Tre Scalini, which is near the Roman Forum. Antica Pesa on the west side of the Tiber is great for a fancy dinner and for watching for celebrities, who love the gorgeous outdoor seating under a large canopy.
For coffee and pastries, De Laurentiis heads to Ciampini, which is walking distance from the Trevi fountain and features plenty of outdoor seating for people-watching. For Italy's infamous gelato, Giada recommends Otaleg for its interesting but delicious selections — and Fatamorgana, which excels in both classic and imaginative flavors. The latter even has locations in Beverly Hills and Studio City in the Los Angeles area, so if you can't make it to Rome, perhaps you can make it to one on the West Coast.