The Magic Ingredient For Perfect Cacio E Pepe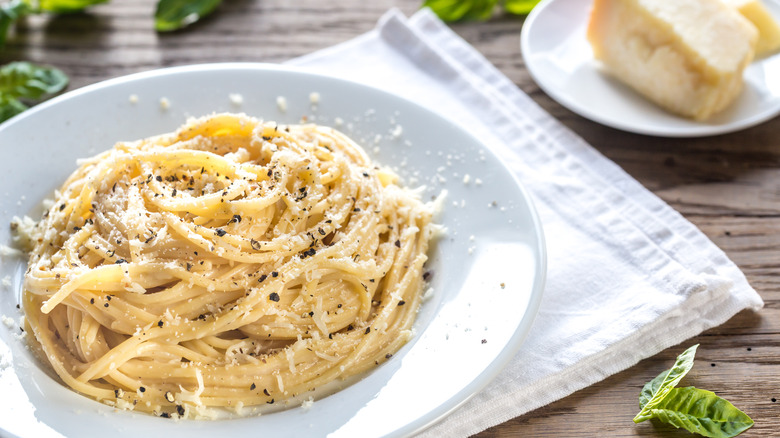 Alexpro9500/Getty Images
Cacio e pepe, a timeless Italian pasta dish, has won the hearts and palates of many with its delicious simplicity and bold flavors. Traditionally, it's a straightforward concoction of pasta, Pecorino Romano cheese, and freshly cracked black pepper. This dish, originating from the Eternal City of Rome, is the embodiment of Italian culinary philosophy: quality ingredients combined with expert technique to create a simple — but delicious — masterpiece.
However, like any culinary classic, there's room for innovation and enhancement. For example, consider the shallot. Although not as well-known as its cousins, onions and leeks, shallots have similar flavors but are more gentle — less assertive. The addition of shallots might seem blasphemous to many authentic Italian cuisine lovers, but its flavor complements well with cheese and ground black pepper. Shallots provide an extra dimension of flavor, which can elevate your cacio e pepe pasta to a whole new level. If you don't tell Giada De Laurentiis, we won't, either.
Cheese plus pepper plus shallots equals yes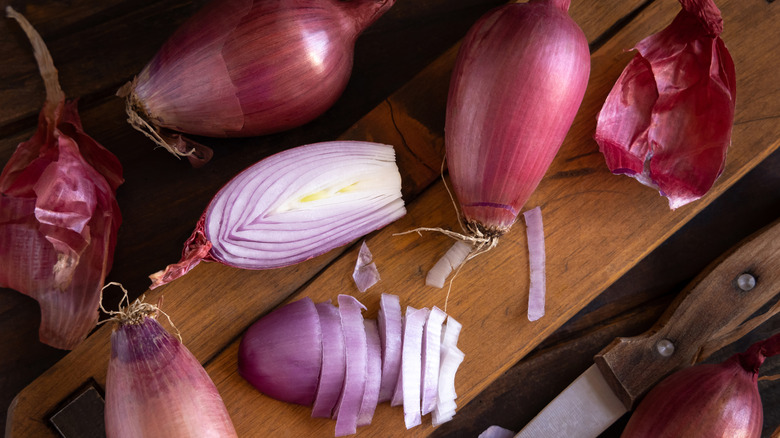 Karisssa/Getty Images
To prepare cacio e pepe with added shallots, you need long pasta — such as spaghetti or bucatini — large amounts of Pecorino Romano cheese, lots of whole black peppercorns, several shallots, butter, and salt. Grate the cheese finely with a box grater, and coarsely grind the pepper with a pepper mill or mortar and pestle. Slice the shallots very finely, and fry them in butter until lightly browned, softened, and fragrant. Set these aside.
In a large stock pot or Dutch oven, boil the pasta with plenty of salted water until just al dente. Save a couple of cups of pasta water when draining. In a large pan on high heat, combine the ground pepper, olive oil, and a splash of pasta water alongside the cooked shallots to create the base. Add the pasta and the cheese and stir vigorously, adding more pasta water if the pan looks too dry — until the cheese emulsifies with the liquids to create a creamy sauce. Serve immediately with more grated cheese and ground pepper on top. 
Deliciously blasphemous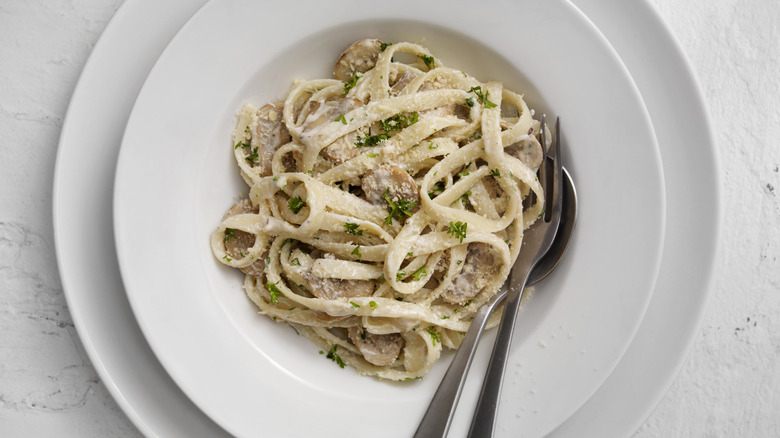 Lauripatterson/Getty Images
Cacio e pepe is a testament to the brilliance of Italian cuisine — where a combination of several simple ingredients shines with elegance. Adding sauteed shallots to this culinary classic is a bold step towards enhancing its flavor profile without overshadowing its core essence, but we do not need to stop there. Since we are already tossing tradition out the window, there are many delicious ways to build on the original recipe.
For example, mushrooms are a fantastic addition to any pasta dish, and cacio e pepe is no exception. Depending on the season, you can find a wide variety of fungi that add umami and earthiness to the cheese and black pepper. Porcini, morels, chanterelle, and hedgehog mushrooms are all fantastic choices. Cook them in butter and separate to the shallots to drive out most of their moisture, then toss them with the pasta last minute alongside the grated Pecorino cheese.
Meat lovers could pan-fry some pancetta or cubed bacon and then cook the shallots in the rendered fat. Add the crispy, meaty morsels to the top of the pasta at the end, like a garnish, to keep their crunch. And if we're embracing blasphemy anyway, consider slowly mixing egg yolks into the pasta at the end, creating a rich, velvety sauce that may not be traditional or authentic, but it sure will taste delicious.