Molson Coors' New Peace Hard Tea Has Officially Hit Store Shelves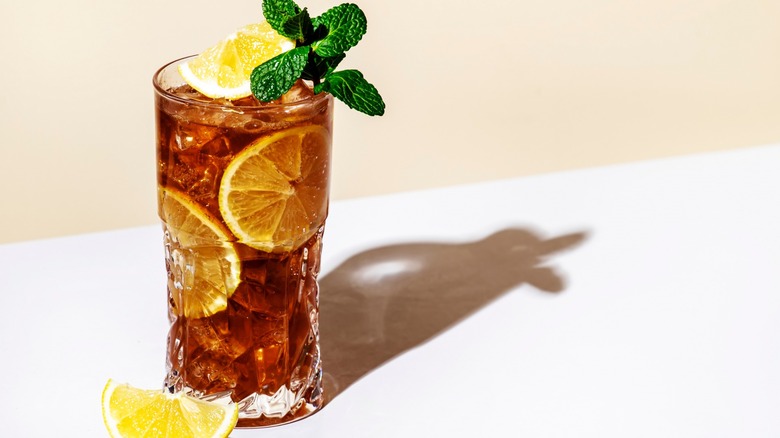 5PH/Shutterstock
In early 2023, Molson Coors Beverage Company teased that it would soon release a line of hard (spiked) drinks called Peace Hard Tea in a collaboration with Coca-Cola who already produces the popular, non-alcoholic line of Peace Tea. After all the anticipation, it appears the adult-only drinks are now available in select locations throughout the Southeast United States to start. Consumers can find 24-ounce cans of Peace Hard Tea at convenience stores and other retailers in the region.
While new launches of alcoholic beverages like hard seltzers, spiked cold brews, and canned cocktails have exploded in recent years, large selections of hard teas have been less common. Twisted Tea has been on the scene since 2001, with brands like Lipton and Arizona slowly following suit. To bridge the gap, Molson Coors looked to Coca-Cola and its free-spirited line of Peace Teas to expand on the delicious flavors as well as the market for spiked beverages. By adding a bit of booze to the mix, the new collaboration gives adults the opportunity to enjoy the refreshing taste of cold, non-carbonated tea in tasty fruit flavors, with a bit of a kick to remind them this is no kid's drink.
The hard tea comes in three fruity flavors
The new Peace Hard Teas are just about as strong as many beers (which generally contain between 5% and 12% alcohol by volume (ABV). Peace Hard Teas contain 5% ABV and are available in three flavors: Freedom of Peach, Really Really Razzy (raspberry), and More Peace More Lemon. According to a press release, only single cans are available for purchase at this time, with no word yet if multi-packs will become available. Those who live in the Southeast where the cans are currently available can visit the Peace Hard Tea website and use the store locator to find retailers that sell the drinks.
While these new hard teas are no doubt delicious on their own, you could get creative and mix up your own boozy Arnold Palmers by combining your favorite flavor with lemonade, and serve over ice. Garnish with some fresh raspberries, a slice of peach, or a wheel of lemon (depending on which flavor you prefer) and you'll have a cocktail worthy of a Sunday afternoon, weekend party, or really any given day of the week.