Ultimate Lemonade Recipe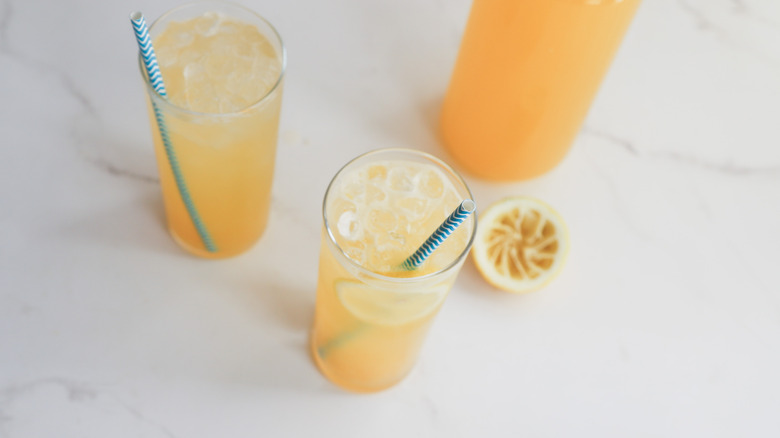 Taylor Murray/Food Republic
This is not your run-of-the-mill, mediocre lemonade. This is the personification of summer in a glass, the distillation of sunshine and citrus trees, an energizing symphony of tangy sweetness that's here to give the humble lemonade a glamorous, mouthwatering makeover. Venture beyond the one-note simplicity of ordinary lemonade and discover an uncharted realm of flavor. In this recipe, we bring together the zest and juice of not one, not two, but three magnificent citrus fruits — lemon, lime, and tangerine — to create a beverage that's boldly refreshing, deliciously sweet, and thrillingly tart.
Our secret? A heavenly trifecta of fruit-infused simple syrup that makes each sip a multi-layered tasting experience. By infusing the simple syrup with the zest of all three fruits, recipe developer Taylor Murray ensures that every nuance of citrus essence is encapsulated, creating an amplified flavor that resonates with every taste bud. And, all told, this ultimate lemonade really isn't more difficult to make than any from-scratch lemonade, so do yourself a favor and enjoy this elevated recipe on a warm summer's day.
Gather the ingredients for ultimate lemonade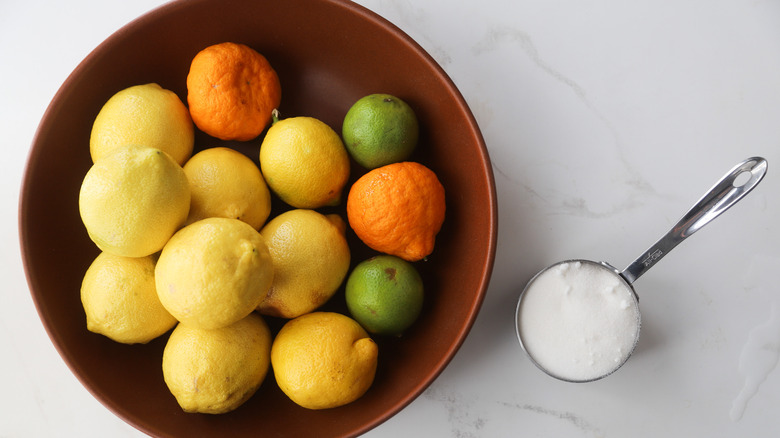 Taylor Murray/Food Republic
The ingredients for this twist on classic lemonade are simple and straightforward. To enhance the natural flavor of the lemons, we're going to include two limes and two tangerines. This should give the drink a slightly more fragrant aroma and taste (though lemon will still be the prevailing flavor). When buying or cooking with citrus, always look for fruit with a firm flesh and no soft spots. The only other ingredient needed is white granulated sugar, as well as some water and ice.
Make the citrus simple syrup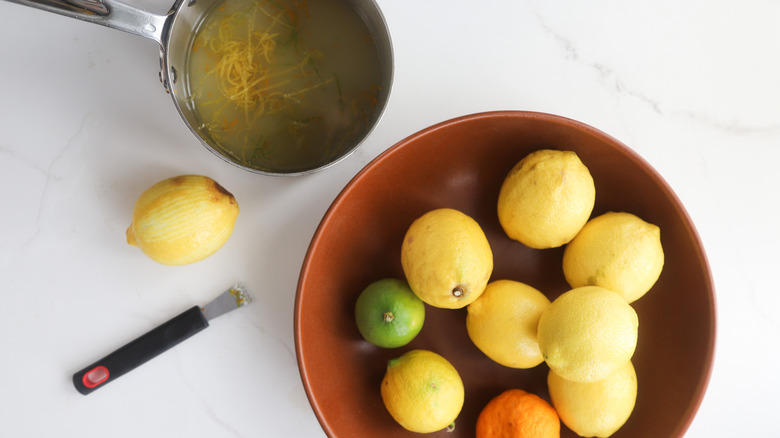 Taylor Murray/Food Republic
Zest all of the fruit using a strip zester and add it to a small pot. Add the sugar and ½ cup of water. Bring to a simmer, then remove from heat. Let sit until cooled to room temperature, then strain.
Juice the fruit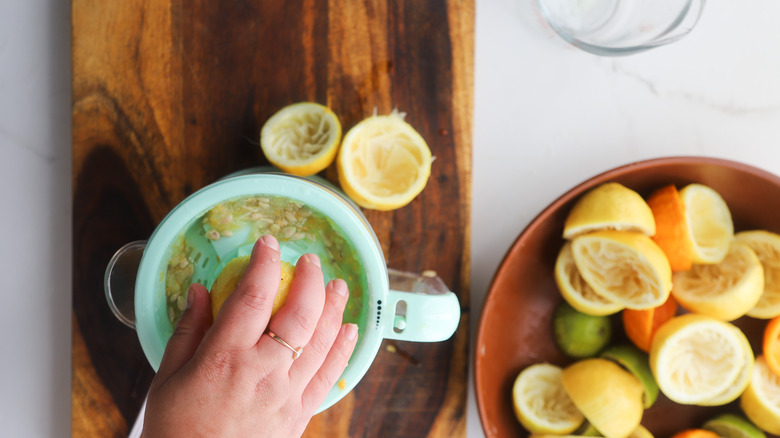 Taylor Murray/Food Republic
Grab a citrus juicer and juice all the fruit. Depending on your pulp preferences, you may want to strain the juice at this stage, but you can leave the pulp in if you prefer a little bit of texture. Do be sure to remove any seeds that might sneak their way into the mix.
Add the finishing touches and enjoy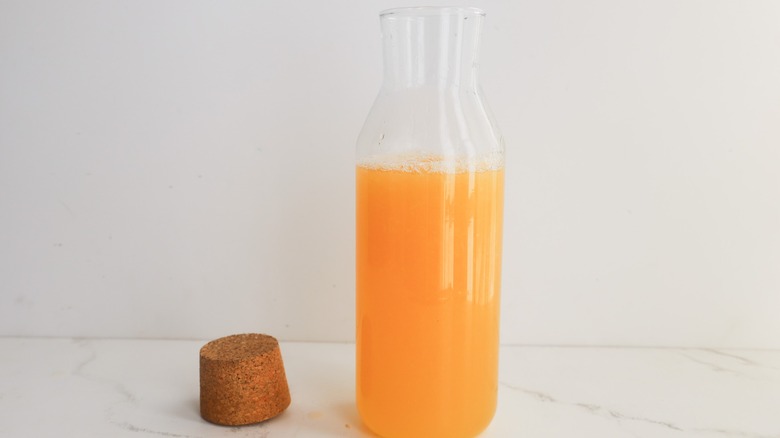 Taylor Murray/Food Republic
Combine the cooled syrup and citrus juice in a large pitcher. Dilute with an equal volume of water. If you don't have a large enough pitcher, you can add 1 cup of the juice base to a glass with ice, then add another cup of water and stir with a straw.
Naturally, this lemonade is delicious during the summer, with the crisp, refreshing flavor pairing well with a warm day. Sip this lemonade by the pool, use it as a mixer with your favorite liquor, or just enjoy a glass of the citrus-packed goodness whenever the craving hits.
Ultimate Lemonade Recipe
Cool down with this ultimate lemonade, which features three types of citrus.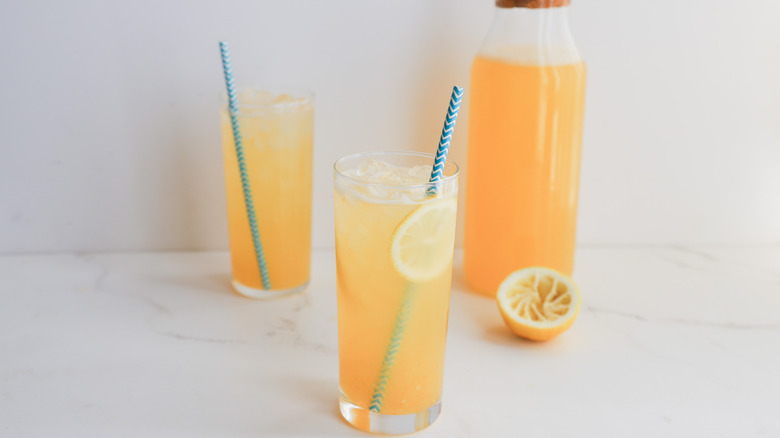 Ingredients
9 lemons, zest and juice
2 tangerines, zest and juice
2 limes, zest and juice
1 cup granulated sugar
½ cup water, plus more to fill the pitcher
Directions
Zest all citrus with a strip zester. Add the zest to a small pot with sugar and ½ cup of water. Bring to a simmer, then set aside. Strain (if desired) and cool.
Juice all citrus and transfer to a large pitcher. Add the strained citrus syrup and dilute with an equal volume of water. Serve over ice.
Nutrition
| | |
| --- | --- |
| Calories per Serving | 266 |
| Total Fat | 0.7 g |
| Saturated Fat | 0.1 g |
| Trans Fat | 0.0 g |
| Cholesterol | 0.0 mg |
| | |
| --- | --- |
| Total Carbohydrates | 73.0 g |
| Dietary Fiber | 6.5 g |
| Total Sugars | 56.7 g |
| Sodium | 6.4 mg |
| Protein | 2.4 g |