Ina Garten's Grilled Cheese Hides Even More Cheese In The Condiments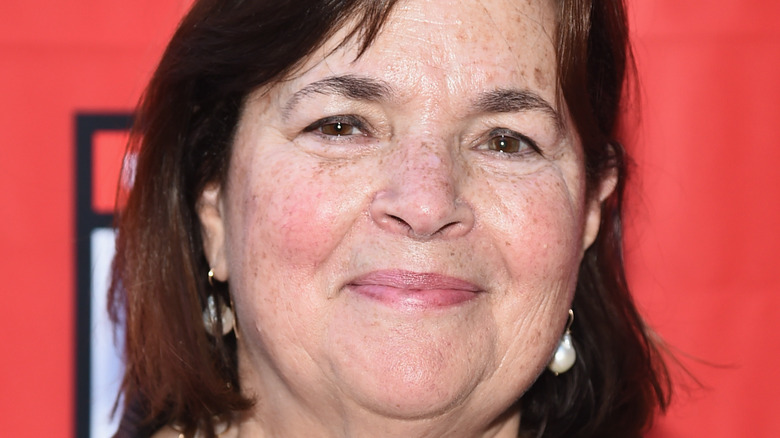 Michael Loccisano/Getty Images
If you know anything about Ina Garten, or if you've had the pleasure of tasting any of her recipes, then you know you can count on the Barefoot Contessa to whip up a supremely satisfying comfort meal without pretension. And what's more comfort-meal-worthy than grilled cheese?
As usual, the beloved celeb chef puts her own special touch on the classic — and this time, her special touch happens to involve even more cheese. Before Garten gets to the cheesy goodness that will be stuffed inside the crispy grilled sandwich, her first step is to make a condiment mixture where some parmesan cheese is hiding.
In her demonstration of the recipe for Food Network, Garten mixes together mayonnaise, dijon mustard, and grated parmesan cheese, which she calls the "unusual ingredient." She spreads this mixture generously on the inside of each slice of bread to up the cheese factor from the get-go. As she says in the video, "How bad could that be?"
How to make grilled cheese, Garten style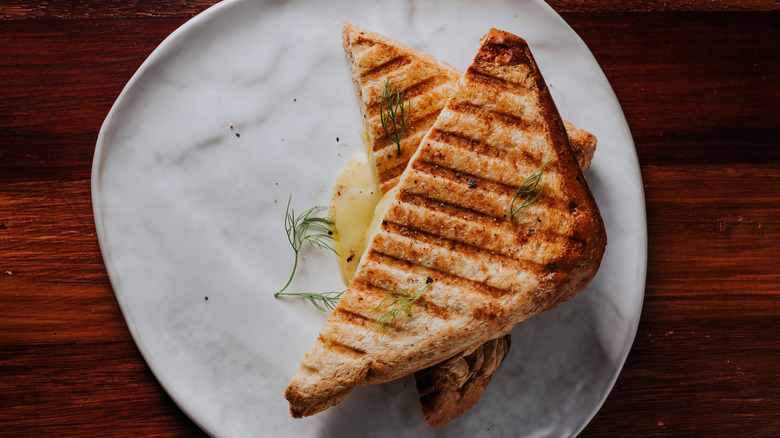 HK.Studio/Shutterstock
To make an ultimate grilled cheese the way the Barefoot Contessa does it, you'll need to gather a few extra ingredients to give the sandwich a little extra love — but you won't regret it. Garten includes sliced bacon in her grilled cheese filling, so the first step is to throw some thick-cut bacon into the oven for 20 to 30 minutes. While that crisps up, make the hidden-cheese mixture of mayo, mustard, parmesan cheese, salt, and pepper. Using a Pullman's loaf or sliced sourdough bread, spread a layer of butter on the outside of each slice and a heaping layer of the condiment mixture on the inside.
Once the cooked bacon is diced and assembled evenly on the bread, Garten tops it off with a blend of freshly grated cheeses. She uses equal parts cheddar cheese and aged Gruyère (a flavorful combo that Alton Brown swears by as well), piling the shredded cheese onto each sandwich and enclosing it with the remaining sauce-covered slice of bread. Garten uses a panini press to finish everything off, cooking the sandwich to a crispy grilled perfection.
More ways to level up your grilled cheese game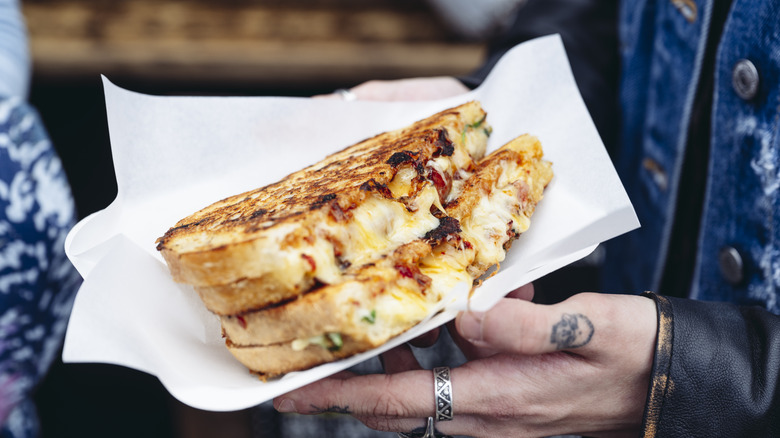 Johnnygreig/Getty Images
As Ina Garten has shown us, a grilled cheese sandwich has a lot of potential for greatness. Small tweaks or additions — like freshly grating higher-quality cheese in a food processor rather than using pre-sliced or pre-shredded cheese — will amp up the flavor and quality of your sandwich.
Aside from cheese selection and Garten's secret sauce, there's plenty more you can add to your grilled cheese to level things up. Not a bacon person? Try layering on other ingredients like salami and pickles, smoky jalapeños and tomatillos, or even a fried egg. Want something a little more sweet than savory? Add some sliced apples, caramelized onions, or a fruity jam or chutney.
Lastly, you can switch up your cooking method to step up your grilled cheese game — because panini presses and frying pans aren't the only ways to grill a cheese sandwich. You can achieve crispy, melt-in-your-mouth results in the oven, on a cast iron grill pan, in an air fryer, on a backyard grill, or even in a waffle iron.