Why Canned Wine Is The Move For Your Next Tailgate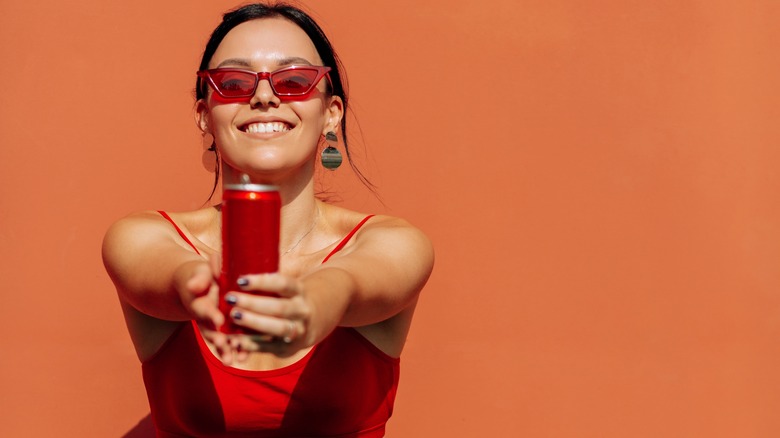 Viacheslav Boiko/Shutterstock
Canned beverages are ideal for al fresco drinking experiences like tailgates, picnics, beach trips, or barbecues. Cans are lightweight, recyclable, and easily crushable for convenient disposal. While beer and hard seltzers may be the first options that come to mind, don't overlook canned wine.
Wine is delicious, festive, and fun, offering a variety to suit everyone's taste. However, glass bottles are heavy, breakable, and often prohibited in many gathering places. That's why Katie Hendley, a Certified Specialist in Wine and sommelier, considers canned wine a pro move for tailgates. Compared to their glass-bottled counterparts, canned wines offer more eco-friendly packaging and help maximize cooler space at your tailgate. Additionally, canned wines provide a unique option: For some, beer may be too filling and hard seltzers too sweet, but canned wine strikes the perfect balance.
Hendley particularly recommends canned wine if you're in the mood for some bubbly. "Not only are bottles of bubbly wine typically the heaviest bottles of all, they don't like to be moved around a bunch so transporting them can make the bubbles friskier than normal," she told Food Republic. Furthermore, if you're planning a special toast, you'll also need to bring cups. None of these issues exist with single-serve cans, eliminating the risk of an accidental cork projectile.
Canned wine varieties
With canned wines, you have plenty of options. They can be found at standard supermarkets that sell alcohol, liquor stores, online retailers, and specialized wine shops. Budget-friendly choices are available, such as Stella Rosa Tropical Mango and Barefoot Rosé Spritzer, as well as offerings from large producers like Underwood Vineyards and House Wine.
Katie Hendley also points out that many small producers, particularly those focused on sustainability, are canning high-quality, boutique wines. Maker collaborates with various small winemakers to can their products, including options like a carbonic sangiovese from Terah Wine Co. or a verdelho from Wander-Must Wine. The Austin Winery, an urban natural wine producer based in Austin, Texas, offers canned picpoul and grenache piquette — a lower-alcohol beverage made from leftover grape pomace — as well as a blend they call Pink Salt, featuring malvasia, sangiovese, montepulciano, and barbera grapes. For those who prefer a spritz, Producer Field Recordings has choices under their Foxie line, such as white wine with Amarillo hops and tangy, sweet quince, or bubbly roséwith Simcoe hops and juicy grapefruit.
Canned wines typically come in soda-like cans containing 375 milliliters of wine, equivalent to two glasses or half a bottle of 12.5% ABV wine. Smaller slim cans hold around 187 milliliters, the same as a single glass of wine. Be mindful of the amount of wine you're consuming, as each brand varies in both can size and alcohol percentage.