Turn Your Favorite Lemon Loaf Cake Into Sunny French Toast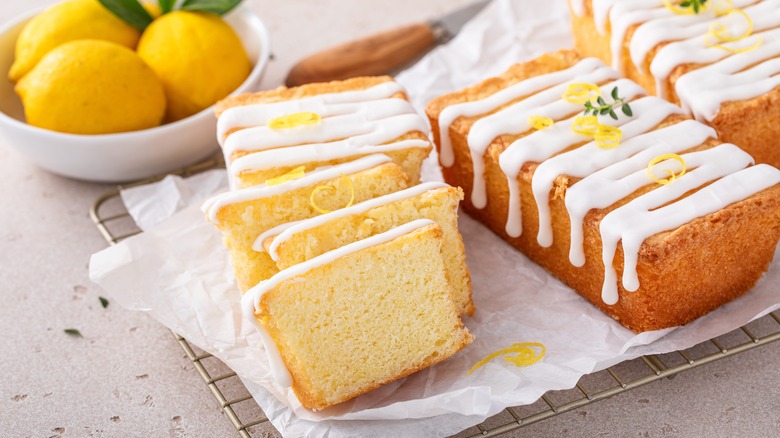 Elena Veselova/Shutterstock
The lemon loaf cake is a fantastic all-around baked good. Packed with the flavors of lemon zest and butter, its dense crumb and tender texture make it a fantastic snack to go with a cup of tea. Dressed up with ice cream and a berry compote, it can easily serve as a dessert for any dinner party.
However, there is another way to make use of a lemon loaf cake: make French toast. Although the breakfast treat is usually made with brioche bread, the zesty goodness of lemon is a perfect match with the comforting warmth of French toast. With some careful handling and adjustments to the custard, you can turn any lemon loaf cake into a sweet brunch dish perfectly paired with a mimosa, bacon, and a side of eggs.
To make lemon loaf cake French toast, you will most importantly need a lemon loaf cake. You can purchase one from a bakery or a supermarket, or you can try making your own lemon pound cake.
From cake to toast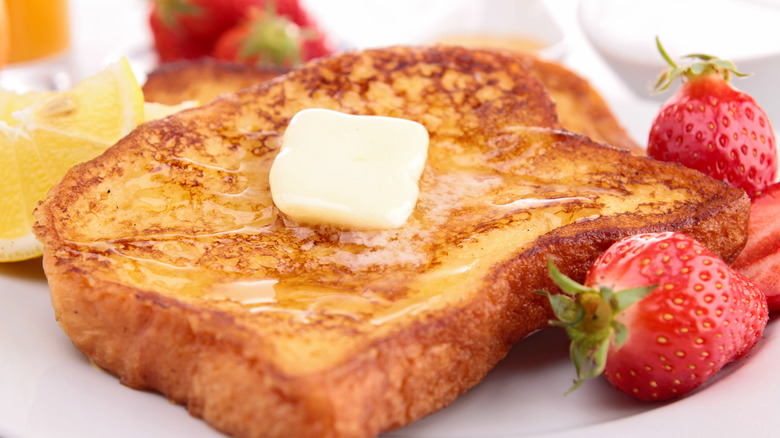 margouillat photo/Shutterstock
Next, you will need to make a custard. In a mixing bowl, whisk together the eggs, milk, lemon zest, and a small pinch of salt until well combined. Heat a non-stick skillet or griddle over medium heat and add a small amount of butter to prevent sticking. While the butter melts and sizzles, dip each slice of lemon loaf cake into the custard mixture. Make sure both sides are nicely coated, but you don't need to let it sit too long. Lemon loaf cake is usually pretty moist, after all. You just want enough to give a nice crispy, caramelized crust to each slice when toasted in the pan.
Place the custard-soaked lemon loaf cake slices onto the hot skillet or griddle. Cook for about two to three minutes on each side, or until they turn a beautiful golden brown. In a separate bowl, combine milk, powdered sugar, lemon zest, and lemon juice from some hefty, juicy lemons into a glaze. When you are ready to serve, plate the French toast with fresh fruit and serve with the lemony glaze on the side.
French toast tips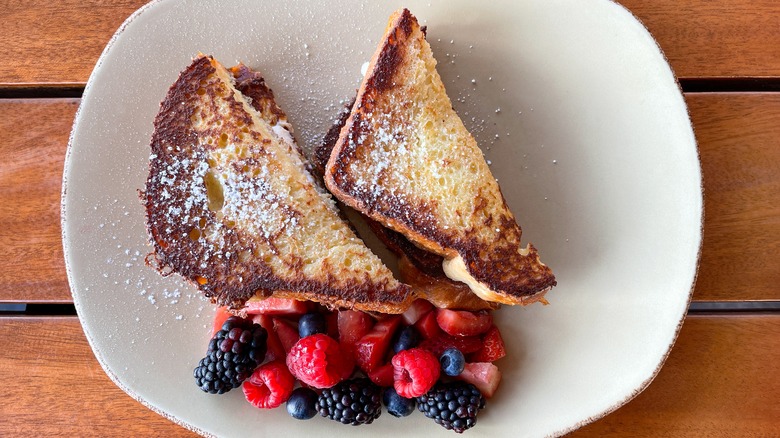 Rosamar/Shutterstock
Sweet all around and spiked with lemon flavor, lemon cake made into French toast is a luxurious treat that will be your new brunch favorite. However, there are some tips that can ensure perfect results every time. First, since the lemon loaf is itself pretty sweet, you can skip the sugar used in a traditional French toast custard. A pinch of salt in the egg mixture will also help balance out the flavors. You can cut out the lemon glaze altogether and use simple powdered sugar instead to garnish the French toast.
Additionally, when cooking any kind of French toast, patience is key. Heating it too quickly over a high flame can result in a crispy exterior with a soggy interior. Medium heat is your friend. Finally, If you're making a batch of French toast, keep the cooked slices warm in the oven at about 200 degrees Fahrenheit while you finish cooking the rest. This ensures that all your French toast stays warm before serving.