The Key Step For The Freshest Lemon Pound Cake Of Your Life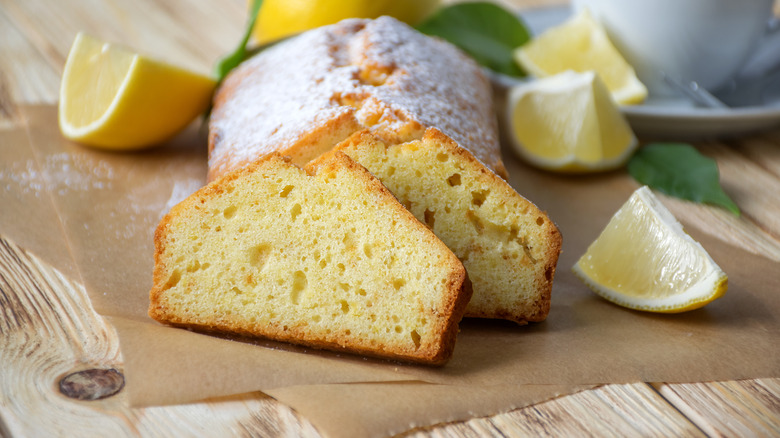 Nemer-t/Getty Images
Dense but tender, sweet and tart, a lemon pound cake is a great cake that is delicious on its own or as the base of many other desserts. With its relatively few ingredients and straightforward recipe, pound cake is an easy sweet treat that novice bakers can create easily and consistently, making it a favorite among home cooks who are more adept with savory dishes than desserts.
Although a regular pound cake recipe is delicious, there are some tips and tricks that can take the finished product to the next level. One involves pouring fresh lemon juice on top of the cake once it is out of the oven. Not only would the lemon juice add more flavor to the pound cake, but it would also impart freshness that would pair well with a nice glaze.
To start, you will need the basic ingredients for a pound cake: flour, sugar, eggs, and butter in equal measure. Additionally, you will need several lemons, a juicer, a microplane or a zester, powdered sugar, a loaf pan, and a stand mixer.
Making the ultimate lemon pound cake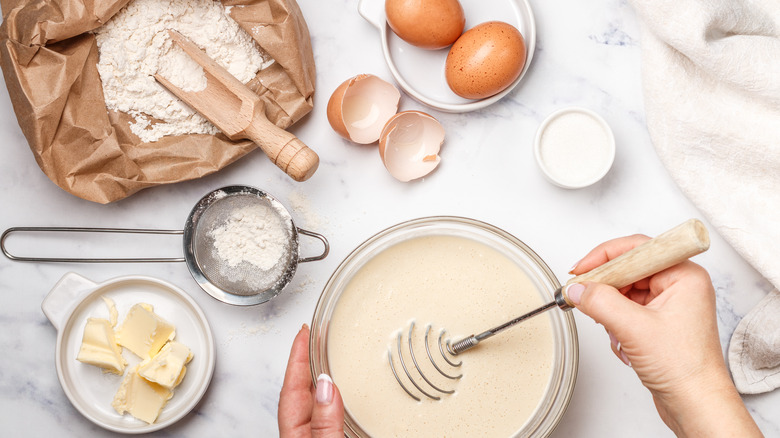 Viktory Panchenko/Shutterstock
To start, preheat your oven and let the butter and eggs come to room temperature. While you are waiting, zest the lemons, then juice them thoroughly. In the mixer, vigorously beat sugar and butter to add air to the mixture which would make for a lighter cake. Add the lemon zest, then the eggs one at a time, mixing each one thoroughly before another. Once finished, add half the flour and mix gently, since beating the batter too vigorously would cause gluten to form, making the cake tough.
Grease up a loaf pan thoroughly with butter and line it with parchment paper for easy retrieval when finished. Pour the batter into the loaf pan and bake. Meanwhile, mix half the lemon juice with the powdered sugar into a glaze. Once the cake is finished — you can test it by stabbing a toothpick into the middle. If it comes out clean, the cake is finished — take it from the oven. Punch ten evenly spaced holes into the cake and pour the other half of the lemon juice on the cake to absorb. Cool the cake for at least 10 minutes before pulling it from the loaf pan with the parchment paper liner. Pour the glaze over the top of the cake and let it set before serving.
Adding more flavor to the pound cake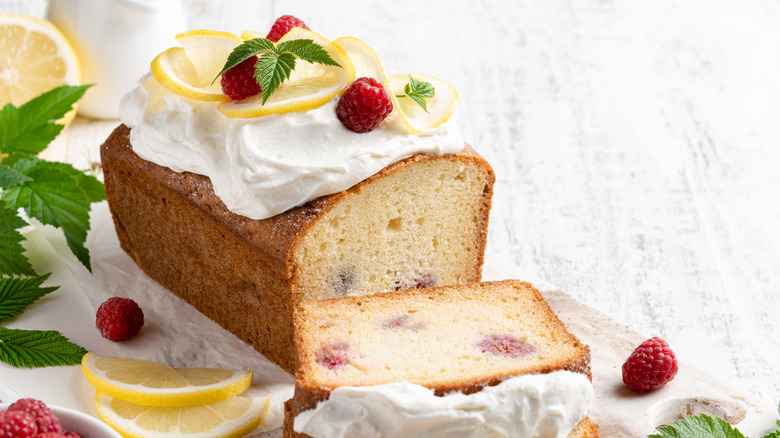 Alena_Kos/Shutterstock
Aside from adding lemon juice to the freshly made cake, other tips can help you add more flavor and moisture to a pound cake. For example, you can add cream cheese to improve the cake's texture and lemon pudding to add moisture and additional lemon flavor. Strips of candied lemon peel or slices of candied lemon would make for an incredible garnish. For a more "adult" version of a lemon pound cake, you can pour limoncello, an Italian lemon liqueur, onto the cake to absorb instead of lemon juice. Additionally, you can add chunks of dried fruits to the batter.
Aside from being fantastic on its own, lemon pound cake would pair well with many toppings, including ice cream and fruit compotes. Leftover pound cake can also be used as the base of a trifle with whipped topping and fresh fruit, such as sliced strawberries or mixed whole berries.