Kool-Aid Pickles Are Andrew Zimmern's Secret Weapon Ingredient
Jeff Schear/Getty Images
Chef Andrew Zimmern loves a good sandwich, especially for late-night snacking, and if he had his choice, he'd make it a brisket sandwich. When Zimmern composes one, the chef puts as much thought into the sandwich as he does a three-course meal, balancing flavors and textures to enjoy every bite from the first to the last. 
When assembling a brisket sandwich — which includes a popular meat and traditional main dish served during Jewish holidays like Rosh Hashanah, Passover, and Hanukkah — Zimmern offsets the fatty, rich protein with acidic and sweet toppings. He builds the sandwich by slicing the brisket thinly against the grain and layering pickled jalapeños, onion gravy, tomatoes, Russian dressing, and gruyere cheese that he theatrically melts with a torch on toasted, buttered slices of bread.  
While that sounds delicious already, Zimmern's secret weapon ingredient, however, is what sets his brisket sandwich apart from others: sliced 'Koolickles.' Koolickles are the Kool-Aid-soaked dill pickles that Zimmern creates using store-bought pickles in an irresistible pinkish hue.
How to make Koolickles
Koolickles couldn't be easier to make with a bit of preplanning. Zimmern uses one quart of whole dill pickles, two packages of unsweetened cherry-flavored Kool-Aid mix, and one cup of granulated sugar to make the sweet and sour pickles he discovered while filming in the South. While Zimmern prefers the local Minnesota brand (Gedney pickles) for the recipe, which he says are less salty, any variety will do.
To begin, Zimmern strains the juice from the pickle jar into a large bowl. He whisks in the two Kool-Aid packages and granulated sugar until the sugars dissolve. It helps if the pickle juice is at room temperature, and you use fine granulated sugar.
He then pours the red pickle liquid back into the jar with the pickles and seals it. The container is placed in the refrigerator for five to seven days to allow the sugar to permeate the pickles and the Kool-Aid to dye them red all the way through.
Zimmern thinly slices the Koolicles on the bias and adds them to his brisket sandwich, but Kool-Aid pickles can be used for so much more. And cucumbers aren't the only veggies that can get this glamorous treatment.
Additional recipes to enjoy with Koolicles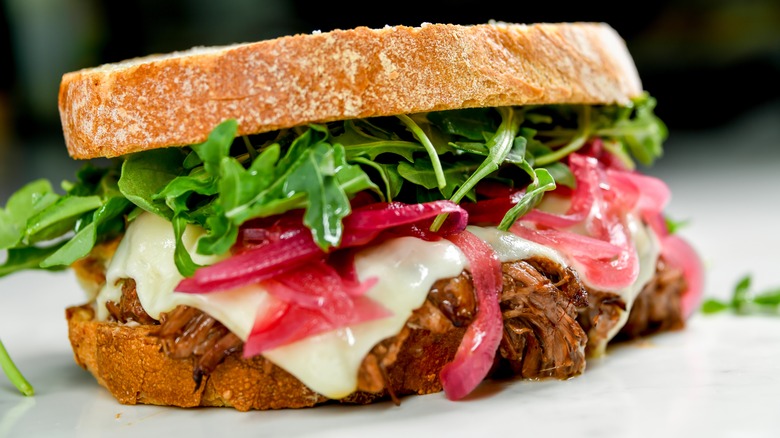 Jeff Couch Food Images/Shutterstock
You can pretty much Kool-Aid pickle any vegetable to make a sweet and sour jewel-toned garnish. Hearty veggies like asparagus, beets, bell peppers, cauliflower, carrots, fennel root, green beans, mushrooms, onions, radishes, ramps, and turnips can be used — whether you are making the pickles from scratch or starting with a store-bought product. Fruit can also become Kool-Aid pickles using rhubarb, strawberries, grapes, and peaches. Add herbs and spices to the jar to change the flavor profile — think bay leaves, whole peppercorns, cloves of garlic, thyme, chilies, or oregano sprigs. 
Once made, Koolicles will last a few months in the refrigerator. They can be added to many dishes, including salads, omelets, burgers, and pizza toppings. They are also a fun addition to charcuterie boards and a pretty garnish for spicy Bloody Marys. 
Kool-Aid pickles are a delicious topping for any barbecued meat sandwich, like pulled pork or chicken. The tangy and acidic pickles counterbalance the sweet and sticky barbecue sauce, adding a necessary brightness to the sandwich or platter. 
Decadent sandwiches like a Cubano or banh mi wouldn't be the same without pickles, so why not try this sweet variation? Banh mi is a Vietnamese sandwich traditionally made on French bread smeared with liver pate. The rich sandwich is topped with roasted pork, pickled vegetables like daikon radish and carrots, spicy chilis, cucumber slices, and fresh cilantro, treating your mouth to all the tastes and textures. It's time to break out the Kool-Aid.