5 Awesome Bánh Mì Sandwich Recipes To Make At Home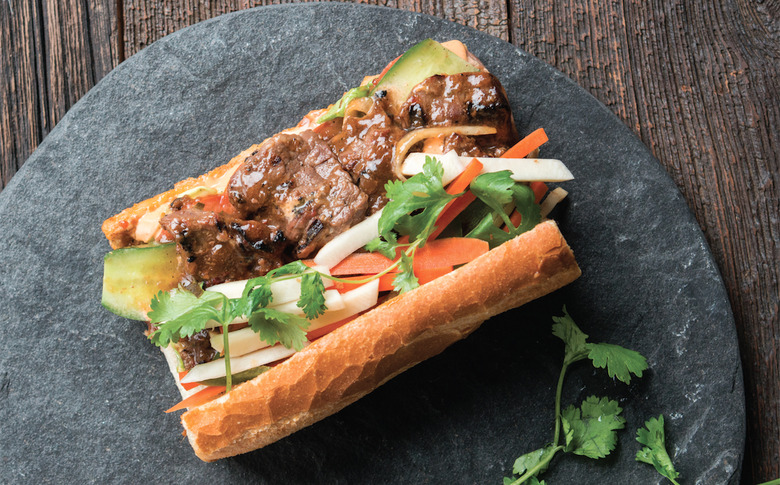 Vietnamese bánh mì sandwiches are a strong contender for greatest international sammies of all time. They're meaty (or not!) and packed with fresh herbs, pickled vegetables and finished off with a savory schmear of mayo. However you prepare yours, you're in for a crisp, hearty treat. Here are five awesome bánh mì sandwich recipes to try at home — pick up a baguette and try them tonight!
Recipe: Bánh Mì With Tropical Marinated Flank Steak
Infinitely customizable, the bánh mì sandwich has just one rule: The bread shouldn't overshadow the flavors of its fillings. Generally, in Vietnam, bánh mì sandwiches are made with inexpensive cuts of pork, but here we've made it our own with thin slices of grilled steak marinated in tropical fruits, lemongrass, and our special satay sauce. My mother often uses pineapple and kiwi in her meat marinade. Not only are they natural tenderizers, but they also add some sweetness that is great for grilled meat. In fact, the flank steak here is so flavorful and tender that it can also be enjoyed on its own for a low-carb meal.
Recipe: Fried Tofu Bánh Mì Omelet
There is a bánh mì shop a block away from our house that is damn good and mighty cheap. We've spent many a ragged hungover morning zombie walking there with Murphy, Max's dog, to pick up food. One time we wondered why there wasn't a breakfast bánh mì. Crispy bread, hot eggs, spicy sauce—sounds perfect, right? Our shop didn't have it, so we made it ourselves. For the best bánh mì, you want to use a fresh Italian roll, fluffy inside, white bread. Don't make this on whole wheat and e-mail us saying you didn't love it. We will publicly shame you.
Recipe: The Balmy Sandwich
One night, I was having dinner with our friend Gerard at a Vietnamese noodle-ish restaurant. I was excited to be there, in good company, eating flavors that I don't get often enough. Gerard is a phenomenal eater, one of those people who would impulsively travel to Queens to eat a sesame bun at a favorite Chinese restaurant. That evening, he assumed the role of cookbook coach, delivering me his copy of Fannie Farmer, saying only that I should read the introduction. I had never given much thought to this particular classic—and worse, probably dismissed it as irrelevant. I read the first paragraph at the table that night, and immediately put it aside, realizing that there was something too big in there to take in right then.
Recipe: The Easiest Grilled Chicken Bánh Mì
There are a lot of chicken sandwiches in this world, many of which you may have even made at home. The chicken parm for instance, or a nice chicken salad number. But sandwich-crafting is a lifelong skill to be constantly honed and if you see a challenge, you owe it to the Earl of Sandwich himself to take it on.
Recipe: Fried SPAM And Egg Bánh Mì
Sure, New Orleans is famous for its beignets and Sazeracs; less well known is that it has some of the very best (and cheapest) báhn mì sandwiches, thanks to its booming Vietnamese population. I use SPAM in this sandwich, which isn't typical of my kitchen, but totally appropriate and delicious in this sandwich, and especially fantastic when paired with a fried egg. Piles of pickled vegetables, spicy jalapeño, and cilantro work to make this sandwich super fresh and incredibly delicious.