Nancy Silverton's Everyday Pantry Essentials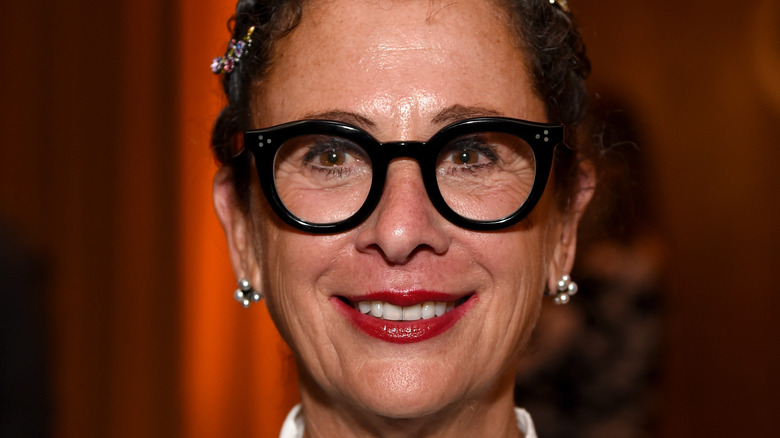 Michael Kovac/Getty Images
As the founder of the famous La Brea Bakery and owner and chef of some of Los Angeles' most beloved restaurants like Osteria Mozza and Chi SPACCA, Nancy Silverton is somewhat of a local legend. Pizza, mozzarella, pastries, ice cream, flavorful Italian-inspired dishes — she does it all extremely well.
With years of experience under her belt and an impressive repertoire of innovative recipes as both a baker and chef, you can't help but wonder what a Michelin-starred, James Beard award-winning chef like Nancy Silverton keeps in her kitchen at home. Lucky for us, the Michelin Guide asked the question and Silverton gave some interesting answers.
The everyday pantry essentials she keeps stocked at home (aside from fancy French butter): "That's easy," Silverton told Michelin, "Anchovies, extra virgin olive oil, olives, and capers. Absolutely flaky sea salt — that is a must." If you know her food well, chances are you won't be too surprised by some of Silverton's favorite things, because these flavors continue to permeate some of her most delicious dishes.
Briney dishes Nancy Silverton makes with her pantry essentials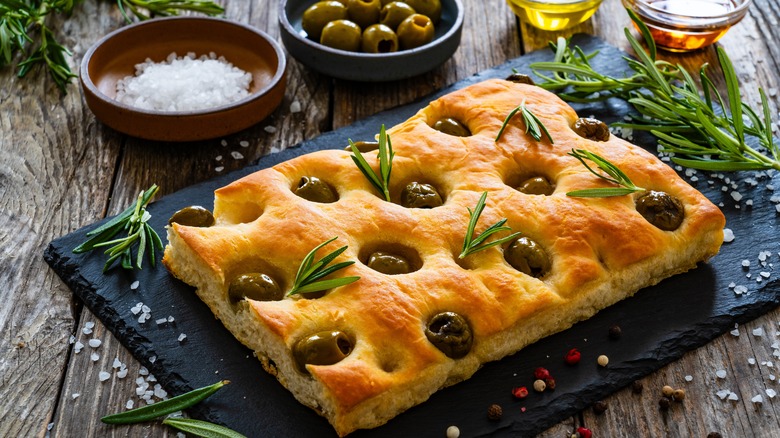 Jacek Chabraszewski/Shutterstock
If you're inspired by Nancy Silverton's pantry essentials and all of their briney goodness, the chef has cooked up a plethora of recipes that you can try at home, each letting these staples shine in their own way.
To take advantage of those praised anchovies, use them in a salad dressing, like Silverton does with her Tricolore Salad with Parmigiano-Reggiano and Anchovy Dressing. The dressing is made with salt-packed anchovy filets, olive oil, red wine vinegar, garlic, lemon juice, salt, and pepper; it's a super simple way to make anchovies the star. Or, mix them up into a salsa verde, incorporating those capers along with ingredients like olive oil, lemon, garlic, and herbs for a bright and briney sauce that Silverton serves on top of her Golden Chicken Thighs.
If you're looking to use your favorite olives, why not try one of the things the baker does best: bread. Use them as a topping on homemade olive and rosemary focaccia bread for just the right amount of salt to complement that rich and smooth extra virgin olive oil. And the flaky sea salt that Silverton considers "a must"? Use it on all of the above — just make sure you do so correctly so it doesn't overpower the dish.
How and when to use flaky sea salt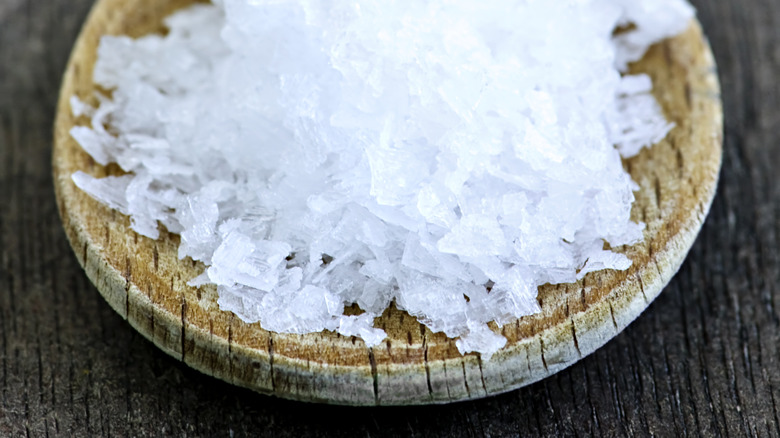 Elena Elisseeva/Shutterstock
The flaky sea salt Silverton keeps stocked in her pantry isn't an afterthought — on the contrary, it's an important staple because it can step up just about any meal. But different salts are meant to be used in different ways, so you want to be sure to use flaky sea salt where it makes the most of its best qualities.
Since all salt is essentially the same thing, what differentiates flaky sea salt is really its shape and texture. Flaky salt, specifically, tends to be large, thin, and lacy; it adds a salty crunch to the dish, which is why it's meant to be used as a finishing topper.
Flaky sea salt like Maldon is often more expensive than other options, and cooking with it defeats its main purpose. So you don't want to use it interchangeably with kosher salt or table salt in a recipe. The best way to let it shine is to add it to dishes as the final touch, whether it's on top of a salad, roasted meat or vegetables, or freshly baked breads just like Silverton does.