How To Reheat Olive Garden Breadsticks For First-Time Flavor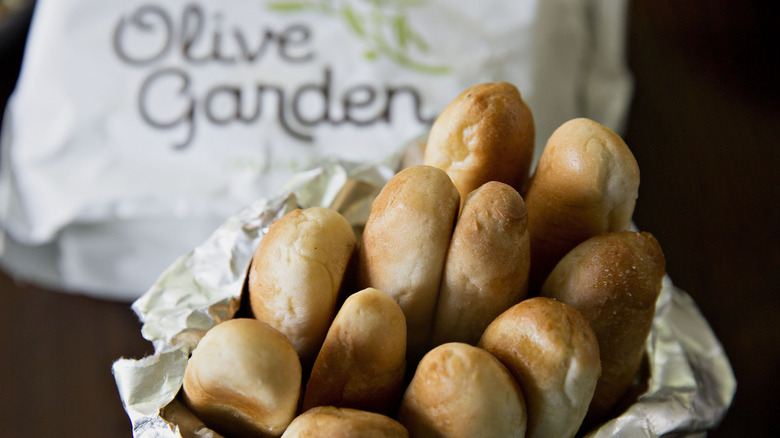 Bloomberg/Getty Images
Olive Garden is famous for its offer of never-ending soup or salad with breadsticks. While this ubiquitous promotion is available for dine-in customers only if some leftover breadsticks are at the end of your meal, they can travel home with you in the leftover bag.
The reason Olive Garden's legendary breadsticks taste so good is because they are baked fresh every 15 minutes, so no matter what, every guest will receive hot, fresh breadsticks every time. However, how do you recreate that fresh, first-time flavor experience when you reheat leftover breadsticks at home?
There are several ways to reheat their breadsticks. You can use the microwave if you like; this is the quickest reheating option. Using the air fryer is also an option if you already have it out on your counter. However, the best reheating method if you want that same texture and flavor you love when it comes to the table at the Olive Garden is to bake the breadsticks again in your oven.
The oven is best for reheating Olive Garden breadsticks
Bloomberg/Getty Images
Sometimes, the leftover breadsticks will come home with you in a bag provided by Olive Garden. This not only comes with instructions, but it is also the perfect vessel for reheating in the oven. If you don't have it, simply use aluminum foil. Wrap the breadsticks up together in a piece of foil. When they are touching, it helps the breadsticks stay nice and soft. Then, place them in a 350-degree Fahrenheit oven, and after about 5 to 10 minutes, they will be perfectly warm. 
The next step is vital because you don't just want the breadsticks to be warm; you want them to be revived to their original, fresh-to-the-table glory. The trick is to brush the warm breadsticks with a bit of melted butter or margarine and then finish them off with a sprinkle of garlic salt. This is what they do in the restaurant and the key to the flavor and glistening visual appeal of recreating that experience when you get home. 
The microwave or air fryer work too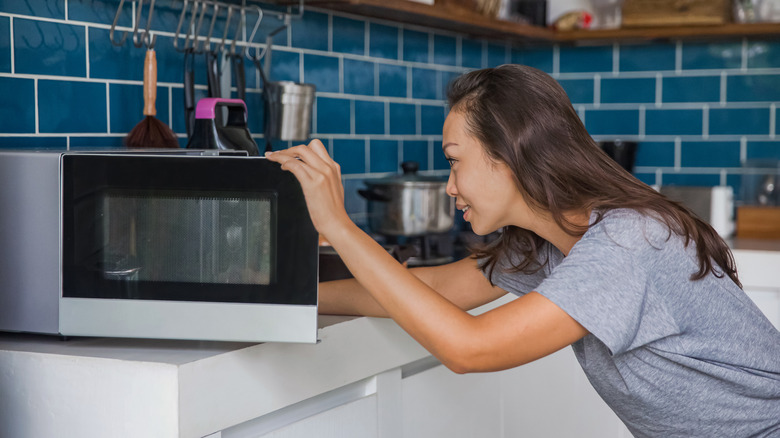 Kanawa_studio/Getty Images
If you are feeling impatient or your oven is occupied, there are other ways to reheat Olive Garden breadsticks. When using the microwave, wrap the leftover breadsticks in a damp paper towel and place them on a microwave-safe plate. Heat for 30 seconds, followed by 15-second intervals until they are perfectly warmed. This method is significantly faster than the oven but can be riskier. Some microwaves heat unevenly, so one part of the breadstick might seem soggy while another piece might feel overcooked. However, one bonus is that you can make the most out of your microwave by also melting the butter in there. Then, follow the same tip of finishing with a brush of melted butter and a sprinkle of garlic salt to revive the breadsticks to their original glory.
Using an air fryer will act as a convection oven to quickly reheat your Olive Garden haul. Simply wrap the breadsticks in foil and place them in a 350-degree Fahrenheit pre-heated air fryer for about two minutes. This speedy method works well, but you might have to reheat in batches rather than all at once. Plus, some air fryers might not fit the entire length of an Olive Garden breadstick.