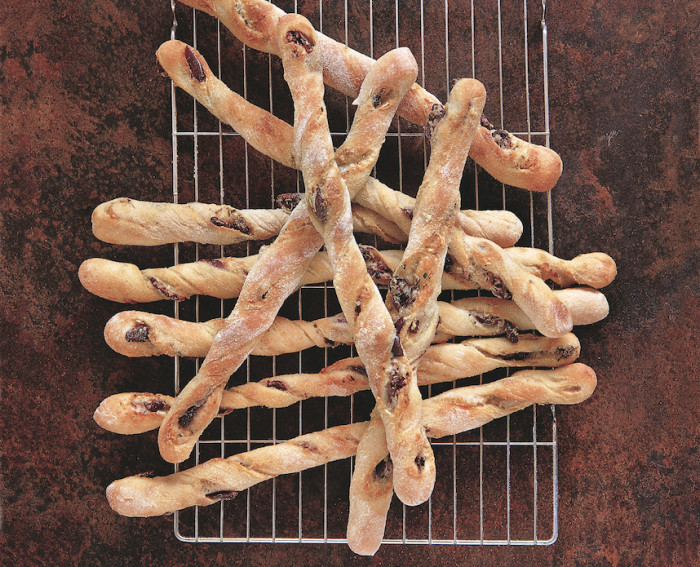 We love award-winning chef and cookbook author Richard Bertinet's new collection of recipes, Dough. Divided by chapters into white, olive, brown, rye, and sweetened breads, it's a baker's bible with more than a few fun twists, like these olive, herb and romano breadsticks.
I love the flavors of these breadsticks — very southern Mediterranean. When we make them in the bread class people are enchanted by them. They look really smart on the table at lunch, or at a barbeque. I use purple Greek Kalamata olives, but you can substitute something similar: just don't buy cheap black shiny olives, which are really green olives subjected to oxygen to turn them black, and then coated with gum to keep them glossy. Buy them whole and take out the pits yourself — that way you will keep in all the flavor. Sometimes I make this with an herbes de Provence mix that has lavender in it, which I think is beautiful — but I know lavender is an acquired taste. If you like, you can serve the breadsticks with a little dish of good extra-virgin olive oil to dip them into.
Ingredients
White Dough (rested for 1 hour)
3/4

teaspoon

fresh yeast (preferably) or 1/8-ounce envelope active dry yeast

About 2

cups

white bread flour

1

teaspoon

fine-grain salt

6

ounces

water (or 6 1/2 fluid ounces in a glass measuring cup, but weighing is more accurate)
Breadsticks
3/4

cup

purple olives, such as kalamata, pits in

1

cup

grated Romano cheese, or Parmesan if you prefer

1

teaspoon

good herbes de Provence

Cornmeal for dusting
Directions
For the dough
Rub the yeast into the flour using your fingertips as if making a crumble. Add the salt and water. Hold the bowl with one hand and mix the ingredients around with the other (or use the rounded end of your scraper) for 2-3 minutes until the dough starts to form.

Work the dough until it looks silky and feels smooth. Let rest for 1 hour.
For the breadsticks
Pit the olives and cut each one roughly into three. Mix the olives, cheese and herbs together in a bowl.

With the help of the rounded end of your scraper, turn the dough out onto the counter, lightly dusted with cornmeal. Using your hand, flatten out into a rectangle about ¾ inch thick. Sprinkle the cheese and olive mixture on top and press it into the dough with your fingertips.

Fold one third of the dough into the center and press down with your fingertips. Then fold the opposite side over on top (as if you were folding a letter to put into an envelope). Press with the palms of your hands to work the olives into the dough.

With the flat edge of your scraper, cut the dough widthwise into 10-12 strips about ½ inch wide. Flour the counter with cornmeal. Twist each strip and roll them a little on the counter so they stretch to the length of your baking tray (nonstick, or covered with foil so that the cheese in the dough doesn't stick to the tray) and place the strips on top, leaving a good gap between each one. Cover with a lint-free dishtowel and let rise for 30-45 minutes.

Put into the preheated oven. Mist the inside with a water spray, then bake them for 10-12 minutes until golden brown.

Use a spatula to lift them from the baking tray. Cool on a wire rack.