Salami Is The Missing Ingredient In Your Breakfast Sandwich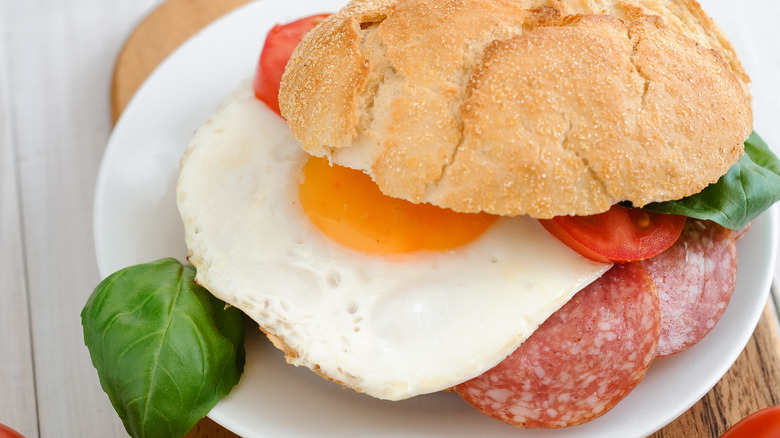 Instamatics/Getty Images
A breakfast sandwich, whether simple or decadent, is the ultimate way to start your morning. Two slices of bread are the perfect vehicle for eggs, cheese, veggies, and of course, something salty, fatty, and satisfying — the meat. Now, breakfast sausage is great, and who can really complain about bacon? But have you ever thought about layering salami into the first meal of the day?
It might sound a little strange to enjoy salami outside of a classic Italian sub or a charcuterie board, but salami actually has all the qualities you want in a breakfast meat. After all, salami is a salt-cured sausage. Though typically made from pork, it can be made from a number of different ground meats. There are even a few vegan copycats out there. That aging process allows for fermentation, which in turn creates a deep flavor, delightful tang, and smooth and fatty texture. These qualities make salami the perfect accompaniment to the milder breakfast sandwich regulars like eggs and melty cheese.
Select the best salami for your breakfast sandwich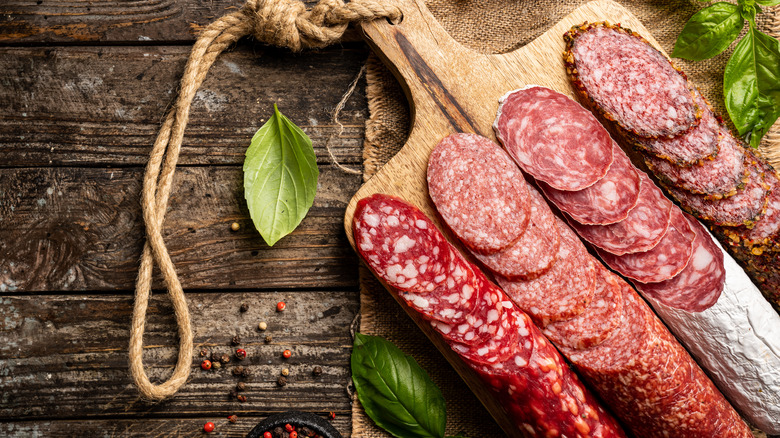 Goskova Tatiana/Shutterstock
Dry or hard salamis like finocchiona, especially if cut into thick slices, will be much too tough for a breakfast sandwich. Others, like soppressata, calabrese, and even pepperoni, will work well as long as they are cut paper thin. Choose soppressata for something leaner and well-seasoned, calabrese for a spicy kick, or pepperoni if you want something rich in both flavor and fat content. Opt for Genoa or cotto salami if you prefer a softer texture. You can crisp the salami up in a pan, the oven, or an air fryer with a spritz of oil, or leave it as is. It will be delicious either way, so it just depends on your texture preferences.
Make a simple omelet with sauteed bell peppers, onions, mushrooms, and mozzarella cheese. Layer it with pepperoni and olive tapenade on focaccia for a Mediterranean-inspired breakfast. Go for Genoa salami with soft-boiled eggs, thick slices of fresh tomato, and a generous drizzle of olive oil sandwiched between slices of sourdough bread. Spoon soft scrambled eggs onto a halved croissant and top with crispy soppressata salami chips and a handful of peppery arugula — perfect for breakfast or lunch. Make a bagel breakfast sandwich with pan-fried cotto salami, a fried egg, and melted cheddar cheese.
What kinds of salami are out there?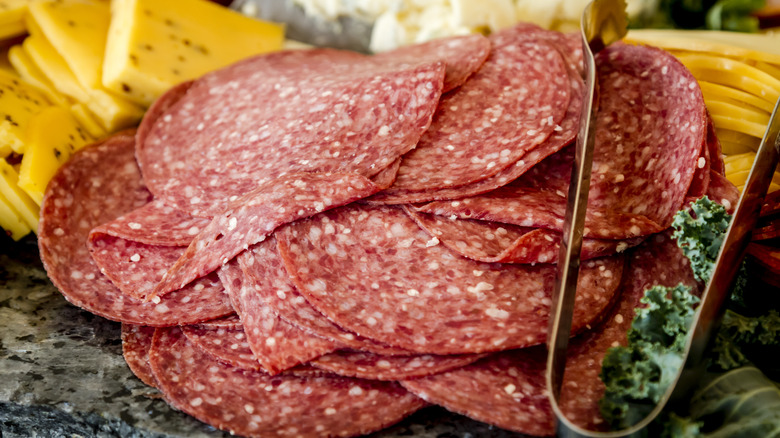 Teri Virbickis/Shutterstock
In Italy alone, you can find more than 300 different varieties of salami, but countries like Germany, France, Romania, Poland, Romania, Bulgaria, Turkey, and Hungary also produce versions of this cured meat product.
Almost all salamis are cured in salt and are left to dry until they are safe to eat — they do not go through a cooking process. Salamis that are then smoked are referred to as dry or hard salami. They have a low-moisture content, are firmly textured inside, wrinkly, and sometimes white on the outside, and they typically fall in the category of shelf-stable cured meats. Genoa salami is not smoked, so it retains a soft, fatty, and pleasantly chewy texture. Cotto salami is the exception to the rule. It uses ground meat and seasonings typical of salami but is gently cooked in salt water instead of being dry-cured. Cotto salami is the most tender of the bunch.
Go forth and upgrade the start of your day. You can get creative or go classic with your sandwich — either way, you've got lots of salami options to upgrade your breakfast game.