Mid-Proof Spirits Are A Gateway To The Perfect Mellow Buzz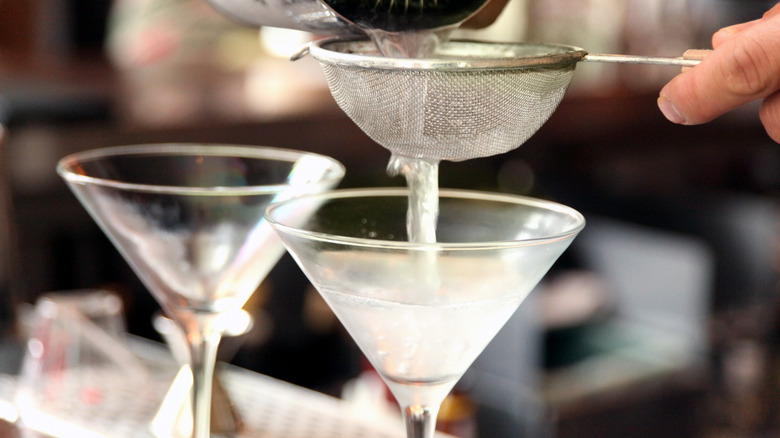 Lara Hata/Getty Images
Over the last handful of years, our post-work drinks have been getting lighter. The non-alcoholic spirits boom saw brands from Everleaf to Seedlip angle to create non-alcoholic spirits worth drinking, driving innovation in the beverage space as customer interest in sober curiosity expanded.
This trend has also caused major alcohol retailers to rethink traditional spirits and what purpose they serve. In the middle space between classic spirits and non-alcoholic ones, so-called "mid-proof" or "mid-strength" spirits have popped up as drinkers search for moderation. Brands like Sommarøy, Quarter, and Luxlo have started offering spirits in the under-30% range, and even larger established brands like Beefeater and Ballantine have made gin and whiskey that are bottled at a lower proof. These products are essentially the light beer of spirits, made by producing gin, vodka, or what have you, and then watering it down until it reaches a more modest ABV.
What are mid-proof spirits?
Mid-Proof spirits generally have an ABV between 10% and 30%. Full-proof spirits like vodka and tequila, on the other hand, usually start at 40% and go up to around 45% for whiskey and 47% for gin. Gin appears to be the most popular target for mid-proofing, likely because of its naturally high alcohol content.
The Norwegian-inspired American brand Sommarøy makes gin and vodka substitutes at 27.5% ABV, which is two-thirds their natural ABV. The British brand Luxlo makes flavored drinks "for gin lovers" at an ABV of 20%. And the British brand Quarter slashes the ABV of its gin, as suggested, to a quarter of the normal percentage, coming in at only 12%.
Even the major alcoholic beverage brand Pernod Ricard, which owns Beefeater, released a "gin-inspired" product called Beefeater Light in 2021, which was generally well received and only clocked in at 20% ABV. Beefeater was traditionally bottled at 47% ABV, and later went down to 44% ABV, showing that the company was already considering the possibilities of a lower ABV drink.
Uses for mid-proof spirits
Mid-proof spirits can be a good way to pace yourself if you don't want to go all the way non-alcoholic but can't stomach a full-proof spirit. They're also a cheat code for being able to drink more without actually consuming more alcohol.
But the issue with taking traditional spirits and essentially watering them down is that, well ... they taste watered down. Which can be fine if your goal is to make a typically spirit-forward cocktail like a martini or Negroni, only at a lower ABV overall. These spirits have just enough heft to play well with dominating flavors like vermouth and Campari, but the same effect could be achieved by using half as much of a generic gin or vodka and adding a little more ice or extended time in the shaker. But if you really don't want to mess with your ratios, there's no harm in giving one of these brands a shot.