Ghia: Here's What Happened After Shark Tank
The sober curious culture has hit the mainstream as folks seek to balance the role alcohol plays in their lives. This choice to minimize or eliminate alcohol from one's diet may stem from a desire to improve health, create better habits, or simply make more intentional choices. Of course, there are also some with health conditions and addictions, which means they can't enjoy alcohol safely, but just because an adult chooses not to drink alcohol doesn't mean they now only crave water and Shirely Temples. There is a real need for complex, tasty, and sophisticated zero-proof beverages — that's where companies like Ghia come in.
Melanie Masarin was featured on Episode 4, Season 14 of "Shark Tank," where she asked for a $250,000 investment in exchange for 5% equity in her nonalcoholic beverage brand. After traveling to Italy from her home in Los Angeles, this French entrepreneur was inspired to make a bitter, herbal, no-sugar, alcohol-free apéritif that still captured the communal joy of sharing a drink with friends. On "Shark Tank," Masarin pitched Ghia as an alternative for people trying to drink less that is much more fun than water and allows you to keep your glass full without nosy questions about why you may be choosing to abstain.
What happened when Ghia was on Shark Tank?
At the time of the pitch, a bottle of Ghia apéritif retailed for $38 with a cost of $6.50 to produce. Cans of ready-made Ghia spritzes sold for $5 and cost $1.25 to make. After launching on Instagram, the company hit revenues of $2.5 million in the first year. Ghia suffered losses of $1 million, but the company was sitting on $1 million worth of inventory.
Masarin leveraged contacts from high-rolling companies and raised around $10 million. With a $35 million valuation, not including the additional investments, Masarin still owned 57% of the company. With an offer of 5% equity, Masarin undervalued her company because she was seeking the expert guidance of a shark investor.
Despite having positive things to say, both Daymond John and Lori Greiner bowed out because they themselves had sensitivities to acidic beverages. Mark Cuban decided not to invest because of the massive cost of being successful in the beverage business, which was the same reason he didn't invest when Mother Beverage/Poppi was on "Shark Tank." Robert Herjavec made an offer of exactly Masarin's ask and pressured her to accept immediately. Kevin O'Leary, who is in the wine business, wanted to make an offer too, but when Masarin said she would like to hear both offers, Herjavec quickly bowed out. O'Leary asked for 10% equity. Masarin declined, as she would have lost her majority stake, and Ghia left "Shark Tank" with no deal.
Ghia after Shark Tank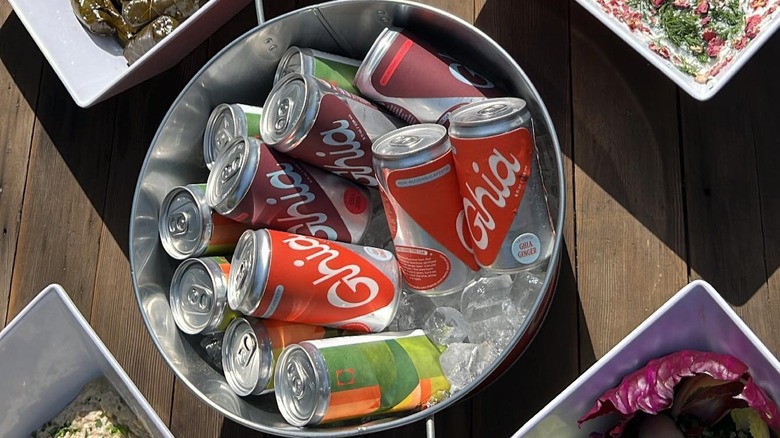 Melanie Masarin did not get the deal on the "Shark Tank" episode that aired in October 2022 but was already very accomplished in retail, marketing, branding, E-commerce, and creative visioning through her previous roles at Sweetgreen, Glossier, and Dig Inn. Masarin had the chops to keep Ghia successful.
In April 2023, Ghia relaunched its signature apéritif, which was initially concocted with the help of bartender Alison St. Pierre. Version 2.0 has a higher concentration (the bottle now has about seven more servings) of all-natural ingredients — a blend of white grape, yuzu, orange, ginger, and rosemary, with classic bitters ingredients like elderflower, gentian root, and acacia. Riesling grapes were changed for an Argentinean varietal that was more readily available and predictable flavor-wise. To give the nonalcoholic apéritif more clarity, the fig was swapped for plum, date, and rhubarb, and some of the extracts are now made in-house. The new version of the aperitif is housed in a ribbed glass bottle designed by Willo Perron and Brian Roettinger with the words "clear-eyed," and an eye design embossed around the top. In one review of Ghia, a commenter said, "I was a fan of the original cloudy Ghia but this has taken the alcohol-free aperitif to a whole new level!"
Is Ghia still in business?
With beautiful and bold branding by Willo Perron & Associates full of vibey maroons, golds, and forest greens and on-point retro typography, Ghia is creating a whole mood. Not only does Ghia offer its signature apéritif and ready-made spritzes, but the beverage company also sells bar cart-worthy glasses designed by Sophie Lou Jacobson, three different pretty-as-can-be puzzles, and a low-sugar olive oil and hazelnut spread called Ghianduja. Ghia also offers a couple of well-curated gift sets — a cocktail starter kit that comes with a bottle of the aperitif, coasters, a pour spout, and one handmade glass and a kit to get the cozy vibes going with a pack of four Ghia ginger spritzes, two jars of Ghianduja, and a puzzle.
At the time of the "Shark Tank" episode, Ghia offered three different flavors of its canned spritzes — a Ghia soda, Ghia ginger, and lime and salt. Ghia now offers a new spritz flavor — sumac and chili — launched in July 2023. When Ghia appeared on "Shark Tank," the company had more than 750 accounts, and Masarin herself had created most of those inroads by reaching out directly to influential people in the food and beverage space. Now, Ghia is available at more than 1,600 stores, bars, and restaurants across the United States and Canada.
What is next for Ghia founder Melanie Masarin?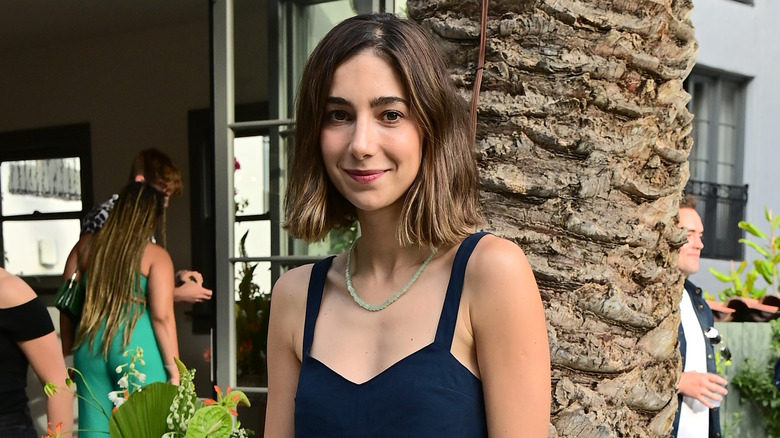 Stefanie Keenan/Getty Images
Melanie Masarin hit trend-setting gold with Ghia. In 2022, the global non-alcoholic beverage industry exceeded $11 billion, with most of that growth driven by people who still do drink alcohol but are seeking moderation. Clearly, the market exists for an alternative that can hold its own besides traditional spirits. Masarin is not advocating for people to give up entirely — she knows that is a deeply personal choice. Her goal has always been to offer a complexly delicious and sophisticated alternative that would allow people to drink more mindfully without missing out. Masarin firmly leans against the inspirations of her youth — her grandmother's homemade limoncello, aperitivo hour, music, travel, and retro-vintage architecture, fashion, and design.
The lifestyle world has taken notice of Masarin's taste and the pretty new drink she created. Glamour wanted to know about her summer clothing staples and how to stock a party drink station. The Zoe Report talked to Masarin about all things travel, and Fitt Insider dug in about the branding and marketing philosophy for Ghia. Dwell spotlighted her grandmother's handwritten cookbook, and Domino design magazine took a trip to the Ghia offices. Masarin, who now has more than 23,000 Instagram followers, is riding the wave with a refreshing glass of Ghia proudly in hand.