10 Things You Didn't Know About Gin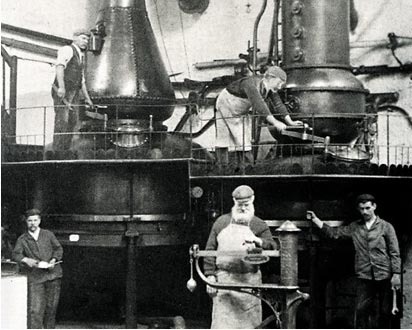 Gin is one of my favorite spirits and I have spent the best part of my time over the past 10 years teaching people about its history, production, virtues and cocktails. I have spoken about the spirit at events such as the International Association of Culinary Professionals and Tales of the Cocktail. When my good friend Allen Katz first started to develop his own gin recipes, I jumped at the opportunity to help. He spent over a year perfecting his recipes and the result was two amazing and unique gins that are being produced in Brooklyn. I believe gin to be the quintessential cocktail spirit, and Allen's work has inspired me to begin working on my own gin. Here are 10 things you might not know about the spirit, along with distillery tour information and a cocktail recipe:
1. Gin is for cocktails – not on its own
You can drink tequila and mescal as shots, and vodka is served chilled with food (zakuski) in its native land. Bourbon, rye and whiskey drinkers might add some ice or a splash of water. Gin is meant to be mixed, however, as the botanicals (herbs, spices etc.) come to life in cocktails and add complexity to the drink. This is why so many classic cocktails call for gin.
2. There are more classic cocktails made with gin than with any other spirit
Negroni, Ramos Gin Fizz, Martinez, Gin Rickey, Red Snapper, Tom Collins, White Lady, Hanky Panky, Clover Club, Alexander, French 75, Gimlet, Vesper, Singapore Sling, Silver Bronx, Pegu Club, Bee's Knees, Southside. And that is just scratching the surface!
3. Holland made gin first
Gin is England's national spirit and there are few things more English than a refreshing gin & tonic. Most of the most famous gins you see around the world hail from the UK, so it is forgivable to think that the spirit first came from here. The English actually discovered gin when they were fighting the Thirty Years' War in the 17th century in Holland and saw Dutch soldiers drinking Jenever to boost morale before heading into battle. The term "Dutch Courage" was born, and the English brought the idea of making and drinking gin back with them. It would take another 150 years before they would have their own version.
4. London dry gin is not always from London
Gin does not have the same geographical restrictions as spirits such as cognac, scotch or tequila. Only a tiny handful of London dry gins are actually made in the city. There are, however, 13 gins that have a "geographical indication." The most famous of these is Plymouth gin, which has been made in Plymouth, England since 1793.
5. One man deserves recognition
Desmond Payne is currently the master distiller at Beefeater and has been there for more than 17 years. He formerly held the same position at Plymouth, giving him more experience making fine gin than anyone else. He also created Beefeater 24, which incorporates tea into the distillation process and is a great ingredient for punches.
6. A martini means gin
A martini consists of gin, dry vermouth and optional bitters. When the golden age of the martini was in full swing, most people in cocktail drinking nations had not yet tried vodka. During the era of the three-martini lunch, Smirnoff released a very clever campaign, "Vodka leaves you breathless," that combined with the cool of James Bond to help vodka hijack gin's place in the iconic drink.
7. Gin can be used for medicinal purposes
In 1269, the first major mention of juniper-based health-related tonics appeared in a Dutch publication. Ever since, gin has had a history of being used "for medicinal purposes." The Royal Navy mixed gin with lime cordial to stop scurvy, and angostura settled the stomach at sea. Tonic water with quinine was anti-malarial, giving them a great excuse to drink more gin and tonics.
8. Gin is flavored vodka
The most usual production method for gin is to distill botanicals, such as juniper, coriander, citrus peel, cinnamon, almond or liquorice, with neutral grain alcohol. Making gin is like flavoring vodka, except that botanicals are always natural. A skilled gin distiller knows how to balance the botanical flavors to make a quality product.
9. The Philippines drinks the most gin
The global sale of the spirit is nearly 60 million cases, and almost half of this is consumed in the Philippines. The country drinks over 22 million cases of Ginebra San Miguel, and while this gin accounts for 43% of the gin market, most people outside the Philippines have never heard of it. Other big gin drinking nations are Spain — where gin and tonics are popular — the U.S and, of course, the UK.
10. Saying you don't like gin is like saying you don't like sauce
All gin uses juniper as its main ingredient. After that, however, there are very few limits to the hundreds of ingredients a distillery can use. Some gins have as few as three or four botanical flavors, while the Scottish gin Botanist has 31! The flavors in gin range from cucumber and rose (Hendricks) to lavender (Aviation) to lemongrass and black pepper (Bombay Sapphire East). No two gins are alike, making the spirit very diverse in flavor and exciting for the budding bartender.
Visit a gin distillery and learn more:
In the U.S – Visit the New York Distilling Company in Williamsburg and meet founder Allen Katz. Be sure to drink Commodore Perry's Navy Strength gin in The Shanty, a lovely bar located next door.
In the UK – Visit the oldest working distillery in the world in Plymouth. The building has been around since 1430 as a monastery, and every drop of Plymouth Gin has been made there since 1793.
Finally, a recipe to enjoy at home:
The Last Word Cocktail (created circa. 1922 at the Detroit Athletics Club)
3/4 ounce Dorothy Parker gin
3/4 ounce green chartreuse
3/4 ounce Maraschino liquor
3/4 ounce fresh squeezed lime juice
Shake ingredients and strain into a chilled cocktail coupe
---
More Drink Ford Tough on Food Republic: