Avocado Is The Secret To Ultra Moist Chocolate Chip Cookies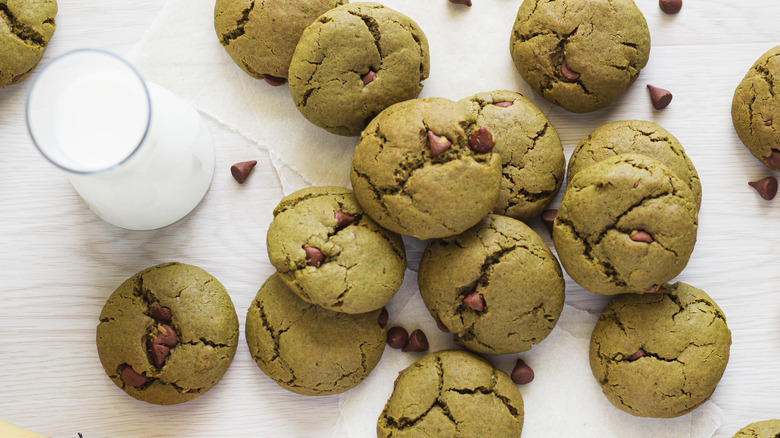 Ana Carolina Tomas/Shutterstock
Avocados are delicious, creamy, versatile, and mild. If you are only using this fruit for guacamole, taco toppings, and turkey sandwiches, you have got a whole other avocado world to explore. Baking aficionados will tell you that avocados can just as easily go sweet as they can go savory, and one such application is in chocolate chip cookies.
Now, there are countless opinions on what makes the absolute best chocolate chip cookie, and maybe there is no real right answer. It all depends on what texture you are going for. Be honest — even if you are a fan of a crisp and lacy treat, would you really turn down something chewy and chunky? So have an open mind and consider adding avocados to the mix for decadent, extra moist, cake-like cookies.
Avocados work for this application because they are full of nutritious fats. In fact, avocados can completely take the place of butter or oil for a nutrient-dense swap that leaves your cookies moist and chewy. Even though avocados are rich in vitamins, minerals, fiber, and antioxidants, they blend in so seamlessly with desserts that no one will notice the swap at all.
How to make chocolate chip avocado cookies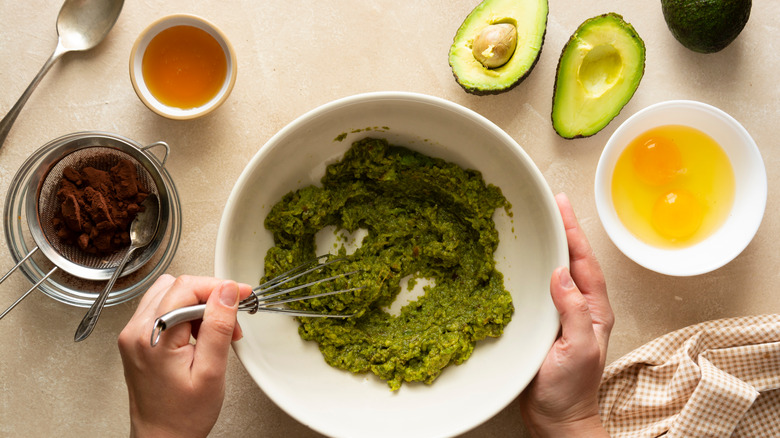 Erhan Inga/Shutterstock
Start with ripe avocados. A good trick to ripen (not just soften) avocados faster if you're in a rush is to stick the avocados into a bag with ripe bananas. Once they are ready, mash or puree the avocados, making sure there are as few lumps as possible so that the avocado can evenly blend into the cookie dough. Then the process for these cookies is pretty much the same as a standard cookie recipe. Cream together the avocado and sugar — just like you would with butter — and then add the eggs one by one. Add the dry ingredients to the wet ingredients, and combine well. Fold in your chocolate chips, portion onto a cookie sheet, and bake.
Because these cookies are so versatile, you can modify them to include any of your favorite chocolate chip cookie spins. Use chocolate chunks instead of chocolate chips; add in chopped almonds, walnuts, or pecans; give them a smear of frosting, cream cheese, or peanut butter, and top with some sprinkles; incorporate pieces of your favorite candy bar; or top them with a sprinkle of flaky sea salt. Chocolate chip avocado cookies can be the cakey cookies of your dreams.
Give the green light to avocado cookies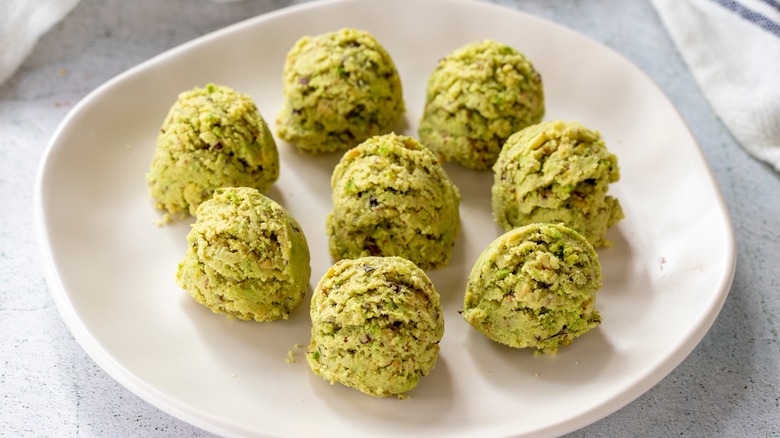 Enez Selvi/Shutterstock
One unique quality about these cookies is that the avocado tints the cookies lightly green. This makes these chocolate chip cookies a fun and festive treat that both kids and adults will love.
Think of the different applications for the holidays alone! For St. Patrick's Day, go even greener with mint-flavored chips in addition to dark chocolate chips, or add in some chopped and toasted pistachios. 
On Halloween, mix black and orange sprinkles, orange-colored white chocolate chips, and regular chocolate chips — or Reese's Pieces — into the cookie dough. You could also keep the cookies classic and decorate them with edible candy eyes for a monster cookie! Swap in some white chocolate chips, and you can even shape them into logs for witches' fingers.
Use miniature, candy-coated, chocolate eggs two-ways for Easter-inspired treats — incorporate the crushed candies into the dough and press a few whole ones onto the top right when they come out of the oven. Add this treat to the list of your favorite Christmas cookie recipes, and use classic red and green M&M's — or incorporate baking spices like cinnamon, clove, or vanilla bean to capture the spirit of the winter season. Even though these chocolate chip avocado cookies are perfect for a theme, there is no need to wait until the next holiday comes around to give them a try!