Alton Brown's Countertop Hack For Sweeter Sugar Cookies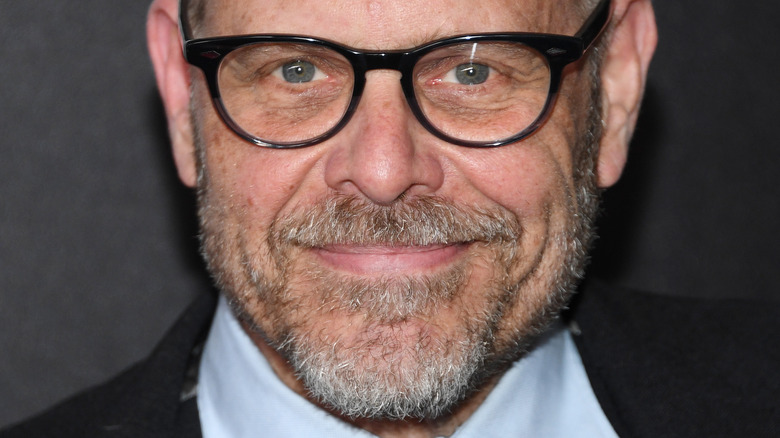 Dimitrios Kambouris/Getty Images
From tasty classics like chocolate chip and peanut butter cookies to more extravagant recipes like pecan meltaways and vanilla meringue cookies, there is a seemingly endless amount of different variations available for one of the most iconic desserts. But from chewy oatmeal raisin to crispy shortbread and everything in between, there's hardly a recipe as sweet or as simple to make as the humble sugar cookie. And, thanks to Alton Brown's clever countertop hack, your sugar rounds just got even sweeter. How? It's simple! You can take your cookie-making to the next level by using powdered sugar instead of flour when rolling out the dough for a more delicious treat.
Other than this sweet swap, Brown's recipe is pretty standard, featuring the usual ingredients like all-purpose flour, baking powder, salt, unsalted butter, a large egg, whole milk, and, of course, a whole lot of sugar for a delightful cookie that's sure to satisfy any sweet tooth with each and every bite.
Ditch flour for powdered sugar to roll out the dough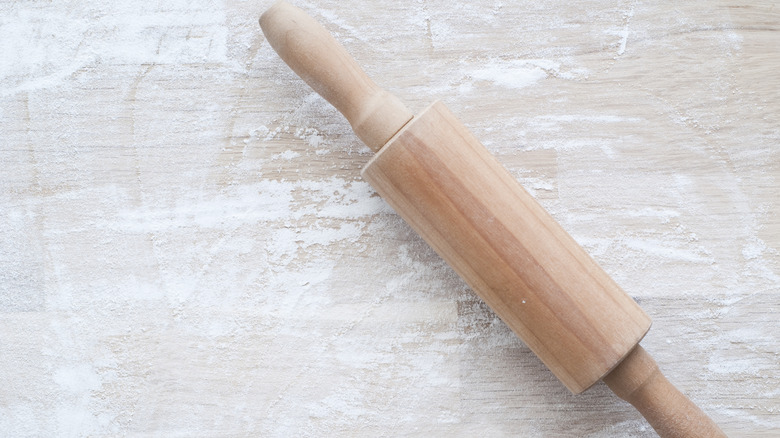 goldnetz/Shutterstock
Perhaps the best and most obvious benefit of using confectioners' sugar in lieu of flour to roll out your cookie dough is that it will make your sugar cookies taste that much sweeter — not to mention, that you can also avoid getting a mouthful of residual caked-on flour. But, these aren't the only perks. Since a floured surface adds more flour to the dough than the recipe calls for, it can toughen it in the process, so using powdered sugar to roll it out instead can help to improve its texture by keeping it soft and chewy. 
Once you're ready to get baking, forgoing flour in favor of powdered sugar is easy — just sprinkle the confectioners' sugar onto your rolling surface using a small strainer or sifter. Plop on your dough, dust on a little added sugar, and then start rolling as you would with a floured surface. But that's not all: Brown has a host of other helpful tips for elevating cookies like the humble chocolate chip and the rich and chewy oatmeal variety.
Alton Brown's other genius cookie hacks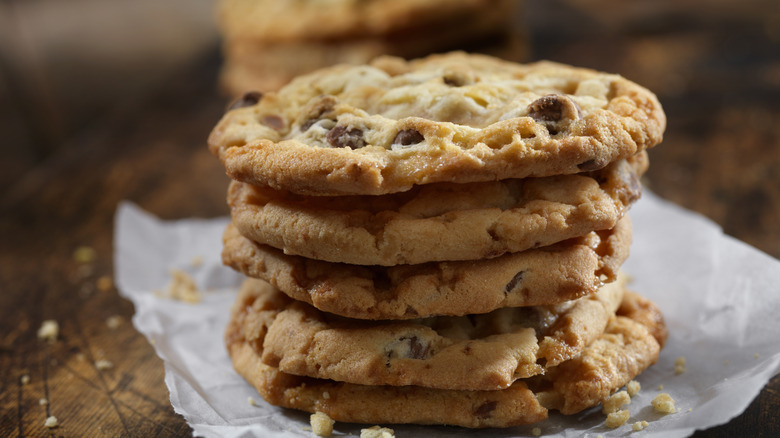 Lauripatterson/Getty Images
In addition to rolling out dough on a sugar-dusted surface, the food show presenter has another brilliant flour trick for better-tasting cookies. Brown's swap for chewy chocolate chip cookies involves using bread flour instead of all-purpose flour, which helps to make the cookies chewier. Due to the fact that bread flour's higher protein content develops more gluten, this allows the dough to absorb more water for added elasticity. Just keep in mind that since the flour does absorb more water, you may need to add in more liquid in order to keep the dough from drying out.
What's more, to add texture and more flavor to his scrumptious oatmeal cookies recipe, Brown toasts his oats for about 20 minutes at 375 degrees Fahrenheit before grinding them in a food processor and adding in the other ingredients, such as baking powder, cinnamon, salt, butter, brown sugar, egg, and vanilla for cookies so good, you'll swear Brown made them himself.