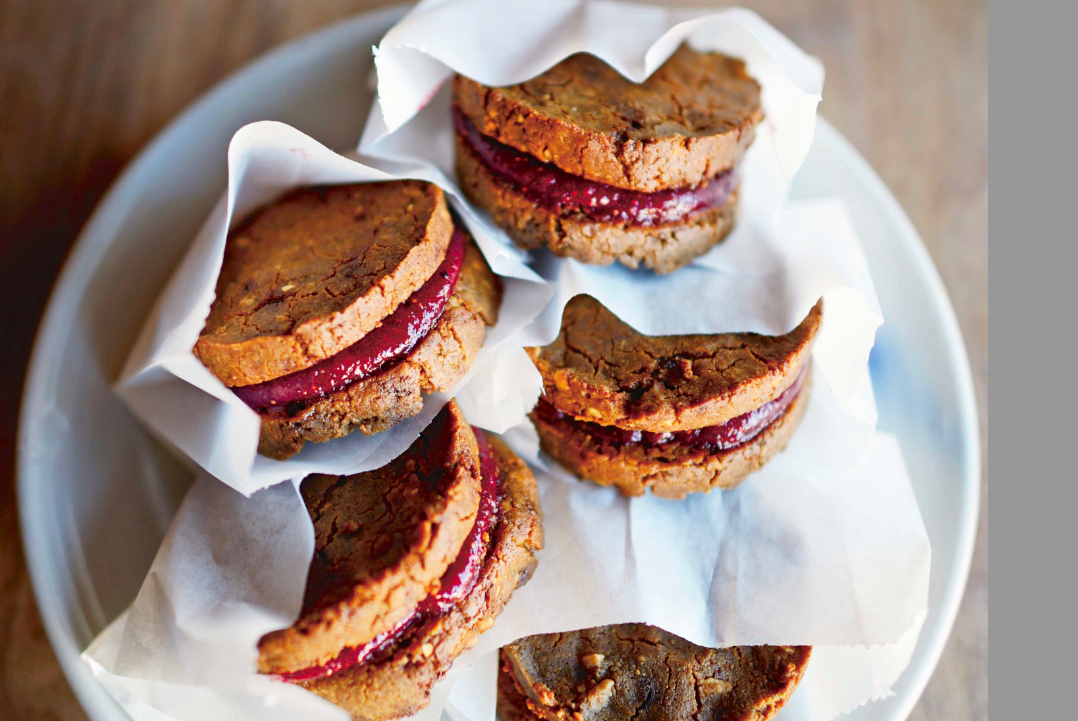 We'd be thilled if San Fran staple Tartine Bakery churned out a cookbook every year. Until #4, we'll gladly amuse ourselves with newly released Tartine Book No. 3. Dive into heirloom and sprouted grain breads, pastries and other treats, thanks to the mastery of co-owner Chad Robertson. These peanut butter cookies contain the secret ingredient: jelly.
Peanut butter and toasted sesame butter both make impossibly rich, densely flavorful cookies. I like to keep these peanut butter cookies around as small bites, good for eating on their own or for sandwiching with very dark chocolate ganache or tart concentrated berry or apricot jam.
Ingredients
1

cup

peanuts

1 1/3

cups

oat flour

1/2

teaspoon

baking powder

1

teaspoon

salt

1/4

cup

unsalted butter, at room temperature

1/2

cup

sugar

1/2

cup

good-quality smooth natural peanut butter

1

teaspoon

vanilla extract
Directions
Preheat the oven to 350°F. Spread the peanuts in a single layer on a baking sheet and toast until golden brown, 5 to 7 minutes. Remove from the oven and let cool completely.
In the bowl of a food processor, pulse the peanuts and flour together until very finely ground. Transfer to a bowl and whisk in the baking powder and salt.
In the bowl of a stand mixer fitted with the paddle attachment, beat the butter and sugar on medium high speed until well combined and beginning to gain volume, about 2 minutes.
Add the peanut butter and beat to combine on medium speed, scraping down the sides of the bowl as needed. Reduce the mixer speed to low and add the vanilla.
With the mixer speed on low, add the flour-nut mixture and mix until just combined.
Roll the dough into walnut-size balls, and transfer them to two parchment-lined baking sheets, spacing them 1 inch apart. Bake for 15 to 18 minutes, rotating the baking sheets midway through baking, until the edges of the cookies are golden.
Remove the baking sheets from the oven and let the cookies cool completely. Repeat with the remaining dough. The cookies will keep for up to 3 days in an airtight container.
Sesame Variation
Replace the peanuts with 2/3 cup sesame seeds, the oat flour with 1 cup wholegrain Kamut flour, the peanut butter with 1/2 cup tahini. Reduce the salt by half and proceed as directed.
Try out more cookie recipes on Food Republic: